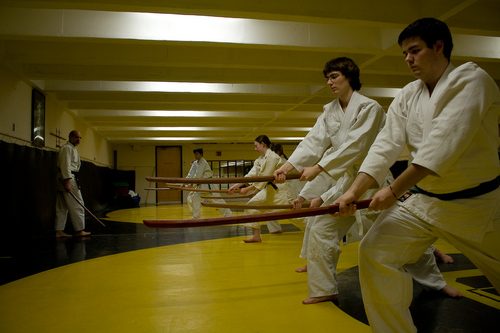 Club Officers 2023–2024
President: Lucie Wolf
Vice President: Devin Lewis
Treasurer: Eliza Hawthorne
Safety Officer: Devin Lewis
Instructors: Tina Syx & Eric Schlichting
Interested in Aikido? Contact Lucie Wolf (wolfl@carleton.edu)
2023-24 Practice/Class Schedule
Beginner

Monday/Wednesday: 6:30pm-7:30pm

Intermediate

Monday/Wednesday: 7:40pm-8:30pm

Advanced

Monday/Wednesday: 8:35pm-9:35pm

Open Mat (all welcome!)
All practices held in the Cowling Dance Studio
2023-24 Participants
About the Aikido Club
Based on the samurai tradition, modern Aikido is not strictly a martial art, but rather Japanese budo — a method of training and study that applies the physical principles of the fighting arts toward the goals of peace, harmony, and self-improvement. An Aikido class is conducted in a friendly and supportive atmosphere, with gestures of courtesy and respect towards teacher and students that reflect Japanese culture and Samurai tradition.
The movements of Aikido focus on harmony between two people. The person thrown or pinned studies being off-balance and helping their partner to learn. The person who applies the control or throw studies balance and focus. Each person practices both parts. Together, the two strive harmoniously to create the most beautiful technique. Benefits of Aikido include physical fitness, challenge without competition, self-protection, and a philosophy, tradition, discipline, and atmosphere that lift students beyond exercise and technique toward a life of greater harmony.
Our instructor is Eric Schlichting, Shodan Black Belt in the Aikido Yoshokai Association of North America (AYANA). All AYANA instructors have been certified with the Head Instructor of AYANA, Sensei Akira Kushida.
In addition to our weekly classes, we take regular trips to train in the Twin Cities throughout the term. In the spring, we take a weekend trip to Ann Arbor, MI to train with the head instructor of Aikido Yoshokai.
Club History
If you are an alum and have more information about the history of Aikido at Carleton, please contact Aaron Chaput so that we can make our history more complete!