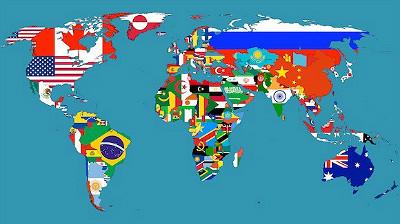 Africa
Kenya

Kenya openData
Governmental GIS data. Includes census information, water resources, boundaries, and more.

Agency: Kenyan Government
Download Site: Data Catalogue
Note: Not all data is spatial data.

South Africa

South African Rivers
South African drainage network.

Agency: Republic of South Africa
Download Site: Data Links
Asia
The Philippines

PhilGIS
Data on soil, rainfall, climate, population distribution, geology, and more.

Agency: The Government of the Philippines
Download Site: Free GIS Data

The United Arab Emirates

Abu Dhabi EnviroPortal
Data on geology, inland water resources, transportation networks, habitat zones, and more.

Agency: Environment Agency – Abu Dhabi
Download Site: EnviroPortal
Europe
Belgium

Belgium Marine Data
Data on the marine environment around Belgium including anchorage areas, navigation routes, power cables, wind farms, dredging zones, and sand banks.

Denmark

Kortforsyningen (Map Supply)
Data includes aerial photos, LiDAR data, historical maps and more.

Agency: Ministry of the Environment Geodata Board
Download Site: Map Supply
Note: Registration is required to download data. Website is in Danish.
South America
Bolivia

GeoBolivia
Open GIS data available from the Bolivian Government.

Agency: The Vice President of the Plurinational State of Bolivia/li>
Download Site: GeoPortal
Note: The Website is in Spanish. Registration is needed to download data, but data is free of charge.

Brazil

Brazil Geoscience Products
Including basemaps, administrative boundaries, and land use.

Agency: Instituto Brasileiro de Geografia e Estatística
Download Site: English or Portuguese
Note: The website is in English but the data is in Portuguese.