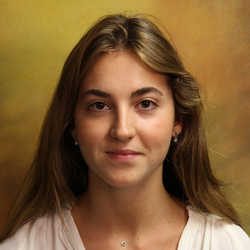 The 2019-20 Language Associate is Maria Crespo Cassinello. The LA, as we refer to her, offers a variety of activities to encourage the use of Spanish outside the classroom, such as weekly conversation tables, movies, dinner, outings and other events to help promote Hispanic cultures.
A few words from Maria:
I am 22 years old, and I have just finished my Art History degree at the Complutense University of Madrid. I am really interested in modern and contemporary art, specially in painting and architecture.

I am really excited and glad to be here and I am sure I will spend an amazing year with all of you.

Hope to see you all soon. If you have any questions, please ask me."
Please, feel free to contact any time you like. She is really looking forward to meeting you!
Don't forget the weekly language tables (T, Th 12-1) in the LDC! Keep your eye out for special Spanish events to get to know Spanish culture better.