Feb
10
"Chronic Displacements: Hmong, Type 2 Diabetes, and Post-Refugee Life"
Fri, February 10, 2023 • 10:50am - 11:50am (1h) • Olin 141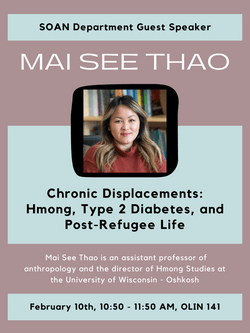 Join us for SOAN department guest speaker Mai See Thao as she presents "Chronic Displacement: Hmong, Type 2 Diabetes, and Post-Refugee Life."'
Mai See is currently an assistant professor of anthropology and the director of Hmong Studies at the University of Wisconsin - Oshkosh. She got her PhD in Socio-Cultural Anthropology from the University of Minnesota. Her research and teaching interests include refugee post-life resettlement, the ongoing impact of U.S. imperialism across the Hmong diaspora, examining post-colonial remains through the body, and Southeast Asian studies.
The book Mai See is currently writing - Bittersweet Returns: Type II Diabetes and Healing in the Hmong Diaspora - examines type II diabetes in the Hmong American communities of MN as connected to United States legacies of imperialism in Southeast Asia through the intersection of healing, displacement, and the refugee body. The book is based on 30 months of multi-sited ethnography conducted in a clinic in St. Paul and the travel destinations of Hmong Americans in Laos and Thailand. It examines life post-resettlement for Hmong with type II diabetes whose health and healing from chronic diabetes is melancholic and caught up in healing a displaced/stateless Hmong body.