Jan
23
Dubbing Ideologies: The Politics of Representation in and through Taiwan's Mandarin Dubbing
Mon, January 23, 2023 • 4:30pm - 5:30pm (1h) • Anderson 121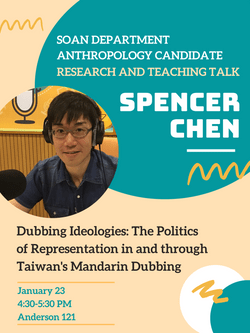 Join us for SOAN department anthropology candidate Spencer Chen as he presents "Dubbing Ideologies: The Politics of Representation in and through Taiwan's Mandarin Dubbing."
Spencer is currently finishing a PhD in cultural and linguistic anthropology at UCLA. His research and teaching interests center on creative industries, media representation, language ideologies, and East Asian studies.
The dissertation Spencer is writing - Dubbing Ideologies: The Politics of Language and Acoustic Aesthetics in Taiwan's Mandarin Voiceover Production - is based on an interest in the creative deployment of linguistic resources and visual cues in digital media both as a production practice and a social action. He examines the politics of representation involved in the cultural production of dubbing in Taiwan against the backdrop of the heightened geopolitical tension and market volatility that involves China and the U.S. Rather than treating dubbing as translated texts by focusing primarily on the sound-image displayed on the screen, Spencer critically analyzes dubbing as a collaborative creative process through which dubbing producers and consumers negotiate representational politics and assert social agency. 
In addition to this project, he also investigates identity politics in different domains (including social media, tourism, and political cartoons) concerning people of the broadly defined "Chinese" ethnoracial category.