Feb
23
"Our food actually tells where we've gone, where we currently are, and where we're going": Using Food to Understand Hmong American Identity
Thu, February 23, 2023 • 12:00pm - 1:00pm (1h) • Leighton 426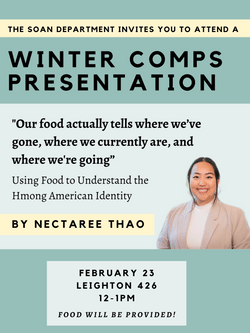 SOAN senior Nectaree Thao will be presenting her comps project "'Our food actually tells us where we've gone, where we currently are, and where we're going': Using Food to Understand Hmong American Identity" on Thursday, February 23rd, from 12-1pm in Leighton 426.
Carleton students, staff, faculty, and Northfield community members are invited to attend. We hope to see you there!
Food and drinks will be provided.