Feb
2
Ending and Mending Relationships
Thu, February 2, 2023 • 12:00pm - 1:00pm (1h) • Sayles 251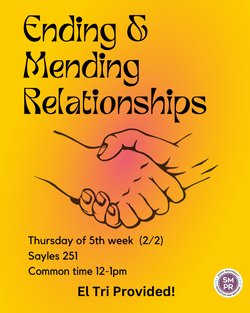 Are you interested in learning how to navigate conflict?
Do you want to have meaningful conversations and reflect with your peers?
Looking for free food?
Please join Carleton Sexual Misconduct Prevention and Response for Ending and Mending Relationships on Thursday, February 2nd during Common Time (12-1pm) in Sayles 251. 
We will discuss ways to navigate conflict, explore situations that may cause one to end a relationship, and gain a better understanding of breakups and endings. Food from El Triunfo will be provided.