Feb
22
Peer Leader Info Panel
Wed, February 22, 2023 • 7:00pm - 8:00pm (1h) • LDC 104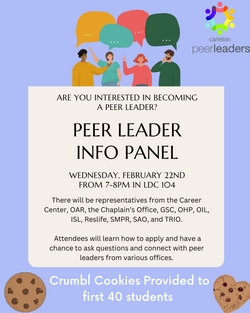 Are you interested in becoming a peer leader? Do you want to learn about the experience of working as a peer leader and the many roles peer leaders play on campus?
Come attend the Peer Leader Info Panel on Wednesday, February 22nd from 7-8pm in LDC 104! At this event, a panel of peer leaders will discuss navigating the application process, their work experiences, and professional development through the peer leader program. Peer Leaders from all associated offices will be present including the Career Center, GSC, OAR, the Chaplain's Office, OHP, OIL, ISL, Reslife, SMPR, SAO, and TRIO. Attendees will learn how to apply and have a chance to ask questions and connect with peer leaders from various offices.
There will be Crumbl Cookies for the first 40 students who arrive!