Feb
14
All About Love Valentines Day Event!
Mon, February 14, 2022 • 11:30am - 1:30pm (2h) • AGH Meeting Room (Johnson House, meeting room)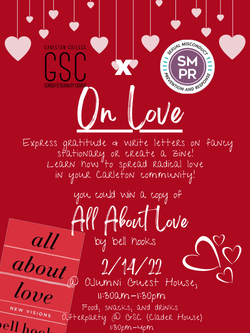 Join the GSC and SMPR this Valentine's day from 11:30-1:30 in the AGH Meeting room (Johnson house)  for our event "All About Love". This event is a collaboration between GSC & SMPR to bring you the option of either creating a love letter for your special someone or contributing to a zine (a mini magazine) on topics such as self-care, healthy relationships, etc. We will have food, all the crafting supplies your heart could desire to make a stellar letter or zine, and we will have eight copies of Bell Hooks's most recent book "All About Love" that the GSC will be raffling off as door prizes to those who show up to participate! Stop on by to create something for yourself, a friend, or a loved one! If you can't make the event time specifically the after-party will continue at the GSC until 4:00 pm! Masks will be required at this event.