Bike Registration Form
Registration stickers will be placed in your mailbox after registering.
---
You must be signed in to view this form.
Bicycle Registration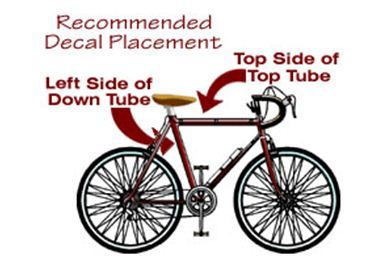 All student-owned bikes at Carleton College are recommended to be registered and displaying a uniquely numbered registration decal. The bike registration process will help identify you as the owner, should it be stolen or need to be temporarily relocated due to snow removal or construction projects. Additionally, this will assist with the identification and removal of abandoned bikes allowing for more space in campus bike racks.
Decals
Decal placement: A prime decal location is on the top side of top-tube, BENEATH THE SEAT (to avoid wear and weathering and make removal difficult). This places it in a common location easily spotted by Carleton Security, law enforcement and potential thieves. You want people to know your bike is registered! It should go without saying, but do not affix the decal to the removable seat-post or to the seat itself. If you have questions, contact Security Services.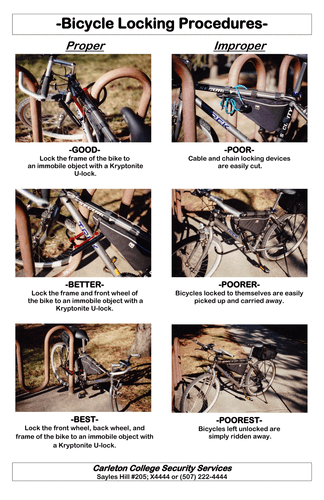 Make certain your bike is locked securely! Follow proper bicycle locking procedures as outlined on the Bike Locking Poster. Don't make it easy for bike thieves to be successful.
Bicycle Safety and Security
Carleton College endorses the National Safety Council tips for safe and enjoyable bicycling:
Obey traffic rules. Get acquainted with ordinances. Cyclists must follow the same rules as motorists.
Know your bike's capabilities. Remember that bicycles differ from motor vehicles; they're smaller and cannot move as fast. But they can change direction more easily, stop faster and move to smaller spaces.
Ride single file with traffic, not against it. Bicycling two abreast can be dangerous. Bicyclists should stay as far right on the pavement as possible, watching for opening car doors, sewer gratings, soft shoulders, broken glass and other debris. Remember to keep a safe distance from the vehicle ahead.
Make safe turns and cross intersections with care. Signal turns half a block before the intersection, using the correct hand signals (left arm straight out for left turn; forearm up for right turn). When traffic is heavy and the cyclist has to turn left, it is best to dismount and walk the bicycle across both streets at the crosswalks.
Never hitch onto cars. A sudden stop or turn could send the cyclist into the path of another vehicle.
Before riding into traffic; stop, look left, right, left again, and over your shoulder.
Always be seen. During the day, wear bright clothing. Nighttime cycling is not advised, but if riding at night is necessary, wear reflective clothing, designed to bounce back motorists' headlight beams, to make cyclists more visible.
Make sure the bicycle has the right safety equipment; a red rear reflector; a white front reflector; a red or colorless spoke reflector on the rear wheel; an amber or colorless reflector on the front wheel; pedal reflectors; a horn or bell; a rear view mirror. A bright headlight is recommended for night riding.
Wear a helmet. Head injuries cause about two thirds of all bicycling fatalities. The Council strongly urges all cyclists to wear helmets. The first body part to fly forward in a collision is usually the head, and with nothing but skin and bones to protect the brain from injury, the results can be disastrous.
Note: Riders of Carleton owned bicycles are required to wear helmets.
The Minnesota Safety Council has assembled a series of short videos on bicycle safety. Watch them on YouTube.
Bicycle Protection
The National Bike Registry offers the following advice on physical theft prevention:
Lock as much of the bike as possible. Remove the front wheel if there is quick release; put it next to the back wheel; run the lock through both rims, the frame, and a bike rack.
Use a U-shaped lock.
Lock the bicycle into the provided bike racks or to something that can't be broken or ripped out of the ground in an area that doesn't interfere with normal pedestrian flow. Make sure a thief can't lift the bike off the mount (such as off the pole).
Lock the bicycle in a lighted, visible place where there is plenty of pedestrian traffic.
Consider making the bicycle less attractive (by putting some ugly tape on it, for example) or purchasing a bike with a simple, nondescript paint job. The more the bike stands out, the more likely it will disappear.
Make sure the lock is not near the ground where a thief can use a hammer or rock to smash the lock.
If you have a multi-speed bike, leave it in the highest gear. This makes it that much harder for a thief to shift quickly to get away with your bike.
Other Biking Tips
Carry a mobile phone for emergencies. Stop and pull off the road or path when you need to use a cell phone. Do not use a cell phone while you are riding.
Check the weather forecast before riding and avoid riding in extreme weather conditions.
Inspect your bicycle before and after each ride to make sure it is in good working condition.
Report suspicious activity or loitering around bike racks to Security Services at extension 507-222-4444.
Park and lock your bike in a bike rack. If additional bike racks are needed in areas, please contact Facilities, Grounds at 507-222-4133.
Say "On your left" to walkers prior to passing them on the left so they are alerted to your presence.
Pedestrians have the right of way; allow them plenty of room when riding.
Control your speed going down the sidewalk by Boliou toward the Recreation Center, the hill by the townhomes and going down the sidewalk by Goodhue to reduce the possibility of pedestrian accidents and wipeouts.
Bike Repair Stands
Complementary bike repair stands can be found at:
Sayles-Hill south side
Recreation Center
Northfield Library Division Street entrance
5th & Division, under the stairs of the McClaughry Building