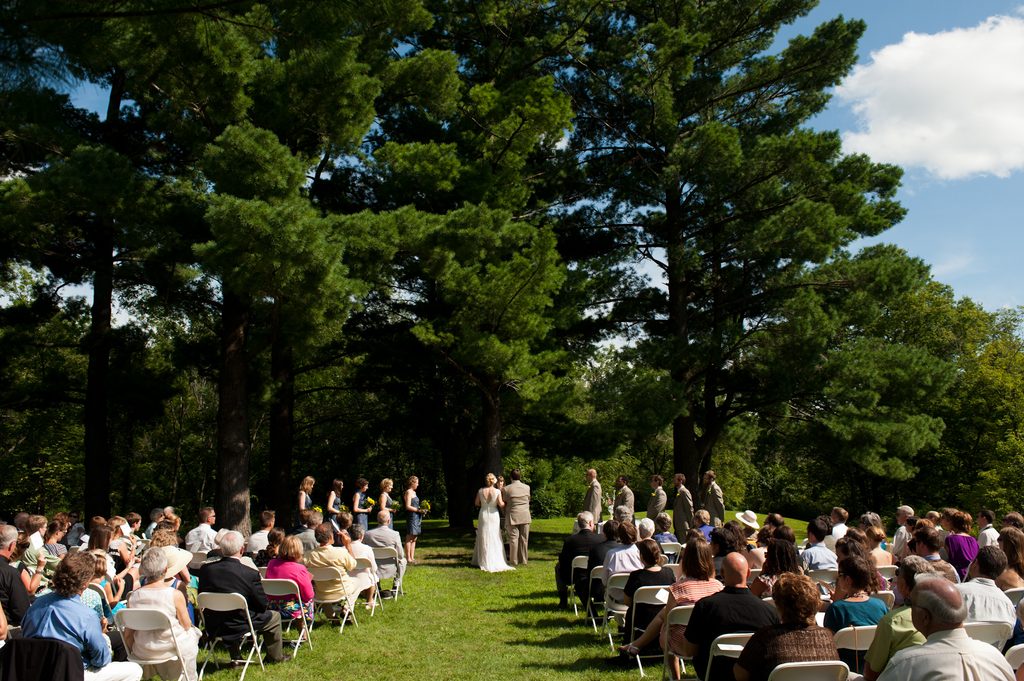 Thank you for your interest in Carleton College as a possible site for your wedding. The following important information will help you understand the facilities and services available to you as you plan your special day. We look forward to working with you.
Rental venues include Monument Hill site in the Arb for a ceremony and the Weitz Center Class of 1980 Commons for receptions. All spaces are reserved from Friday at 3 p.m. until Saturday at 11 p.m.
Facilities Use
Because the college's facilities are used extensively during the academic year, weddings are scheduled only for the summer months or winter break. Only one large catered event per weekend can be held on campus, and availability of facilities is subject to construction and maintenance projects, summer academic programs, and other college events.
Reception Space in Weitz Center for Creativity, Class of 1980 Commons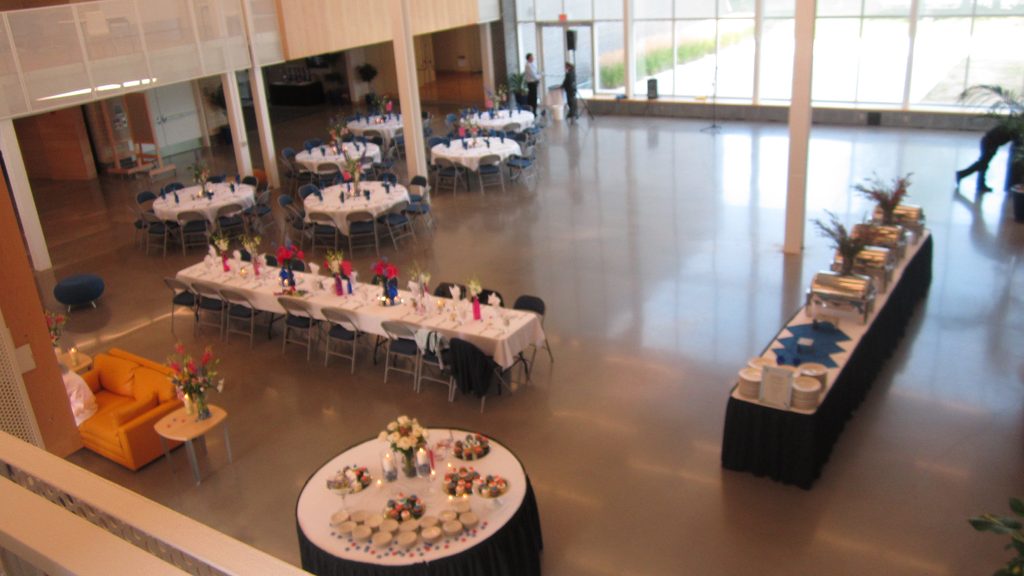 The maximum seating capacity is 225 (25 tables of 9). If you plan to have a buffet, the number of seats may be decreased. Likewise, if a head table is used, the room is more comfortably arranged with only 21 tables for guests. Round tables that seat 9 people and 8′ rectangle tables accommodating 8 chairs per table are available. The Weitz Center is air conditioned. Basic microphones and sound equipment are provided.
The Weitz Center is accessible to physically-challenged individuals by means of a ramp at the front entrance.
Wedding Ceremony Space in the Carleton Arboretum
The Arboretum Director and College Communications have agreed that the best location for weddings in the Arboretum is Monument Hill. Weddings will be scheduled through the College Communications Office, as other wedding parties are, with the College Communications Staff consulting with the Arboretum Director. These weddings will need to fall within the assigned open dates, keeping in mind that the College will host only one wedding per weekend.
Considerations for an Arboretum wedding: A tent can be rented and erected near the Monument Hill location. A Carleton staff member would need to be on site when the tent is erected to approve the location. Tables and chairs and any other rental equipment will not be provided by the College and must be ordered by the wedding party through an outside vendor. There will be no College sound system provided for an outdoor wedding. The College will make every effort to have rest rooms available at the Recreation Center. However, if these are not available, the wedding party will need to rent portable rest rooms. Parking will be available in the Recreation Center Parking Lot. Arrangements for ministers, musicians, florist, tents, chairs and tables, outdoor bathrooms (if necessary) and photographer are the responsibility of the wedding party.
Catering
Bon Appétit Catering provides all catering on the Carleton College campus. Menu choices and costs can be obtained by contacting the catering manager at (507) 222-4229 or (507) 222-5023.
Alcohol
Alcohol is permitted at wedding events on campus, but all alcoholic beverages must be confined to the reception room. Bon Appétit Catering provides all alcohol and servers for your bar. This will be at an additional cost to the food purchases.
Parking
Guest parking is permitted in any unrestricted area on campus and on the adjacent city streets (watch posted city regulations). Parking is usually not a problem during breaks as compared to the academic terms. However, with a large number of guests arriving for a single event, not everyone will be able to park immediately next to the venue. Parking for a wedding at the Monument Hill site in the Arboretum will use the Recreation Center Parking lot.
Guest Lodging
Rooms in the Alumni Guest House are not available for wedding parties to book until one month prior to the date. If rooms are available at that time, they may be rented for the event. To ensure space for your guests, we suggest that you book a block of rooms at a local hotel well in advance of your event. We would be pleased to provide you with a list of Northfield area hotels and motels.
Facility Rental Fees
The fee for use of the Weitz Commons is $800 for Carleton alumni/ae, faculty, and staff, and $1,000 for all others. Included in the fee is the use of facilities for the the wedding reception, set up and clean up, tables and chairs, and basic sound system. A $150 deposit will secure the reservation. (The deposit is refundable if notice of cancellation is given three months prior to the wedding date.) The balance will be expected one month prior to the wedding date.
The fee for use of the Arboretum Monument Hill Space is $200 for everyone. Included in the fee is the use of the Monument Hill location, College staff siting of a tent (if applicable), use of restroom facilities (if available) and parking. The entire fee will secure the reservation. No backup rain location is granted at the College. (The deposit is refundable if notice of cancellation is given three months prior to the wedding date.)
Scheduling Your Wedding
Contact the Campus Scheduling office to inquire about date availability. A deposit is required to secure a particular date.
A "Hold Harmless Agreement" and "Wedding Reservation Information" sheet will be sent to you approximately six months prior to your wedding. These forms should be completed and returned as quickly as possible.
In order to use any space on the Carleton College campus, we require that you provide us with a $1 million Certificate of Insurance (personal liability) identifying Carleton College as the "additional insured" for the time you will be on campus. There is usually a cost to secure this coverage. Please check with your insurance agency for more information.
We recommend that you schedule a visit to view the wedding site and review your arrangements with us at least one month prior to the wedding.