Dec
1
Annual Craft Fair and Custodial Bake Sale
Fri, December 1, 2023 • 8:00am - 2:00pm (6h) • Weitz Center for Creativity 320 Third Street East, Northfield, MN 55057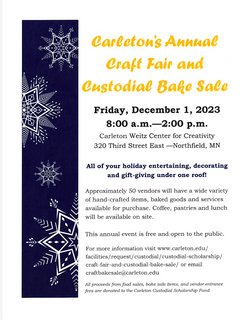 Carleton College's annual Craft Fair and Custodial Scholarship Bake Sale is back!
This long-standing event welcomes the entire Northfield community to shop the wares of Carleton staff and community members. A wide variety of hand-crafted items and baked goods will be available for purchase.
The craft fair portion of this event was first organized in 1982 by then-Carleton employee Loretta Springer as a way to showcase and sell homemade items by Carleton staff.
The bake sale portion of the event was organized to support the Carleton Custodial Scholarship Fund. This fund was established in 1993 by custodian Pat Flynn, and initially involved 25 custodians who committed to donating a portion of their paycheck to fund an endowed scholarship for Carleton students. Today, the scholarship fund continues with the contributions of custodians as well as other staff and faculty members across campus.