Dec
14
SAC Holiday Cooking Class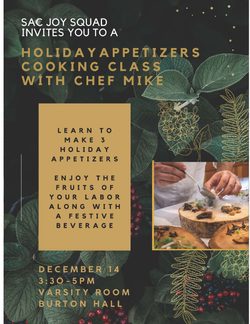 The Joy Squad (aka SAC Special Events) is excited to offer another holiday appetizer cooking class with Chef Mike from Bon Appetit. Participants will be making three appetizers (both meat and vegan/gluten-free options) and then enjoy tasting and sipping on a festive beverage!
Please register before 12/7 to join in the fun.
Space is limited so don't delay. If there is an overwhelming demand the team hopes to schedule another cooking event later in the spring.
Seasons treatings!