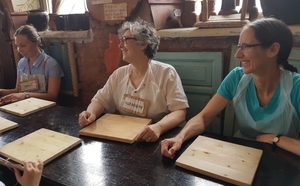 Well, truth be told, they did, but they came back, and they left not for the reason that most immediately comes to mind.
This summer all three of us, DNI, AM, and LG were in Moscow at the same time, in fact, in one and the same apartment! AM and LG pursued research for their Winter 2018 course: RUSS 237: Beyond Beef Stroganoff: Russian Culture and Cuisine, offered in English with a Russian language component RUSS 337: Russian Kitchen Culture. DNI did the driving (an extreme sport in Moscow).
Unfortunately, all three of us left Moscow before majors Urmila Kutikaad and Anton Sack arrived to do their fellowship-funded research.