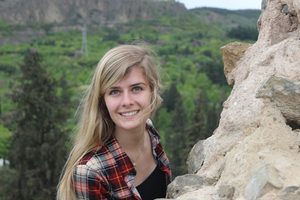 Gretchen ("Маргарита") Fernholz  '16
Signing up for Russian 101 turned out to be the best decision of my life. Though I'd been kindling an interest in Russian culture since junior high, it wasn't until I got to Carleton that it ignited into a full-blown passion. Suddenly my "impossible" dream of learning Russian became attainable, and I dove into every course offering and travel opportunity available
I went on the Moscow & Beyond Program twice, in 2014 (my first-ever trip abroad!) and again in 2016. In summer 2015, with lots of help and guidance from the Russian professors, I received the Kelley International Fellowship to study cremation as a tool of political repression in the Soviet Union.
My six cumulative undergrad months in Russia were frequently challenging, never dull, and rewarding beyond words. In short, I was hooked. After graduating, I set off for Astrakhan, Russia to work as a Fulbright English Teaching Assistant for one academic year. I continued to visit new regions in Russia, met many wonderful people, and learned lots of, uh, colorful words and phrases.
Someday, I want to return to Moscow, my all-time favorite city, to keep teaching English. I also hope to continue my Russian education in some sort of graduate program—more on that anon. But for now, I'm back in western Minnesota working at my hometown high school as an ELL Paraprofessional. By some bizarre twist of fate, I'll be using my Russian daily to help two siblings from Ukraine navigate their new school and, hopefully, acclimate to America as well as I have to Russia.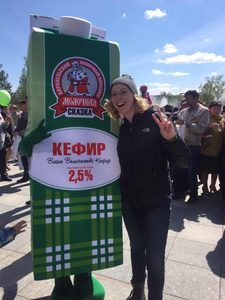 Almeda ("Алёна") Moree-Sanders  '16
When I first arrived at Carleton, I thought the Kremlin was that colorful church on Red Square, believed "Pushkin" was just a weird spelling of "Putin," and was pretty sure bears walked the streets of Moscow. After four years, two Moscow programs, a summer research fellowship, and a Russian major, I had learned the error of my ways but still had a few lingering questions. In an effort to answer them, I took off for a Fulbright English Teaching Assistant fellowship in Barnaul, Altai Region, Siberia.
My Fulbright year was amazing in so many ways, letting me experience a new part of Russia, polish my language skills, and meet lifelong friends. I had the chance to travel around my region and the country, learning as I went.
I just got back in June 2017, and I loved teaching and living abroad so much that I'm planning to leave in January for Peace Corps service as a Community Health Educator in Ethiopia. While Ethiopia may seem a strange choice for someone who already knows and loves Russian, I've found that my Carleton education has not only prepared me for the particular joys of Russia, but also given me the skills and confidence to dive into a new language and culture once again, just like I did my freshman year.
When I get back in two years, I plan to pursue a Master's degree in either English teaching or public health, depending on how the Peace Corps goes, and I hope to spend the rest of my life traveling frequently and sometimes living abroad. Whether or not I use Russian in my career, I know I'll keep up with my Russian friends and never stop listening to those classic Soviet jams.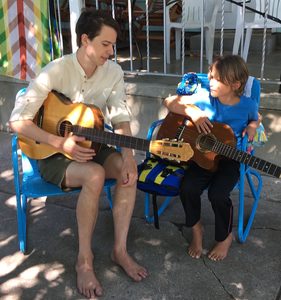 James ("Яша") Browning  '15
I graduated from Carleton in 2015, having majored in Russian and history, and set off to teach English in Volgograd, Russia as a Fulbright ETA the following autumn. After nine frenetic, but enjoyable, months at Volgograd State Technical University, I returned home without any concrete plans and only the slightest inkling of what would come next.
A few weeks into my gap year I realized that I sincerely missed working with Russian and decided to study it further. I am currently (as of 2017) pursuing a master's degree in Regional Studies: Russia, Eastern Europe, and Central Asia at Harvard University.
It goes without saying that Russian has played a major role in my post-secondary life, and I would be hard-pressed to imagine where I would be without it. The language opened a world of opportunities that only seem to grow greater day by day, and I'm not just speaking about funding or job possibilities. Learning a language such as Russian will change the way you think and will introduce you to an increasingly intricate web of history and culture that is largely ignored by the typical American education.
The Russian program at Carleton prepared me beautifully for my post-graduation antics, providing me with experience in everything from subtitling a film and translating academic texts, to effectively suppressing embarrassment after belting out a song in public.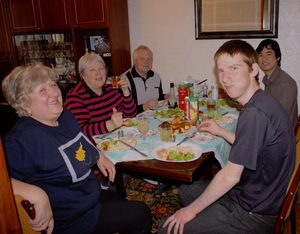 Jacob ("Яша") Hoerger  '14
I signed up for Russian on a whim during my freshman year and ended up taking more classes in Russian than in any other department — and not once have I regretted it! The program left me with countless fond memories: eating bliny blindfolded at Russian tea, retracing steps in St. Petersburg, belting out Soviet ballads, playing Russian Rotblatt ("Russblatt") on Lake Baikal, and many more. After graduating in 2014, I spent stints in Washington D.C., New York City, and Minneapolis before beginning a Ph.D. in Government at Harvard University in the fall of 2016, where I am studying the interaction between religion and science in modern political theory. My background in Russian history has provided me an instructive case study in the real-life consequences of various political ideologies, and the language-learning skills I gained in the program have come in great handy as I've had to pick up other languages for research purposes. Russian continues to be a part of my fun time in the form of watching documentaries, reading Nabokov, blogging about Russian lit, finding movies on the Russian interwebs, and dining at Moscow on the Hill or the Russian Tea House with former classmates when I'm visiting Minneapolis. If you'd like to hear more about why you should study Russian and how it might be able to complement the rest you of what you do, please don't hesitate to reach out! email: jhoerger@g.harvard.edu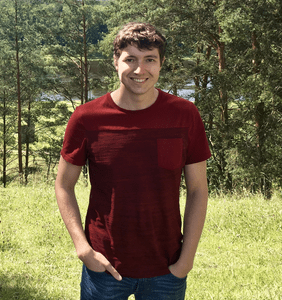 Brian ("Боря") Kilgour  '11
After graduating from Carleton in 2011, I spent a year as a Fulbright Graduate Student Researcher in Ulan-Ude. During that year, I researched the development of tourism in Buryatia and examined narratives of the history of Buryatia that were used to design the organization of tourism products.
Through this research project, I became interested in the myriad of connections between culture, economics, and politics, and (after a 2 year stint working as a project manager for an IT firm) I received my MA in Russian, East European, and Central Asian Studies from the University of Wisconsin-Madison, where I am now pursuing my PhD in Slavic Languages and Literature.
As a graduate student, I've been the Project Assistant and Resident Director of the Pushkin Summer Institute-Abroad, a National Security Language Initiative for Youth subgrantee that offers a Russian study abroad program in Daugavpils, Latvia to high school students. I wrote my MA thesis on the early cinema of Soviet Kazakhstan and had the opportunity to learn Kazakh and travel to Kazakhstan twice. I still have several years left of graduate work, but I'm hoping to write my dissertation on changes to Soviet theories of nationalism, literature, and film during the Thaw Era.
Needless to say, I've found learning, teaching, and working with Russian to be highly rewarding. Russian has opened up doors to travel and experiences that still take me by surprise. And I think that I'm able to say with some experience at this point that Carleton's Russian department is remarkable in both the quality of language instruction and the breadth of cultural knowledge that students are imparted with.

Laura ("Ара") Roberts (O'Brien) '10
Josh and I recently moved to Chicago after living in the SF Bay Area for several years. I'm working in Market Research, where I manage online research products and create reports for our clients. I don't use my Russian very often, but my language background did get me in the door for my first job in the industry.
I know that my career path is a little more unconventional, but I'd be more than happy to talk to any students that would like to speak with me. They can find me on the alumni network if they like.
Saira ("Саира") Haqqi  '07
I'm actually back in Minnesota, working as book and paper conservator at the Minnesota Historical Society as of February. I've been doing well, albeit not necessarily doing a lot with my (now sadly rather broken) Russian.
After graduation, I moved to the DC area and did AmeriCorps Vista for a year, which led to several jobs as a grant-writer at various non-profits. I initially had meant to pursue something more directly related with Russian, but my options were limited since at the time I didn't have citizenship and most of the relevant jobs in DC involved the government. Hence, grant-writing.
After a few years, I decided to pursue library conservation, and last year I graduated with a double Masters in Art History and Art Conservation from NYU. I did get to use it, though, in doing research on Russian royal bindings of the 19th century a couple of years ago. I'd have loved to do a more in-depth paper on those, but I ended up getting a job instead. Бывает.
At MNHS, I'm responsible for the preservation of basically everything that involves paper. I'm still not doing much with Russian, but I do get to impress the lady who sells me pierogis at the farmer's market, so there is that.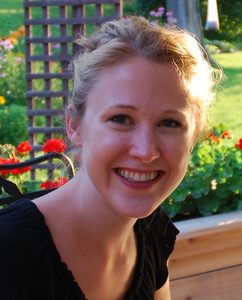 Jenny ("Женя") Holm  '07
I spent the year after graduation studying food culture and learning the Russian they don't teach you in class) in Krasnodar, Russia on a Fulbright grant. In 2009, I moved to Washington, DC and worked with the communications team at an association for international educators for about a year and a half. Then I headed abroad again, this time to Georgia, where I taught English in a public school in Batumi through the Teach and Learn with Georgia program. I also spent a lot of time hanging out with my host family and neighbors in their kitchens, pestering them with questions about their lives while learning to cook home-style Georgian food.
After returning to DC in 2011, I got a job at an international non-profit called Internews where I've stayed ever since. I work on a team managing media development programs in Eastern Europe and Central Asia. Our programs help local media and NGOs better understand the needs of the communities they serve, provide useful news and information to the public, and create opportunities for people to connect with one another and make their voices heard.
I get to use my Russian every day and travel to places I might otherwise have never gone, like Kyrgyzstan and Moldova. Outside of work, I run a monthly cooking class and blog called The Georgian Table and am getting into audio documentary storytelling.