1998
Sarah B. Quigley
After graduating from Carleton in 1998, I got my master's degree in English as a Second Language from the University of Minnesota. In 2000, David Quigley (also '98) and I got married at Carleton, and in 2002, we headed to San Francisco, where I taught adults at a private ESL school. We had a blast there, but both of us were dissatisfied with our jobs. This resulted in the decision to move to New York, where David is studying at Columbia and I'm teaching in the ESL programs at NYU and Hunter College. While my job opportunities out here have been great, I've found myself yearning to return to San Francisco, something that David and I will more than likely do when he gets his degree in the spring of 2006.
When I tell people that I majored in Russian as an undergraduate, the response tends to fit one of three categories: 1) total awe, 2) bewilderment, or 3) "Huh." However, no matter which reaction I get, I am always happy to sing the praises of my major. Graduate school was a cake walk compared to the rigorous demands of Carleton's Russian department. And now that I teach ESL, I can impress the occasional student from Russia with a line of Pushkin or a zesty rendition of "Ochi Chyornie." Although I am no longing speaking Russian regularly, I've found that my experiences as a language major and my time in the Moscow program have given me tremendous insight into the needs and concerns of my students. Plus, I'm a self-professed grammar nerd, which was largely what drew me to Russian in the first place.
1999
Alan Barenberg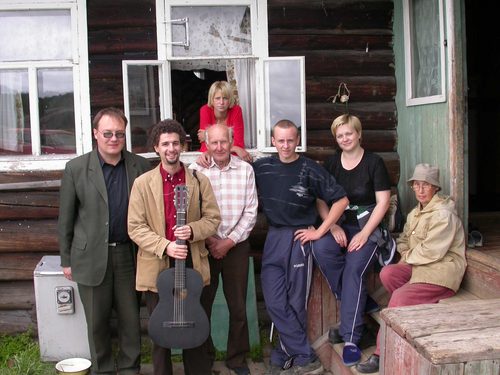 The photo was taken just outside of Ukhta, Komi Republic, in July 2004. The person to the left of me is Ukhta historian Andrei Kustyshev and the rest of the folks are members of his extended family.
Since graduating Carleton in 1999, I have been a graduate student in the Department of History at the University of Chicago, where I am working on a Ph.D. in Soviet history. I am in the process of writing my dissertation about Vorkuta, a coal mining city in the Russian far north that was built as a penal colony in the 1930s and 1940s. Using archival research and oral history, my dissertation explores the transition of the city from a prison camp complex to a "free" city from the 1940s to 1960s. My research has taken me to several Russian cities, most of them very cold. My wife Abby and I are eagerly awaiting the arrival of our first child in December.
2000
Lindsay Francis
I have been working for General Mills since graduation. I can't believe it has been 5 years already! My current role is an Account Operations Team Leader in the sales division. I also completed my MBA at the University of MN last year.
Although my job is completely unrelated to Russian, I still get to practice my language skills occasionally. I live across the street from a Russian family, and they are always willing to let me practice on them!