1991
Dan Dougan
Since Carleton ('91) I have indeed been involved with Russia. I moved to St. Petersburg in 1996 to work with GeoLogistics, a logistics company that ships cargo to the CIS. Mostly I was involved in shipping equipment for oil and gas projects and government cargo, in particular, the Nunn-Lugar program to dismantle nuclear weapons and Dept. of Energy project to upgrade nuclear power plant safety. I worked for GeoLogistics for 3 years and met my wife, Veronika, during that time.
We moved back to the States while I went to business school at the University of Chicago. While looking for an internship, I talked to a friend from St. Petersburg who had started Jensen Technologies, an offshore programming company. I went back to Russia for an internship with and ended up moving back after I graduated. My son was born in St. Petersburg in 2003 and we moved back to Minneapolis two years ago.
I'm still managing Jensen Technologies from here, but I go back a couple times a year to visit our office and see my wife's family. We have about 40 developers in St. Petersburg and develop various applications, from simple web sites to complex corporate systems. Our daughter was born in Minnesota this summer and she just went to visit Russia for the first time in November.
The photo below has a funny story that goes along with it. A year ago, my son and mother-in-law happened upon the opening of a small sculpture display in a renovated walkway just off Nevsky Prospekt. There were some newspapers there covering it and one took a picture of my son, Jack. So, in the picture is my son and his grandmother.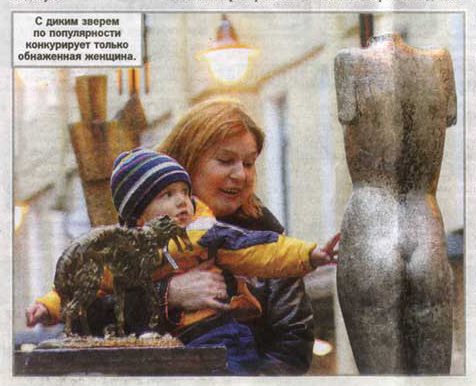 Lori Adams DuRussel
For me, life after Carleton has included: experience as a software developer & trainer; grad school in educational psychology (cognitive science); time at home with my three children (ages 7, 5, and 3); work in adult education teaching both parenting- and adoption-related classes; work as an assistant-of-all types for a local adoption agency; personal travels to Europe, Australia, and Central America (including trips to Guatemala where we adopted two children).
Most of it (OK, all of it), is not related to Russian studies directly, but I still feel proud of having studied Russian at Carleton because of the perspectives it helped me get and the experiences I had through the program.
1992
Cricket Crutcher Mikheev
Cricket Crutcher Mikheev '92 holds a M.A in Russian Literature and a Ph.D. in School Psychology from Columbia University. She works in an independent school in Manhattan, where she lives with her Russian husband and two bilingual daughters.
1993
Sara Daniel
After graduation, I spent a year in St. Petersburg teaching preschool for the American Consulate. After I returned to the US, I eventually settled into the publishing industry in Boston, earning a Graduate Certificate in Publishing and Communications from Harvard and becoming an Associate Editor in the foreign languages division of Hougthon Mifflin's high school textbook section (editing Spanish, French and German, only one of which I actually speak!).
I decided to move into the online world and took a short-lived job at a company called JuniorNet (JuniorNet.com) producing online content for preK-8th grade. Then I moved to Washington DC to work at the PBS national headquarters, creating a website called PBS Parents (www.pbsparents.org) which focuses on helping parents get kids ready for learning in school.
In 2003, I spent a year in London, England earning an MA in Media and Communications from the University of London's Institute of Education. I am now back in DC working as the Web & Publications Manager for Georgetown University Law Center.
Laura Fosbender
I haven't used Russian in any formal way since graduating, but I don't regret studying the language and culture at all. Having international experience — studying in St. Petersburg for a semester — allowed me to get my first job, coordinating two overseas service programs for an association. Since then, I have done a little of this and a little of that — computer programming, web development, etc. — and have spent my free time tending my own garden, raising ducks and chickens in Berkeley.
I'm currently working at the California Digital Library, analyzing usage data and pricing information for electronic journals, helping UC in its quest to wrest control of scholarly publishing from the hands of the current corporate oligopoly. I'm on the verge of another overseas adventure, albeit a tame one (except for the bungee jumping) — in December I'm leaving for New Zealand for five years.
1995
Alex Leikikh
Group Account Director, Fallon Worldwid
I jumped into the advertising business straight after graduation in '95, moving to Chicagoto work on Leo Burnett's largest client Philip Morris. I learned a lot about the business from my Burnett counterparts and was perfectly happy in Chicago until I took a call from Fallon (a Minneapolis-based ad agency) in '98. I'm what's called a "car freak" and when the guys at Fallon offered me the chance to work with client BMW, heading back to Minnesota was an easy decision.
Back in Minneapolis, I settled into work and started a family. BMW taughtme volumes about both the automotive industry as well as the world of television commercial production. During my tenure on the business, I traveled extensively with production crews shooting commercials. My time on the account culminated in a month-long tour in New Zealand filming Superbowl spots.
I thought the BMW related travel was heavy 'till I was asked to head up one of Fallon's largest clients, United Airlines. This was January 2001 and United had just awarded Fallon the global advertising account. My job was to get our fledgling international offices prepped to handle the business. I spent the better part of that year hopping between London, Tokyo, Hong Kong, and Sao Paulo.
My work with United recently crossed paths with Russia. Last year we hired Russian film animation icon Alexandre Petrov (Academy Award winner for his animated film "The Old Man and the Sea") to develop one of United's animated television commercials. Part of our deal was to shoot a short documentary film about Petrov's work on the commercial, his life, and influences. I accompanied a small film crew to Moscow and then onto Yaroslavl, where Petrov keeps his studio. We spent a week in Russia altogether. It was obvious that while Moscow had changed almost indescribably since I was there in '93, Yaroslavl seemed to have been ignored by the lightning-quick pace of new Russian capitalism.
My wife Jennifer and I married in 2000 and now have two daughters, Ekaterina (three and a half) and Eva (17 months). We recently built a home on a bit of land in Eden Prairie, where our black lab Ivan enjoys the great outdoors.
Darcy Paquet
After Carleton I went on to grad school at IU Bloomington, originally in the Russian Lit Ph.D program but then later I switched over to a dual masters in Slavic Linguistics and Applied Linguistics/TESOL. At that point my plan was to teach English somewhere in Eastern Europe, but I first went to Korea, thinking I'd spend one or two years teaching and paying back my student loans. Eight years on, I'm still there.
It's true that I hardly ever use Russian anymore, but I'm sure that if I hadn't studied Russian, I would never have had the confidence to really pursue learning Korean. A working knowledge of Korean, in turn, has led me to pretty much everything I'm involved with now.
After teaching English for four years, I started doing writing and work related to Korean cinema. I run a website at www.koreanfilm.org, work as a correspondent for the British-based film trade magazine Screen International, do advising for an Asian-themed film festival in Italy, and occasionally do the English subtitles for Korean films. I'm married (yes, my wife is Korean) with an infant son, and will probably continue to live in Seoul for the near to mid future.