1986
Ani Hyslop
I'm currently working for a USAID-contractor as a Monitoring and Evaluation Specialist. My work involves providing technical assistance in monitoring and evaluation of to USAID's popualtion, health, and nutrition programs. I've been working primarily in Africa on HIV/AIDS issues but had the opportunity to go to a Monitoring and Evaluation Workshop in Kiev in 2003.
Shoshana Keller
I graduated in 1986 with a double concentration (now "minor") in Russian and History. Since my least entry on your website I've gotten tenure and am now an Associate Professor of Russian and Eurasian history at Hamilton College. I teach the standard Russian survey, topical seminars, and courses on the modern Middle East and Central Eurasia.
These days I've got one foot firmly in the Muslim world, although Russia always feels like home. Not only do I know your colleague Adeeb Khalid, but we're working together on a project sponsored by the Social Science Research Council to develop an internet-based "Teaching Resource Tool" (in SSRC jargon) for Central Asian history.
Adeeb is currently president of the Central Eurasian Studies Society, and I'm chair of the Publications Committee and book review editor for the society's journal. I also thoroughly enjoy talking with Diane when I can, although I haven't seen her in a couple of years.
Hobbies: two years ago my partner and I did a bicycle tour of the Erie Canal, which was fabulous. I bike as much as I can, love to cook, and still unwind with beer, football, and large tomes on Stalin.
1987
Paul Johnson
I don't think I've used my Russian since graduation. In fact, I have pretty much forgotten even basic vocabulary. Other than serving for three years as a friendship family for a Russian student at the College of St. Catherine (which provided proof that I forgot almost everything), I'm afraid my Russian resume is lacking.
After three confused years post-Carleton, I headed to grad school to get a masters in exercise physiology followed by ten years of coaching college track. I resigned in 2002 to be a stay-at-home Dad to my two boys and take on various community volunteer projects. That is where I am today. But, if I were at Carleton again, at that phase in my life, I would major in Russian again.
What? With the benefit of hindsight, why would I do that?
On a superficial level, it amuses me that I am often labeled an Intellectual when people learn of my college major. That really cracks me up. On a deeper level, the process of learning a language greatly expanded my problem-solving ability, learning about another culture permanently enriched my world-view, and writing all those papers (in particular, that comps beast) raised my writing skills to a point that has benefited me in many personal and career situations.
Especially important to me is that learning to speak and write in a different language has made out-of-the-box thinking and looking at things from a different perspective much more natural for me. And how amazing is Russian literature, anyway!
James M. Jurkovich
Participated in the 1986 summer Pushkin Institute language program in Moscow (right after Chernobyl!).
worked in Carleton's Admissions Office for 2 years
studied in Zagreb, Croatia for a year (Croatian language and culture) and traveled extensively in Eastern Europe
received M.A. in Geography from the University of North Carolina at Chapel Hill (thesis on pilgrimage site in Medjugorje, Bosnia-Hercegovina).
last 12 years have taught World History and Geography at Saint Thomas Academy in Mendota Heights, MN
1988
Jennifer Hackett
After Carleton, my Slavic language experience helped land me a career that I enjoyed for 16 years, but I made my career with the Southern Slavic languages rather than Russian. I took a term of Serbo-Croatian my sophomore year and then spent the first semester of my junior year on a "Yugslav" studies program in Zagreb (ok, Zagreb is Croatia, but it was Yugoslavia when I went there.)
Right before graduation, I was offered a job with the Department of Defense working as a Yugoslav analyst, using my Serbo-Croatian. After a year in that position, I had the chance to move to a different department that provided support to embassies. I went to Belgrade, Yugoslavia in 1989 for three years. In 1994, I studied Bulgarian for a 2 1/2 year stint in Sofia. (I strongly recommend Bulgarian — its vocabulary is very close to Russian but does not use cases — the best Slavic language, in my opinion.)
While in Sofia, I was sent to Zagreb, Croatia on several occasions to provide support to the Embassy there. I met my husband on one of those trips. He was a communications officer at the Embassy who happened to be a Hackett, thereby saving me the trouble of deciding whether to change my name. (My parents said that they would disown me if I went by Hackett-Hackett.)
By 1997, when my Sofia tour was up, I was ready to leave the Balkans. I switched jobs to computer support and did tours with my new husband in Geneva and Manila. Our first child, Isabel, was born in April of 1999, right before our Manila assignment. After Manila we were ready to return to the US and took an assignment in Hawaii with our new baby, Philip, born in April of 2002.
In August of 2004 my husband took an early retirement, I resigned, and we moved to Ellensburg, WA. After a year of trying to figure out how to be a Mom without a full time Philippine nanny (we were spoiled) I am starting to work as a consultant, translating engineering-ese into language that the ordinary mortal can understand.
Katie Sauter Messick
Russian after Carleton? Why, yes! I managed to spend about four years in Russia (and the former USSR) in the 1990s, mostly in Siberia and the Far East. I did a whole bunch of different things, from leading eco-tours on Kamchatka and at Lake Baikal to working for the USIA and helping Catholic Relief Services set up a humanitarian aid program. Being there in the early '90s was a real adventure.
In the meantime, I picked up an MS in Forestry and started out on a split career, half the time in Russia and half the time in the woods in the Pacific Northwest, and I racked up about as many different jobs on my resume as there were years since graduation. Fun! Eventually the nesting instinct overwhelmed the adventure instinct, and although I searched high and low for Russia-related work in Seattle, I ended up veering off down the environmental career path, with only occasional glimpses of my Russian past.
I now spend my days saving King County lakes and rivers from noxious weed invasions, and free time is spent playing music with my husband, Steve, and trying not to kill all the plants in my garden. I occasionally get to help with environmental-oriented Russian delegations that friends who are still connected to that world bring through Seattle from time to time.
1989
John W. Randolph Jr.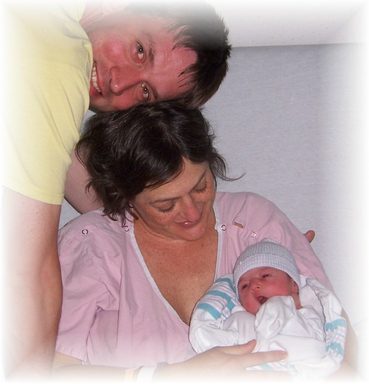 After majoring in history with a with a certificate of advanced study in Russian (which I know I saw floating around my office somewhere not too long ago), I've gone on to get a Ph.D. at Berkeley and a job as an Assistant Professor of History at the University of Illinois at Urbana-Champaign.
I'm just finishing my first book–which I hope to publish with Cornell University Press–and it's entitled: The House in the Garden: The Bakunin Family and the Romance of Russian Idealism.
I'm now married, to an artist named Kim Curtis, and on July 14 (Bastille Day), 2005 our first child, a daughter named Lula Cathryn Randolph, was born. We hope to go to Russia next May, but in the meantime my stockpile of Russian photos is still looking so '90s.