Welcome to the Carleton College Russian Department!
Russian students at Carleton don't just gain a thorough mastery of the language. Each student is also able to focus on a particular area of interest. Some choose a traditional literature major. Others pursue advanced coursework in such fields as history, sociology, or cinema. The department also offers an immersive off-campus program in Moscow.
---
Stay awhile. Enjoy some tea and bliny. Explore the marvels of Russian studies! Start with our Department Overview and Guide for New Students, read more about our courses and study abroad, or just look around for links and friends.
Studying RUSSIAN in the epoch of COVID-19?
Baba Yaga to the rescue!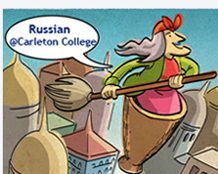 Our home-grown online teaching program has been in use since 2009, course materials cost less than a Carleton T-shirt, and students work with native speakers as well as bilinguals who started studying Russian in college. You can register and view the teaching site with no obligation to continue at: Visit Baba Yaga. View student blogs from the Carleton Moscow and Beyond Program (Spring 2019) now in its twenty-fifth year of collaboration with Moscow University, and with a two-week trip to Lake Baikal. And check us out on Facebook!