Carleton's Reunion weekend has something for everyone! Come back for a weekend of reconnecting with old friends, new friends, faculty members, and current students. See what's new—and what hasn't changed—on campus.
Registration and Check-In
Reunion check-in desk and onsite registration are in Sayles-Hill. Hours are Thursday: 3:00 p.m.–10:00 p.m., Friday: 7:30 a.m.–8:00 p.m., and Saturday: 8:00 a.m.–3:00 p.m.
Please go to Sayles-Hill to pick up your registration materials and room assignment, if applicable. If you arrive after 10:00 p.m. Thursday or Friday and have reserved housing in advance, please head to the security office located at Hoppin House who can let you into your room. You can then check in and pick up your key the following morning.
Class of 1972, please check in at Watson Hall. Hours are Thursday: 3:00-8:00 p.m., and Friday: 7:30 a.m.–1:00 p.m. Please go to Watson Hall to pick up your registration materials and room assignment, if applicable. If you arrive after 8:00 p.m. Thursday or 1:00 p.m. on Friday, and have reserved housing in advance, please head to the security office located at Hoppin House who can let you into your room. You can then check in and pick up your key the following morning.
Wireless access to the Carleton network is available throughout campus. To log on, select the "CarletonGuests" wireless network. You will be prompted to press the orange "Log In" button, which will connect you to Carleton's Guest wireless network. This will need to be done separately for each device. Call the ITS Helpdesk x5999 if you need assistance.
COVID-19
We appreciate your cooperation and assistance as we welcome you and your classmates back to campus while focusing on creating an experience that complies with Carleton's COVID-19 policies. As always, our guiding principle in our planning is to provide for the best alumni experience while prioritizing the health and safety of our Carleton community: alumni, students, faculty, and staff.
Preparation and Tips for Travel
While we will have some masks available, we recommend you bring your own high-quality masks (such as an N95, KN95, or KF94) with you. You may also want to have a rapid antigen test for your personal use in case you develop symptoms while in Northfield.
Consider a contingency plan in case you develop COVID-19 or are exposed to the virus traveling to or at Reunion. Isolation housing is not available during Reunion.
Reunion COVID-19 Policies: Vaccination
All Reunion attendees attested to being vaccinated—including booster(s), if eligible—when they registered.
Reunion COVID-19 Policies: Testing
We strongly encourage all Reunion attendees to take a rapid antigen test no more than 24 hours prior to arrival on campus. We recommend that you bring rapid antigen tests for personal use in case you develop symptoms in Northfield.
Note that testing is not available through Carleton. If you or your guest(s) become symptomatic, plan to use the rapid antigen tests you brought or arrange your own testing.
Any attendee testing positive for COVID-19 during Reunion must mask, isolate from other attendees, and make arrangements to leave campus promptly.
Reunion COVID-19 Policies: Masking
Mask-wearing expectations for Reunion attendees will be consistent with Carleton policies in effect at the time of Reunion. As of 5 p.m. on Tuesday, June 7, masks are expected to be optional in indoor spaces on campus. As noted above, we recommend bringing a high-quality mask with you, and we will also have a small supply available.
If Carleton's guidelines change, they will be noted here and on Carleton's Responding to COVID-19 website.
Housing
Various housing options are available for alumni attending Reunion. For those who prefer to stay on campus, reunion classes will be housed together in residence halls whenever possible. The Reunion package is the only package that includes campus housing as an option. For the past several reunions, on-campus housing has been filled by early April. If you are hoping to stay on campus during Reunion we strongly recommend registering as early as possible (Registration opens in early March) for the best chance to be housed on campus. Please keep in mind that single rooms are limited, you will have a better chance of receiving housing if you are willing to have a roommate.
Residence hall accommodations feature bathrooms down the hall from your room (except Davis, Severance, and James, which have private/semi-private baths). The showers in the bathrooms do not have grab-bars. A linen packet, including sheets, blanket, pillow, and towels, is provided for each bed.
Rooms are assigned in order of registrations received. If you are planning to room with a classmate or friend, you will be assigned a room when both your registration and your roommate(s) registration(s) have been received, or you may register together.
Families: Classes that traditionally bring children are usually assigned to residence halls that have triples, quads, and quints available. Some residence halls only have singles and doubles. If you need more than two beds for your party, multiple rooms next to each other may be assigned for you and your guests. If you have questions about these arrangements, please call the Office of Alumni Relations at 800-729-2586.
There is no housing charge for children sleeping on the floor in their parents' room with their own sleeping bag and pillow; no linen packet is provided. If you would like to add a bed for your children, you can do so by selecting adding housing when you register your children for a fee of $50. Carleton does not have cribs; local classmates have been a great resource on this front and we encourage you to reach out to them directly.
On-campus check-in for Reunion begins at 3:00 p.m. the Thursday of Reunion weekend. Residence halls will not be open before that time (facilities staff are working hard up to that time to clean out all the halls following Commencement). Please check out of your residence hall and return your room key(s) by noon Sunday in the class lounge (please return to Class Host). You may also return your room key(s) to the information desk in Sayles-Hill or to the express checkout box in each dorm. A charge of $50 for each lost key and $20 for each lost card will be assessed.
Residence halls are not air-conditioned (except Davis, Nourse, Watson, and the townhouses); James and Cassat have ceiling fans. All beds are twin-sized. Cribs are not available, nor are irons. Some fans are available for rent at registration in Sayles-Hill. We recommend you check them out as soon as possible upon arrival and, if you can, bring one from home
Accessibility: Davis, Nourse, James, Cassat, Evans, and Watson have elevators.
Hotels
Campus housing has filled to capacity the past several years and we expect that to be the case this year. If you would like to make a hotel reservation, there are several options in Northfield and the surrounding area. Please check our Northfield Area Lodging page for links to area hotels.
PLEASE NOTE: Each hotel has its own reservation and cancellation policies and it is up to the individual to adhere to those guidelines. Carleton does not hold or manage the reservations. Other options include Airbnb, VRBO, or a local bed and breakfast.
The following hotels have blocks of rooms reserved during Reunion weekend. These blocks may fill quickly and there are no room guarantees until an individual reserves with the hotel directly. Please indicate you are with Carleton Reunion when making reservations.
Camping
For those who may be interested in a more outdoorsy experience during Reunion, there are several local camping options near Northfield. While visitors to the Carleton Arboretum are always welcome, because of the lack of sanitary facilities and access to shelter in the case of severe weather, the Arboretum and campus grounds are not open for camping. See information about local camping options.
Pet Policy
Pets are not allowed in College housing. Several local boarding facilities are available with Sunday pickup options. Please follow these links for more information on boarding facilities.
Class Housing Assignments
Assignments are based on class size, seniority, and other considerations. Housing assignments are made as reservations are received, and later registrants may not be housed near their class.
These are the tentative assignments for Reunion 2022 — subject to change:
75th Reunion: Alumni Guest House
70th Reunion: Fairfield Inn
65th Reunion: Davis
60th Reunion: Davis
55th Reunion: Nourse
50th Reunion: Watson
45th Reunion: Cassat
40th Reunion: Cassat
35th Reunion: Townhouses
30th Reunion: Myers
25th Reunion: Burton/Severance
20th Reunion: James
15th Reunion: Evans
10th Reunion: Musser
5th Reunion: Goodhue
Children and Teens
Share Carleton with your family! Many class activities are planned with the whole family in mind, from carnival games and field games to cookie decorating and campus tours. Teens are welcome to attend a myriad of activities on campus including a visit to the Dacie Moses house to share in decorating cookies and making ice cream. Your children, age six to eleven, may want to participate in Camp Carleton.
Camp Carleton — Children's Program
Camp Carleton provides interesting and fun activities for children who are 6 years old at the time of Reunion through age 11. The program is very popular and may fill before Reunion weekend. Walk-in registration will be available only if space permits. There will be time on campus in our morning sessions to explore the Arb, enjoy picnics, yard games, and art activities under the supervision our our Camp Carleton director and student staff.
We are also offering two opportunities to visit the Riverbend Nature Center this year.
Friday afternoon:
Survival Skills: Learn about the survival rule of threes then try your hand at building shelters and fires.
Archery/Atlatls: Skilled staff will instruct you how to properly shoot a bow and arrow. Then you'll learn how indigenous people used to hunt Bison and other game by throwing spears with an atlatl.
Saturday afternoon:
Compass Course: You'll be taught how to use a compass and then practice on River Bend Nature Center's compass courses that wind through our maple-basswood forest.
Pond Dipping: Discover the wild world of pond life! We'll be using nets, buckets and a dichotomous key to identify macro-invertebrates that dwell below the surface of water.
Teen Programming
Although we are unable to offer a supervised teen program this year, teens are encouraged to participate in activities held throughout the weekend. Teens can enjoy baking cookies and making ice cream at Dacie Moses, check out supplies from the rec center to enjoy on their own or with friends, visit the Libe, and take a campus tour. Teens may also attend activities at the rec center, if supervised by an adult.
Family-Friendly Spots in Northfield
A list of family-friendly events can be found on the Reunion Schedule. In addition, there are many activities around Northfield to do with children and families.
Central Park, 421 4th St E. This park is adjacent to the Weitz Center of Creativity and across the street from Parish House. A large playground, swings, and lots of green space make this park a family favorite.
Northfield Public Library, 801 Washington St. The public library, located next to Carleton has been extensively remodeled, and includes an expanded children's area. The library offers many children's programs and events; see the library calendar for times and program information.
Northfield Pool, 801 7th St E. The community pool features a separate toddler pool, zero-depth entry, a 50-meter section, a diving board, a 1/2 court basketball court, a climbing wall, a concession stand, and plenty of deck and grass space for everyone to enjoy.
Bringing prospective Carls?
If you have a high school student who is interested in Carleton, you may wish to review the Admissions visit page. General campus tours will be offered to all alumni on Friday, June 17 at 10:00 a.m. and 2:00 p.m. These begin at Scoville Hall and prospective students are welcome to join. The Carleton Admissions Office will be open on Friday of Reunion weekend from 8:00 a.m. to 4:30 p.m. You can also add your child to the mailing list to receive Admissions publications.
Costs
There are many different costs associated with bringing your classmates together and supporting reunion classes on campus (including class communications, lectures and performances, golf cart and tent rentals, and more). Carleton does not profit from Reunion fees. Here is a breakdown of the costs for Reunion 2022.
The Reunion package is the only package that includes campus housing. It also includes your registration fee, Alumni College programs, evening entertainment, special class programs, all meals from Thursday dinner through Sunday breakfast, and includes housing while available. The weekend package rate is $250 for the 5th and 10th Reunion classes, $280 for the 15th-45th classes, $50 for the 50th Reunion class, and $100 for the post-50th Reunion classes. This package includes a linen packet with sheets, towels, and pillow.
The Reunion package rate for teens is $200 for the 5th and 10th, $215 for the 15th-45th, $50 for the 50th, and $100 for the post-50th Reunion classes. This package does include housing for your teens, while available.
The Reunion package rate for children (age 6-11) is $100 for the 5th and 10th ($150 with bed), $115 for the 15th-45th ($165 with bed), $50 for the 50th, and $100 for the post-50th Reunion classes. Children ages 0-5 do not pay any registration fees (a bed can be added for $50).
Single-day registration packages do NOT include the option to purchase housing and fees vary by the class year and day. These packages include all programs and events, class special events, and meals for that day. Please see online registration for specific fees.
Camp Carleton is for children age 6-11 at the time of Reunion. There are four sessions available. The cost for a children's morning session is $35 and an afternoon/evening session is $50.
Airport Shuttle: Chartered motor coach shuttle service is available for $70 round trip ($35 one way) from the Minneapolis/St. Paul International Airport. Children 0-5 are free, children 6-17 are $34 ($17 one way). Preregistration is required and shuttles from the airport are only available on Thursday, with return shuttles from campus to the airport on Sunday. Remember to allow one hour for travel time between Carleton and the airport. Children's car seats are not available.
Cancellation Policy: Refunds will be issued if we receive notice of cancellation or changes before 5:00 p.m. central time on June 1. Due to fixed costs incurred, no refunds will be made after that time.
Meals
Reunion weekend meals are prepared by Bon Appetit, Carleton's catering service, and feature locally sourced, organic ingredients. Costs reflect actual charges from Bon Appetit.
Meal numbers are confirmed June 1. We strongly recommend you register in advance to ensure you will be able to eat with your class. We cannot guarantee that special dietary requests will be available or that there will be space available if you register onsite during Reunion weekend.
Vegetarian meals are always available. Special dietary needs (gluten-free, etc.) can be accommodated if you notify the alumni office in advance via your registration.
Alcohol on Campus
Under Minnesota state law, people younger than 21 may not purchase or be served alcoholic beverages. The College requests that all alumni conform to the letter and spirit of the law.
There have been several changes in how alcohol is served during reunion weekend. In 2011, Northfield passed a social host ordinance meant to curb underage drinking. Violators can be fined up to $1,000 and face 90 days in jail. In addition, Carleton's food service, Bon Appétit, now holds a liquor license for service on campus. These changes mean that increased monitoring and control of alcohol service and consumption are necessary. Access to alcohol provided during Reunion weekend (at dinners and at large event venues) will be limited as follows:
Registered alumni from the 15th reunion and older classes will show their reunion nametag for service.
Wristbands are required for alcohol service to 5th and 10th Reunion attendees in addition to their name tag. If your wristband is damaged, please bring it to the Sayles-Hill information desk to exchange it for a replacement; state/government issued ID is required for replacement.
For safety reasons, glass containers are prohibited on the Hill of Three Oaks and all athletic fields. Please help keep our athletic fields safe for students.
Travel and Shuttles
Reunion Airport Transport Service: available Thursday and Sunday only
Chartered motorcoach shuttle service is available for $70 round trip per person ($35 one way per person) from the Minneapolis/St. Paul International Airport. Preregistration is required and shuttles from the airport are only available on Thursday and return shuttles from campus to the airport are only available on Sunday. To add a shuttle registration after you've registered for Reunion, contact the Alumni Relations office at 800-729-2586 (Monday–Friday, 8:00 a.m. – 5:00 p.m. Central time). If no one has registered in advance for a particular shuttle time, a shuttle will not be provided. Remember to allow one hour for travel time between Carleton and the airport. Children's car seats are not available.
NORTHFIELD LINES, All MOTOR COACHES PICK UP IN THE SILVER PARKING RAMP
From baggage claim at TERMINAL 1, go down to Level T to access the Tram to the Silver Parking Ramp. Take the tram to the stop (it only makes one) and go up a level to the Silver Parking Ramp.
Please note: You will need to go outside to look for your bus. There will be a Carleton sign in the window of the bus.
Please Note: Several airlines (Condor, Frontier, Icelandair, Jet Blue, Southwest, and Sun Country) use the smaller Terminal 2. The shuttle does not stop at Terminal 2. You can travel between MSP's terminals via free Light Rail Transit (LRT) service. Trains run between terminals around the clock, seven days a week, approximately every 10 minutes.
Schedule
Thursday, June 16
Arrival shuttles are scheduled on Thursday of Reunion weekend, departing the airport at 2:00 p.m., 4:00 p.m., 6:00 p.m., and 8:00 p.m. If no one has registered in advance for a particular shuttle time, a shuttle will not be provided. Please note that children's car seats are not available. Remember to allow one hour for travel time between Carleton and the airport.
Sunday, June 19
Departure shuttles are scheduled for Sunday of Reunion weekend, leaving campus at 6:30 a.m., 8:00 a.m., 10:00 a.m., and 12:00 p.m./noon. Please reconfirm your Sunday shuttle reservation during the weekend at the Carleton College Reunion information booth. If no one has registered in advance for a particular shuttle time, a shuttle will not be provided.
Commercial Transport Services
First Choice Shuttle offers many options for transport from the airport and other destinations: call 507-339-1651 or visit their website.
Missed your shuttle?
If you miss your shuttle, the airport shuttle coordinators will assign you to the next one if space is available. If you miss the last shuttle of the day, your options include taking a taxi, an Uber, renting a car, or making your own arrangements. As you make your plans, please allow for possible delays. Some years, delays have been caused by thunderstorms in Minneapolis or Chicago. Because of fixed costs, we cannot issue refunds for unused shuttle reservations.
Parking
Parking on campus is limited and certain areas have been posted as handicapped, no-parking or reserved areas to allow for pick-up and delivery of people, equipment, and food. There are also several areas blocked off to allow for events like fireworks and food trucks. Please do not move signs or park in these designated areas.
Cars parked in no-parking areas may be towed at the owner's expense. Please observe the signs.
Golf Cart Shuttles
During peak hours, shuttles will circulate constantly to pick up riders. During non-peak hours, drivers will be stationed at one of the stops awaiting a call. If you need immediate assistance please call the
shuttle line at 507-649-2401. The image below shows a map of the shuttle route.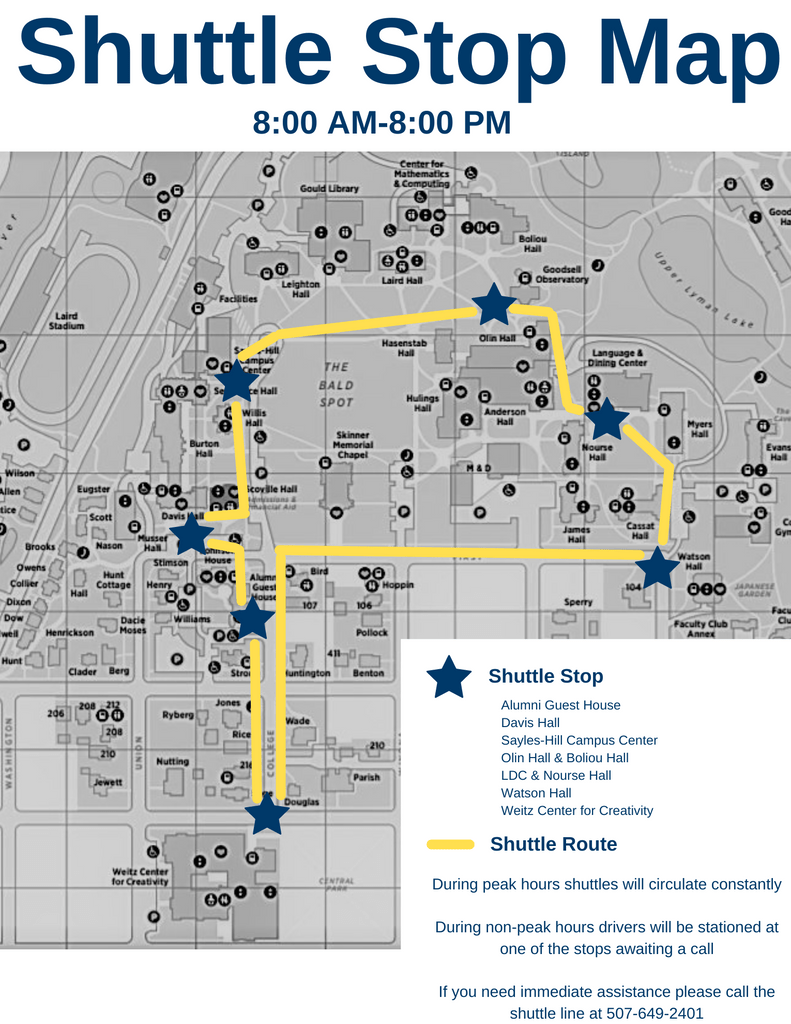 What to Bring
If you forget anything, you can probably find what you need in the College Bookstore or just down the road at one of Northfield's fine retail stores. But here are a few reminders of what to bring for your return to campus.
Water bottle (there will be water stations around campus), camera, scrapbooks, Carleton memorabilia, music, and anything else that will make the weekend special. We recommend you put your name on anything important, in case it's accidentally left behind.
If you're staying on campus, you may wish to bring a small reading lamp, hangers, alarm clock, small fan, and extra blanket or pillow if needed, and a shower caddy or something in which to carry your toiletries to the bathrooms down the hall
June weather is unpredictable. We strongly recommend bringing a light jacket, umbrella, sunscreen, and mosquito repellent. Check the latest weather forecast when packing.
Carleton's athletic facilities and fields are open throughout Reunion weekend. Bring your racket/softball glove/Frisbee, etc., and check your final schedule on arrival for open times. Please note that glass is prohibited on Carleton's athletic fields; we appreciate your cooperation in keeping our fields safe for students.
Sustainability at Reunion
Carleton strives to be a model of stewardship for the environment by incorporating ideals of sustainability into the operations of the College, including Reunion.
Sustainable Initiatives at Reunion
Traditionally, all Reunion classes have been offered a small piece of Carleton memorabilia as an identity item. In an effort to reduce unnecessary waste, these items will now only be given to our 25th and 50th Reunion classes. Dig in your closets for your old Carleton items or buy a piece of gently used gear at the Lighten Up! "Pop Up" sale to wear during the Parade of Classes.
All outdoor meals at Reunion feature compostable tableware. All utensils, plates, cups, packaging and napkins can be discarded in containers labeled "compost" and will be taken to a nearby compost site after Reunion.
We select more sustainable food options by offering locally sourced foods as well as vegetarian and vegan dishes.
We regularly monitor our waste during Reunion weekend to work towards making Reunion a "Zero Landfill" event.
In an effort to protect our environment, we are not offering fireworks this Reunion weekend. While they can be enjoyable to watch, fireworks produce unnecessary harm to the environment, people, and animals.
Carleton is supporting the local drinking water infrastructure by providing water on tap in place of single use plastic water bottles. There are water bottle filling stations located in many buildings throughout campus.
Wind turbine tours can be found on the Reunion schedule. To learn more about sustainable efforts at Carleton, view the Carleton Sustainability website.
What You Can Do
We're working to make Reunion as green as we can, and we need your help! Learn more about what you can do to help keep Reunion sustainable below, and feel free to ask questions when you get to campus.
Pack your favorite reusable water bottle! There will be some available for purchase in the Carleton Bookstore as well. Water coolers are located in class lounges, as well as filling stations on both the north and south ends of the Bald Spot and in most buildings around campus. We hope to eliminate plastic bottle waste as we continue to reduce single use plastics across the event.
Travel to Reunion sustainably. Consider taking a shuttle to and from the airport, carpooling with your classmates across the country, or offsetting your carbon emissions from travel.
Return your name badges and lanyards at the information desk when you check out so that they can be reused for future Reunions.
Stop by the Lighten Up! "Pop Up" Sale and update your Carleton t-shirt collections with the latest academic department and spring concert contemporary styles! All gear is donated by current students for re-use. Visit the CCCE office in Sayles 151 on Thursday, June 18 from 1:00 p.m. to 6:00 p.m., or Friday, June 19 from 9:00 a.m. to 5:00 p.m.
Help improve the natural habitat of the arboretum on Friday morning of Reunion by participating in the Arb Service Project. Indicate in your Reunion registration form that you will participate in this event. Past Arb Service Projects have included tree and shrub planting, buckthorn and honeysuckle removal, and planting wildflower seeds. Consider leading yourself on an Arb walk (here's a map of the Arb).
Help support the above initiatives at Reunion as we transition towards a more sustainable future!
In Case of Emergency
Dial 9-911 to reach Northfield Police, fire, or ambulance from a campus phone.
Dial 507-222-4444 (x4444) for Campus Security.
Call the Northfield Hospital at 507-646-1000 for non-emergency medical assistance.
Call Northfield police at 507-645-4475 for the Northfield Police for non-emergency assistance
Carleton College has a comprehensive sexual harassment and assault policy. The college requests that all alumni conform to the letter and spirit of these policies. If you feel that you have been the victim of harassment or assault, please notify Campus Security immediately.
You can subscribe to security alerts to be notified of any emergencies or severe weather by texting CCSUBSCRIBE to 888777. At the end of your time on campus, you can opt out by texting STOP to 888777.