May
26
Introduction to Ogasawara-ryū Reihō
Thu, May 26, 2022 • 7:00pm - 8:00pm (1h) • Online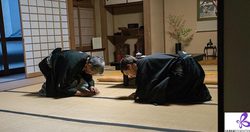 Ogasawara-ryū etiquette was taught to generations of Shoguns. It has become the foundation for all Japanese martial arts etiquette but it is also known as the best etiquette style in Japan.
Learn the Ogasawara way of efficient body movements for walking, standing and bowing; fundamental for those practicing any martial art as well as for every day life.
Registration is encouraged using the link below.
This event is sponsored by a generous grant from the Japan Foundation Center for Global Partnership.