May
24
Modern Applications of Ogasawara-ryu traditions
Tue, May 24, 2022 • 7:00pm - 8:00pm (1h) • Minneapolis Institute of Art 2400 3rd Avenue South Minneapolis, MN 55404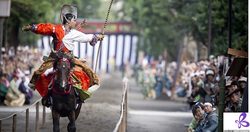 Kiyomoto Ogasawara, the 32nd generation head of the Ogasawara School of Etiquette, Archery and Horsemanship, will discuss an overview of his family's 850-year history as teachers to the samurai classes. He will discuss the values of the Ogasawara school and bring to light how these practices of etiquette can still be practical and useful today.
This event will be presented in-person at the Pillsbury Auditorium in the Minneapolis Institute of Arts, and also streamed online for our out-of-town guests. A brief question & answer session will follow his lecture. Questions will be allowed from the in-person attendees only.
Ogasawara-sensei will also have copies for sale of his book in English on this family's traditions, Dignity in Silence.
Registration is required using the link below.