Log in to The Hub. Note: this menu allows access to your confidential academic records; click on the logout button and close your browser when you are done.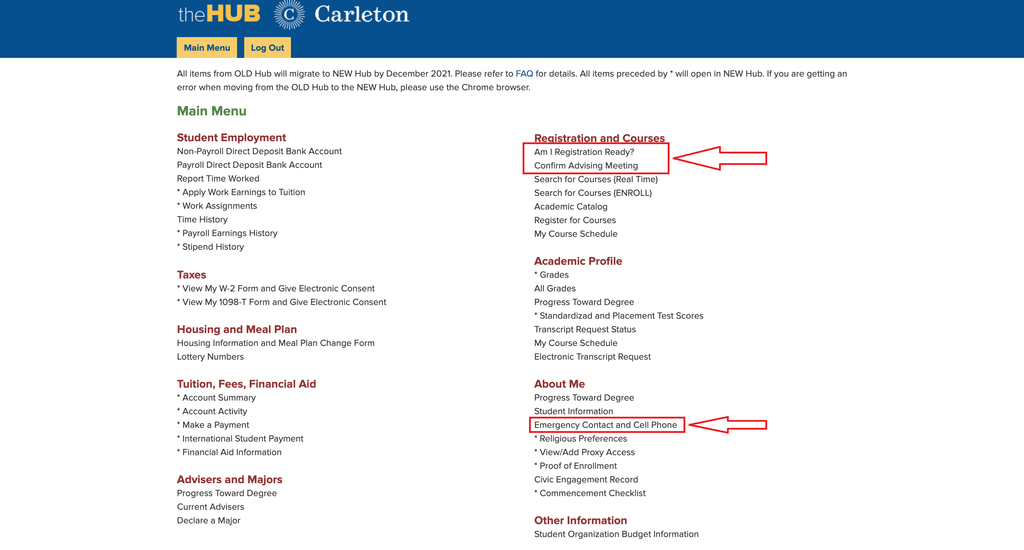 Most registration related pages are under the Registration and Courses header. We will focus on the following screens on this page: Am I Registration Ready?, and Confirm Advising Meeting. We will also refer to a screen under the About Me header: Emergency Contact and Cell Phone.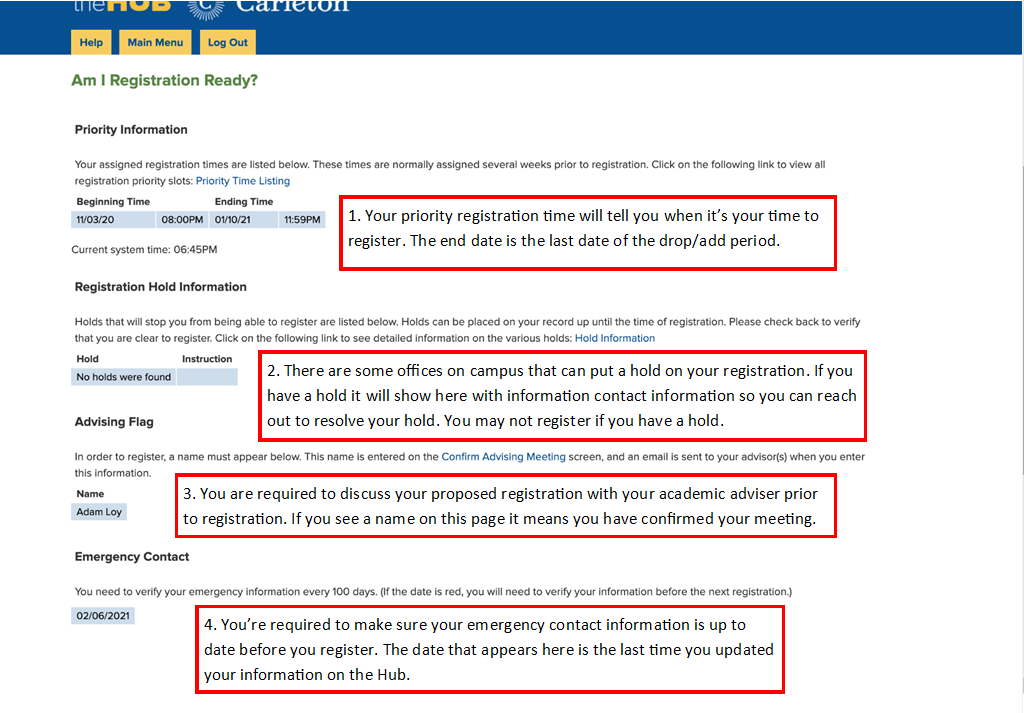 To find out whether you are cleared for registration, click on the Am I Registration Ready? link. Here you will be able to view your priority time, if there are any registration holds you need to clear before registering, your advising flag, and your emergency contact update status.
This is the window of time you may register for courses on the Hub, and make drop/add changes. Most students register as soon as their registration time begins, but that's not a requirement. Students must be registered in at least 12 credits by the time their registration time ends.
A Hold is something that will prevent a student from registering for courses. Holds can be applied from different offices on campus, and require your follow up and action before the hold can be resolved. Please contact whichever office has applied your registration hold to determine what you must do to resolve your hold. Once the hold is lifted, then you may register for courses on the Hub.
You are required to discuss your proposed registration with a faculty adviser prior to registration. Consequently, your first web registration step each term is to confirm that you have done this. You can (and should) complete this step before your priority time so that you know you're ready when your registration time opens.

Click on the Confirm Advising Meeting link on the Hub to do this. We will open your ability to confirm your meeting 1-2 weeks before registration for the next term begins.
Read the information on the Confirm Advising Meeting screen before submitting your confirmation. Type the name of the faculty member you met with. Click Submit. An email will automatically be sent to your official adviser(s) informing them that you confirmed the meeting with whichever name you typed. You will not be allowed to continue with registration for the upcoming term until you have completed this step. You should understand that misrepresenting yourself during this registration step will be considered a conduct violation (i.e., knowingly furnishing false information to the College with intent to deceive).
College policy also dictates that you must enter, update or confirm your emergency contact information within 100 days of registration. Go to the About Me menu on the Hub and click on the Emergency Information link in the Personal Information section to do this.