By Elizabeth Budd '19
The Why Treaties Matter exhibit officially opened on September 17, 2021, with a keynote address by Gwen Westerman, a Dakota educator, artist, and writer. Westerman was named Minnesota's Poet Laureate in 2021. She is Professor of English Literature & English Studies and Technical Community at Minnesota State University, Mankato. Westerman is co-author of Mni Sota Makoce: The Land of the Dakota, and her poetry collection, Follow the Blackbirds, is written in both English and Dakota. She is also a fiber artist, and has created award-winning quilts that draw inspiration from Indigenous cultures as well as her own life.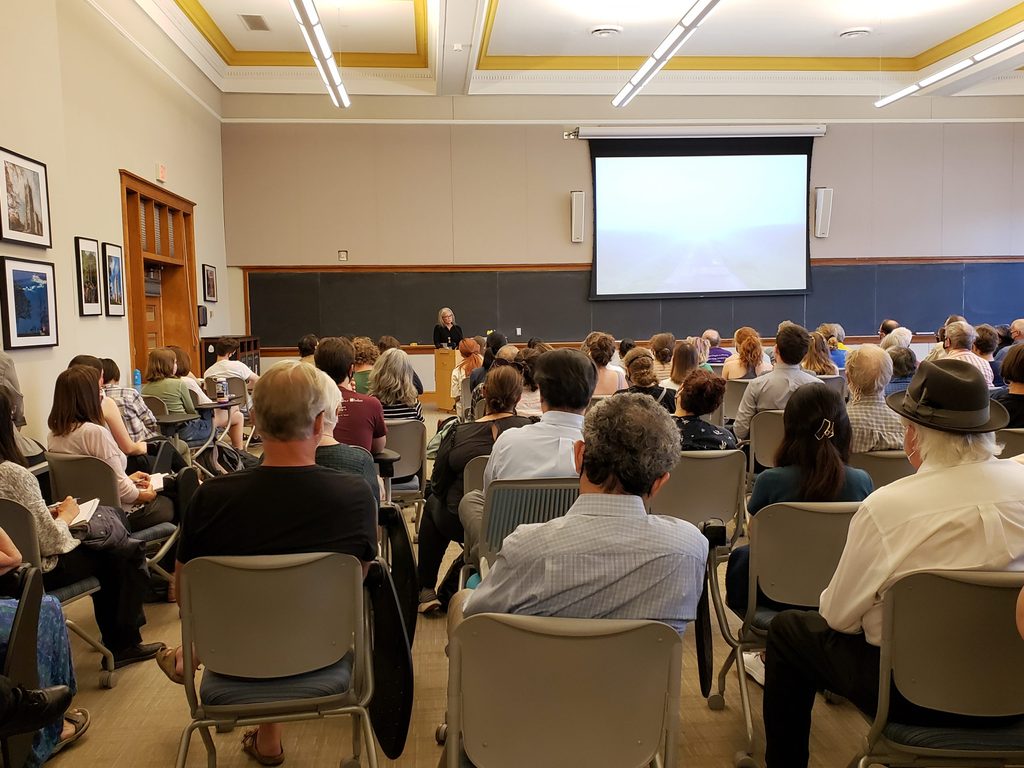 Westerman focused her talk on land, and why land matters. She began her talk by saying, "My ancestors were born here, and when I remember it makes me strong." She highlighted the close and familiar relationship Dakota people had and have with the land now known as Minnesota. Westerman noted that there are no current Dakota treaties in Minnesota, since they were abrogated in the wake of the US-Dakota War of 1862, but she emphasized that political boundaries don't impact the relationship of Dakota peoples to the land. Dakota people have known this land beyond centuries, and have memories in this land. Minnesota was, and critically still is, Dakota homeland.
Westerman spoke of evidence that demonstrated Dakota connection to the land, in addition to Dakota traditional knowledge. The Jeffers Petroglyphs are etchings in rock that are ten thousand years old, and include maps of rivers. Westerman spoke of how these etchings tell thousands of stories, many we still don't know. Birch bark maps drawn for Europeans show how intimately the Dakota knew their landscape. Many place names on our current maps have their roots in Dakota place names.
Westerman explored what it means to have a physical and spiritual connection to place. She said that connecting to the land brings healing, and speaks to us at a cellular level. She also shared her experiences at Bdote, the confluence of the Mississippi and Minnesota rivers which is a site of creation, but also a place of destruction. It remains a sacred place, with both joy and sorrow present. On a recent visit, Westerman said of her ancestors, "They are happy for me to be a voice of the people, that's what I felt when I was there."
Throughout her talk, Westerman incorporated poetry and song, creating additional emotional depth to her words, and making deeper connections with the audience. Westerman's talk embodied the deep and meaningful connection she has with the land, and the interconnectedness of the land, people, and ancestors. In her words, "My ancestors were born here and when I remember it makes me strong."