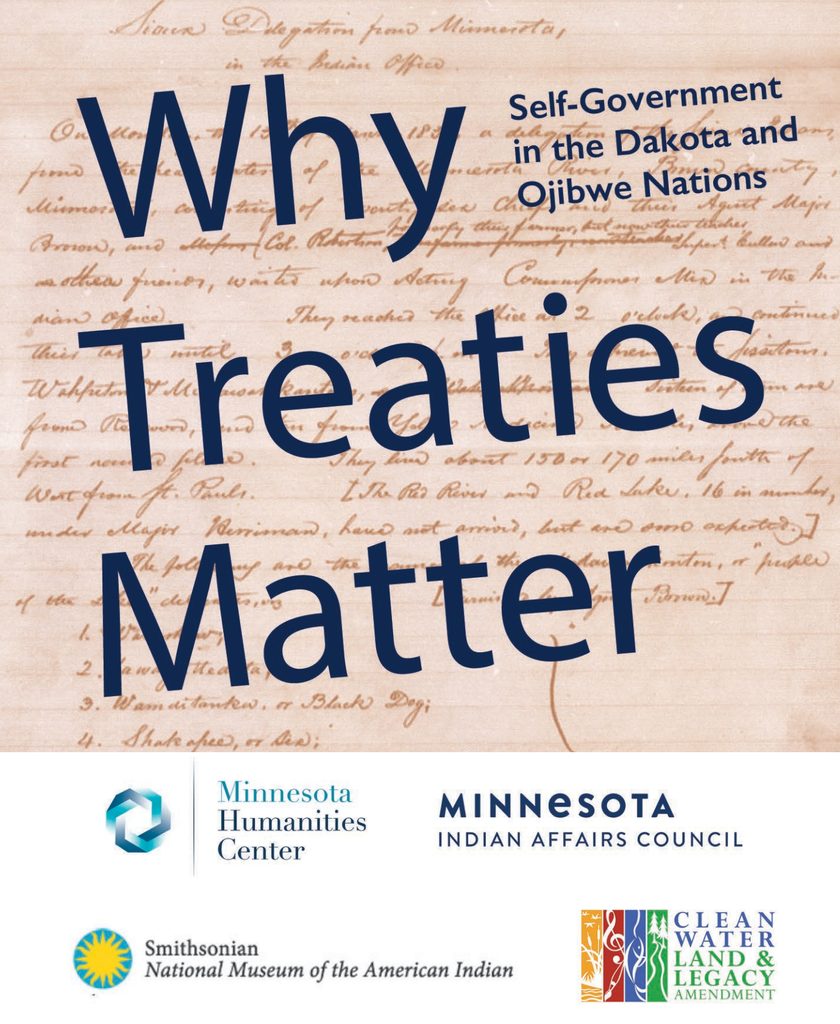 In Fall 2021, Carleton will host "Why Treaties Matter: Self-Government in the Dakota and Ojibwe Nations." The exhibit, made in partnership between the Minnesota Humanities Center, the Minnesota Indian Affairs Council, and the Smithsonian's National Museum of the American Indian, explores relationships between Dakota and Ojibwe Indian Nations and the U.S. government in this place we now call Minnesota. Through images, text, and video, learn how treaties affected the lands and lifeways of the indigenous peoples of this place, and why these binding agreements between nations still matter today.
Members of the Carleton community are working to supplement the exhibit with art, Carleton-specific information, and related programming. The exhibit will be in the Weitz Center for Creativity, September 9 to October 17. More details about programming and events will be forthcoming.
Schedule of Events (subject to change)
Why Treaties Matter at Carleton is the product of collaboration across the College. The exhibit and programming are co-sponsored by the Public Works Initiative, Arts @ Carleton/the Office of Director of the Arts, the Humanities Center, the Perlman Learning and Teaching Center, the Perlman Teaching Museum, the Center for Community and Civic Engagement, and the Broom Fellowship for Public Scholarship. Special thanks to Professor Meredith McCoy and Professor Michael McNally for heading the efforts.
Sign up for student-led tours of Why Treaties Matter
Land Acknowledgement
We stand on the homelands of the Wahpekute and Mdewakanton bands of the Dakota Nation. We honor with gratitude the people who've stewarded the land through the generations and their ongoing contributions to this region. We acknowledge the ongoing injustices that we have committed to the Dakota Nation, and we wish to interrupt this legacy, beginning with acts of healing and honest storytelling about this place. "Why Treaties Matter" is one way of seeking honest storytelling about the places we now call Carleton, Northfield, and Minnesota.