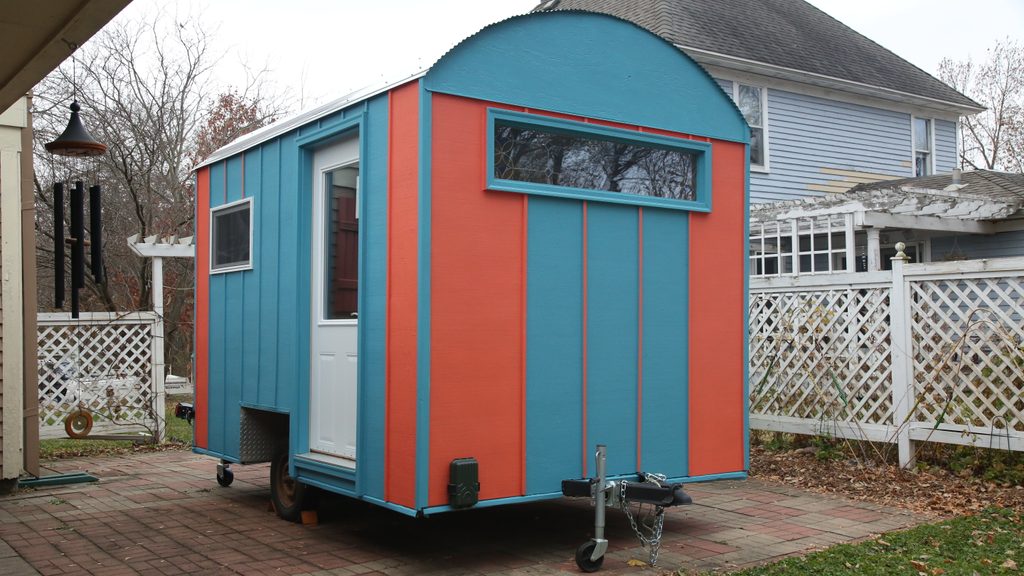 If you live in Northfield, Minnesota, but your loved ones are hundreds of miles away, what would you consider home? Is home necessarily tied to a physical place or is it an emotion, an overall feeling of having arrived? What does it mean, and what does it take, to belong? What are the rights and responsibilities that come with being part of a community?
As an immigrant woman of color who has lived in the Midwest for the past twenty years, Instructor in Cinema and Media Studies Cecilia Cornejo is interested in exploring notions of home, a multilayered concept in a constant state of flux as more people around the globe become displaced. She will pursue this investigation in collaboration with the Northfield community through her project The Wandering House.
---
This is about creating a welcoming space for introspection and for re-learning how to listen. Similar to the act of ice fishing, The Wandering House will search for the bounty that lies below the surface.


Professor Cecilia Cornejo
---
A nonfiction filmmaker, artist, and Northfield resident, Professor Cornejo has been using the moving image to unpack community issues since she moved to town. From 2012 to 2016 she worked with the skateboarders of Northfield to produce a film that chronicled their efforts to secure a permanent place for their sport. Making Noise ~ The Story of a Skatepark premiered at Cine Las Américas in Austin, TX, and was featured at the 2017 Rural Arts & Culture Summit in Morris, Minnesota.
Professor Cornejo's passion for a socially-engaged artistic practice grew deeper through her work with Northfield skateboarders, which led her to develop two new projects: the documentary film Ways of Being Home, produced in collaboration with the Latinx community in town, and the multiplatform endeavor The Wandering House, open to the entire community of Northfield. Through different media, means and approaches, these projects continue to expand Professor Cornejo's examination of historical trauma, displacement and belonging, as well as the experience of living in-between cultures.
The Wandering House, which is Professor Cornejo's Public Works project, provides an opportunity for Northfield community members to speak candidly and privately about their understanding of home and the ties they have to Northfield. The title of the project comes from the unique space in which these testimonies will be collected: a former ice-fishing house, retrofitted as a mobile audio-recording studio.
While The Wandering House is still undergoing a makeover, the news of this upcoming opportunity has started to spread through Northfield, gaining enthusiastic support from key city organizations such as the Northfield Human Rights Commission, the Arts and Culture Commission, the Northfield Arts Guild, local public schools and churches, and unanimous support from official representatives from the City of Northfield.
Once The Wandering House is completely renovated, Professor Cornejo will begin inviting community members to enter the space. "The house is very much like a modern-day confessional," explains Professor Cornejo. "You go in alone. I plan to be outside the house to assist anyone who may have questions and to make sure the technology works seamlessly, but otherwise, it's just you. I'm not asking participants to identify themselves by name, and if people prefer not to record their voice they have the option to complete a written questionnaire and leave it in the house's mailbox. The questions will be posted ahead of time, so it's not about catching you off guard or debating you—no. This is about creating a welcoming space for introspection and for re-learning how to listen. Similar to the act of ice fishing, The Wandering House will search for the bounty that lies below the surface."
Professor Cornejo's work is known for placing community members at the center of the creative process, engaging them as active participants, co-creators of meaning, and architects of their representation. As an example, in Making Noise the skaters participated as protagonists but also as camerapersons, audio-recordists, interviewers, composers of the film's score and contributors throughout the editing process. A similar approach governs the making of The Wandering House, unapologetically rooted in the local and entirely dependent on community support for its success.
With months to go before the official launching of the project, opportunities for community participation will be plenty. For starters, there will be an open call for young artists—grades 6 to 12—to participate in a drawing contest using home as its central theme. The selected artwork will be featured in promotional materials and online to promote the project in spring 2019—the artist will also receive a hefty reward.
The Wandering House will be stationed at different places throughout town, including the Northfield Public Library, Riverwalk Market Fair, St. Dominic church, and other venues where permission is secured. The whereabouts of the house, along with all relevant information, will be posted on a website developed specifically for the project. Once the oral testimonies are collected and roughly organized (late fall 2019), Professor Cornejo will hold an event where community members will have the opportunity to listen to and discuss the project's findings and collectively decide how to best use and share the material.
With this project, Professor Cornejo describes her top priority in these terms: "By offering an inviting, non-judgmental space for people to express their thoughts on prickly subjects—while featuring the community of Northfield both as producers and recipients of hard-earned knowledge—The Wandering House holds the potential to contribute in crucial ways to a greater understanding among those of us who call Northfield home. This is a crucial and timely endeavor now that plurality and diversity have again come under attack."
Taking Northfield as a point of departure, Professor Cornejo's goal is to travel to other rural and semi-rural towns throughout the state in order to reclaim thoughtful interaction amongst groups—immigrants and host communities, in particular—that are continuously positioned as having little in common. In doing so, she hopes to capture and share Minnesota's kaleidoscopic nature in all its richness and complexity. The Wandering House will begin collecting oral testimonies in Northfield in late spring 2019.