The end of a school year marked the beginning of multiple summer projects for Carleton's Public Works initiative. Three faculty grantees used this summer to dive into their projects, which cover a variety of work such as planning a participatory video experience for local communities, printmaking and book publishing, workshop planning and attendance, leading student research, and more.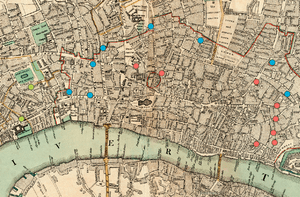 The first featured summer project was led by Susannah Ottaway, Professor of History and Co-Director of the Public Works Initiative. Professor Ottaway, with her team of student researchers, traveled to Gressenhall Farm and Workhouse in Norfolk, United Kingdom, where they collaborated with museum curator Megan Dennis to integrate digital tools into the museum experience.
Prior to the trip, students in Professor Ottaway's and Professor Austin Mason's History of Social Welfare in England course created digital materials that tell the history of the English workhouse, an important social welfare institution from the 18th to 20th centuries. As an extension of work done in the class, select students were invited to share their creations with the Gressenhall museum and study the process of integrating digital tools into more traditional forums such as museums and galleries. The students received highly positive feedback from the museum and are expected to present their work on campus this fall.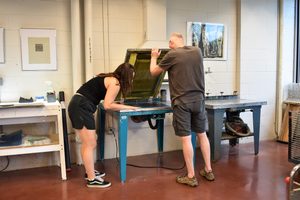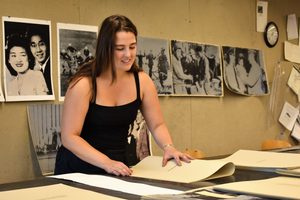 In addition to this student work, student artist Justine Szafran '19 (Studio Art/Political Science) worked with professor and project-lead Fred Hagstrom to produce an artist's book about the decorated WW2 veteran, Shiro Kashino. Shiro was a Japanese-American student who was forced into a Japanese internment camp only to volunteer to fight for the United States during the war. Despite his loyalty and success in the military, Shiro's reputation was challenged over the years due to widespread anti-Japanese sentiments in the United States. To preserve his legacy and a record of this life, Professor Hagstrom spent the summer printmaking and creating multiple copies of an artists' book about Shiro's story.
The art of printmaking is highly involved and requires hours of planning, testing, and creating each image one by one. Professor Hagstrom is a long-standing studio art professor at Carleton, recognized nationally as an expert printmaker, and has received many awards for his books and art. Many of his books go back to the communities that inspired them, which, in the case of Shiro Kashino's story, is the Nisei Veterans' Community in Seattle. Before physically producing the book this summer, Professor Hagstrom spent months collaborating with the Seattle Nisei Veterans' Community and the Kashino family to collect photos and personal testimonies about Shiro. This book is one example of how personal stories can open up conversations about larger themes that touch many communities around us.
While Carleton Public Works is dedicated to supporting faculty and student scholarship, the Initiative also encourages staff and community development. For example, Anita Chikkatur, Associate professor of Educational Studies and Chair of the Educational Studies department, spent the summer researching and preparing for a Participatory Action Research workshop she is hosting this winter. Participatory Action Research (PAR) is a method of social science research that invites community members to participate in the research design process. More specifically, it allows the subjects of academic research to actively contribute and benefit from the study.
After attending a PAR facilitator training workshop in New York this summer, Professor Chikkatur brought that knowledge back to Northfield and began organizing an instructional workshop for faculty, staff, and community members engaged in social science research in Northfield and Faribault. The workshop will introduce best practices in participatory action research and includes collaborations across campus and between local organizations and communities.