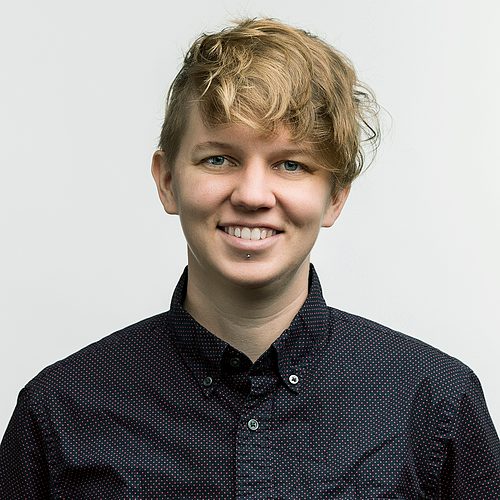 Can you teach the history of the US-Mexico borderlands in southern Minnesota? In the classroom, sure. But in the community? That is precisely what Professor Elena McGrath did in her Winter Term 2019 class, History 275: US-Mexican Border History. In addition to traditional classroom learning, the course involved community-based student research. Focusing on local issues of inequalities in housing, healthcare, and education, students made connections with residents and local organizations to create maps and other resources on these issues. While a history course focused on the US/Mexico border may not immediately present itself as a candidate for academic civic engagement, for Professor McGrath it was not only possible but an important aspect of her own goals as a scholar and educator.
Engaging with Place
Like so many of the other Public Works-funded projects, Professor McGrath's project grew from a concern for and an attentiveness to place. She emphasized that the idea came from a desire to understand the community she lives in. Professor McGrath explained, "I'm here and I'm teaching at Carleton, but at the same time I am living in Northfield and I want to understand the place where I am." Furthermore, the same is true of Carleton students. Drawing on her own experience as an undergraduate, Professor McGrath explained, "when I was in college I struggled with it a lot, with the sense of being in a bubble. And I felt guilt around that, but I also was told, that's how it's supposed to be for college, and so it was really unclear to me what I should be doing and how engaged I should be with the small place or with the wider world." Eager to both engage with the community herself and provide a framework to her students, Professor McGrath decided to create an Academic Civic Engagement Course.
Bridging Coursework and Community Engagement
As a Latin American historian, a central challenge to Professor McGrath was the simple fact that she would be "teaching history that is not necessarily rooted here." Through discussions with staff at Carleton's Center for Community and Civic Engagement and with other faculty who have done community-engaged work, Professor McGrath was able to make connections to community members and organizations interested in collaborating. In particular, she connected with Vecinxs Unidxs (Neighbors United), a Northfield organization dedicated to advocating for immigrant and refugee residents, who had already identified needs of their own around mapping. For Professor McGrath, this proved to be an important connection point between the community and her course. Drawing on the conceptual framework of borders and borderlands, at the heart of her course, Professor McGrath included historical maps and mapping in the course. This provided both context and skills for the students to conduct community research related to mapping, bridging the academic content of the course with local community concerns in Northfield.
Practical Limitations and Challenges
As a visiting professor, Professor McGrath acknowledges the practical limitations to her project, particularly in the context of Carleton's ten-week term. She pointed to time as the greatest limitation on the project, restricting both the time to build community relationships and the time for students to engage. While discussing the goals of her course, Professor McGrath said, "Last year [when the project was carried out] was my first year, I'm not from Minnesota, I'm not from Northfield and so really the challenge was to try and do some of those things in a way that was responsible [to the community].And not parachuting in, but also to really take seriously the idea that even though I'm new here I might be able to do something."
In spite of these practical limitations, Professor McGrath and her students still did valuable community-engaged worked. While students did not have the time to cultivate community connections as much as Professor McGrath would have liked, they nevertheless engaged with members of the Northfield community in meaningful ways. As Professor McGrath said, "a lot of this work is preliminary…Which I think is still a good thing, it's still really good."
Student Engagement
When asked about what she considered to be the biggest success of her project, Professor McGrath responded with little hesitation: "I think the student outcomes. I think students really getting mobilized by…this work, and really thinking critically about problems that exist in this place. Also, I think it was helpful for a lot of the students to think about southern Minnesota as a diverse place. Because it is. But it's [a] kind of diversity that is often obscured in the ways that a visitor or a student might normally interact with [the community]." In combining historical content with local community engagement, Professor McGrath ensured the two core course components were mutually reinforcing, creating a more meaningful experience for students.
Professor McGrath repeatedly emphasized the impact of the course and its community engagement component on students. She explained that, "the students loved it…They worked really hard on their projects…And they reached out to groups that I didn't always anticipate. Like HealthFinders Collaborative…that's not actually a connection that I made, it was a connection the students made." Professor McGrath highlighted another group of students who went above and beyond in their project. Utilizing the contacts of established community partners, students conducted phone interviews in Spanish with residents about their experiences in Northfield. Not only were her students interested in the project, they were fully invested in the project which manifested in work that went above and beyond Professor McGrath's expectations.
Impact of Academic Civic Engagement
Although integrating civic engagement into academic courses is never easy, given Professor McGrath's focus area it required a certain creativity to effectively integrate community-based learning into her course. But for Professor McGrath, that extra effort was more than worth it. In her experience, community engagement helped students more effectively connect their academic learning to critically engage with the world around them. Furthermore, by making these connections, students can have a positive impact on society. Professor McGrath emphasized, "I think that in all political moments, but especially this one, it is really important to have attention to detail and a critical eye on the kinds of narratives we tell about ourselves and our society and our history." Through academic civic engagement, Professor McGrath's students learned about the US/Mexico border and so much more. They integrated the history of the borderlands with community-engaged learning, connected more deeply to place, and gained valuable skills that will help them become more responsible, critically-engaged members of society.