Emily Oliver, Associate Director for Academic Civic Engagement and Scholarship and Lecturer in Ethical Inquiry
Cynthia Gonzalez, Organizer, Community Without Borders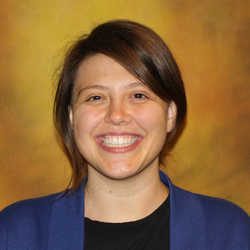 Associate Director for Academic Civic Engagement and Scholarship and Lecturer in Ethical Inquiry Emily Oliver redesigned her course with co-instructor Cynthia Gonzalez, in order to connect more deeply to place in the context of "Why Treaties Matter" and ongoing research on race and equity in education in Faribault. Last fall, Oliver and Gonzalez taught "Community-based Learning and Scholarship: Ethics, Practice," which explored the theory, practice, and ethics of civic engagement. They taught the course again in the Fall of 2021 planning to focus on grounding their material in place for the second iteration.
Oliver and Gonzalez's collaborative partnership began through a separate project researching race and equity in Faribault schools through participatory action research (PAR). Co-led by Oliver and Associate Professor of Educational Studies Anita Chikkatur, the project involved teams of Somali and Latinx students and parents who were partners in formulating the questions, methods, and analysis of the research. Gonzalez, in her capacity as an organizer with Community Without Borders, recruited the Latinx parent team and served as a liaison and translator with the Carleton team. It was through this sustained collaboration that Gonzalez and Oliver developed their working partnership.
Oliver and Gonzalez brought their experiences and connections with community members in Faribault to the class, in addition to a new unit exploring civic engagement with Indigenous issues. By incorporating the "Why Treaties Matter" exhibit on campus and the work of Dr. Katie Johnston-Goodstar, an Indigenous scholar and civic engagement practitioner, students examined how questions and practices of ethical civic engagement can be leveraged for positive action on the lands we occupy, and civic engagement also connects to issues of Indigenous sovereignty.