Stephanie Cox, Senior Lecturer in French and Francophone Studies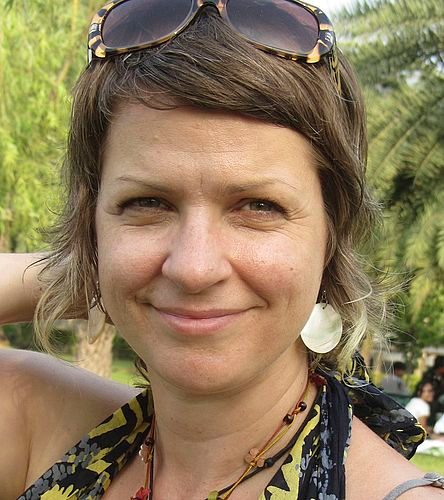 Professor Stephanie Cox utilized an art exhibit by Montreal artist 2Fik to bring people from all walks of life together to reflect on how we navigate and talk about identity. Born in Paris in a Moroccan Muslim family, 2Fik's work reflects his fascination with complexities of identity. In his photography and his performances, his combination of reality and fiction invites the viewers to revisit assumptions and stereotypes.
His work provides the space where his characters play out their lives and he uses his own body to perform them, giving each a complete identity: personality, age, sex, origin, occupation and interests. To provide a story, 2Fik then transforms a well-known work of art into a photo montage, replacing the figures of the visual narrative with his own characters in what then becomes the portrayal of an important event in their development. 2Fik also puts on public performances where one of his characters puts on a catwalk. During his two previous visits to Carleton and the Northfield public schools, he has enabled difficult and transformative conversations about diversity.
The objective for this 3-week visit was to create new collaborative partnerships in Northfield and in the Twin Cities. Professor Cox created interactive public events to set the stage for exchange with people on and beyond the campus: public talks, receptions, meals, class visits, workshops, performances, coffee chats, and more.
Because Carleton has permanently acquired 2Fik's artwork for the college art collection, Professor Cox's project aimed to promote it as relevant work to integrate into the curriculum, thereby continuing the ongoing task of talking about identity. Furthermore, her project promoted Carleton's art collection as a teaching resource that reflects the college's ability to serve the community as a partner in transformative and innovative learning.