Andrea Mazzariello, Assistant Professor of Music
This project sought to lay the groundwork, both intellectual and logistical, for supporting an ongoing music-making and mentoring collaboration between Carleton and the Northfield Union of Youth. Professor Andrea Mazzariello also used his grant to attend the national Imagining America conference in October 2018 on Public Scholarship to inform his project and ongoing work with the Northfield Union of Youth and community members.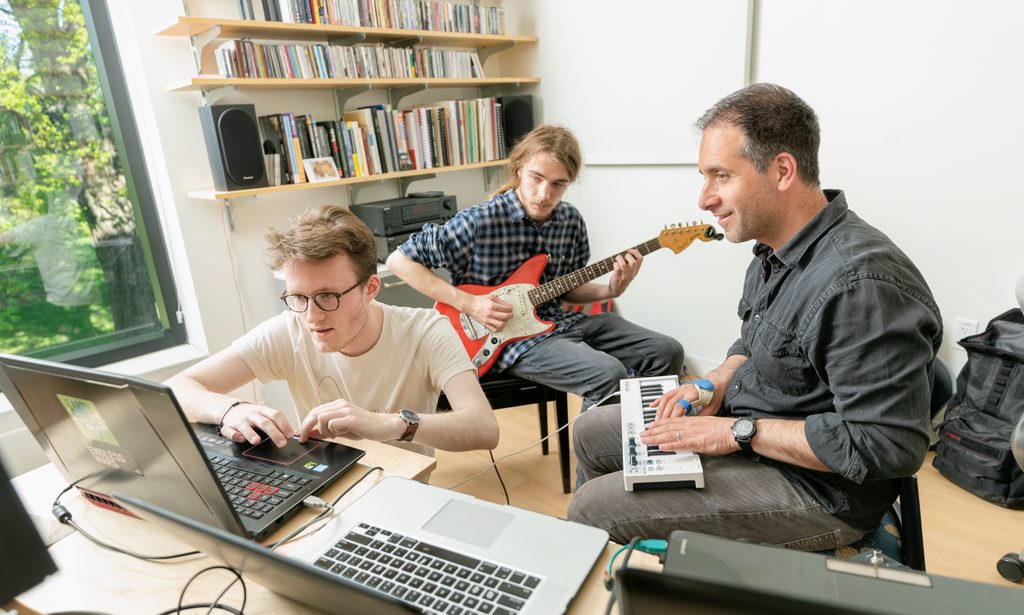 Since coming to Carleton in 2015, Professor Mazzariello has been building a relationship with the Northfield Union of Youth, also known as The Key. For the past few years, he has been bringing music department guests there for performances, performing there himself, and mentoring youth on a biweekly basis during the academic year, creating new music using various technological tools as well as offering more traditional acoustic composition lessons. His goal now was to broaden that relationship in a more robust way.
As a musician and scholar interested in academic civic engagement and public scholarship, Professor Mazzariello elected to attend the 2018 Imagining America conference in Chicago, which focused specifically on publicly-engaged scholarship, assessing publicly-engaged work, and examining best practices for integrating the arts and humanities into academic civic engagement. He participated in this workshop along with Emily Oliver, Carleton's Associate Director of Academic Civic Engagement, and Briannon Carlsen, Program Associate for Public Arts and Humanities for 2017-2019.
The insights gained from this workshop helped shape Professor Mazzariello's pedagogy and approach to working with the Northfield community. He strove to convert his course, Music 220: "Composition Studio," into an academic civic engagement course. This course was intentionally capped at seven students to allow personalized skill development and learning. Students in this course, began collaborations with student musicians at The Key, providing young musicians with mentors and constructive criticism for their musicianship, while also allowing Carleton students the opportunity to work within the community and gain more perspective on their own composition and musical understanding. Ultimately, as an academic civic engagement course, this composition class will live on beyond the Mellon Grant and be offered on a continuous basis with support from Carleton's Center for Community and Civic Engagement.