Michael Flynn, William H. Laird Professor of Linguistics and the Liberal Arts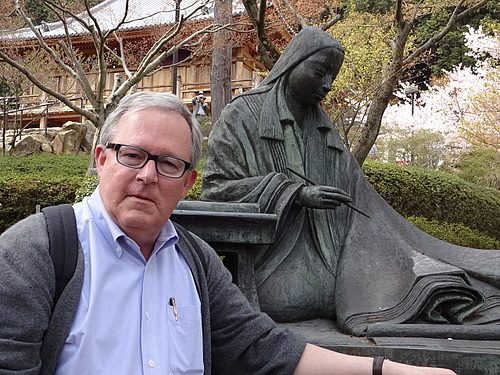 Professor Michael Flynn is coordinating a long-term project that seeks to help preserve and revitalize the Dakota language. Ultimately, Professor Flynn and his colleagues hope to create a pedagogical grammar of Dakota in order to both document a language that is endangered and assist in creating helpful strategies for teaching Dakota. From Carleton, Professor Flynn is collaborating with Associate Professor of Linguistics Cati Fortin, Associate Professor of Linguistics Cherlon Ussery, Visiting Assistant Professor of Linguistics Jenna Conklin, Professor of Mathematics and Computer Science Jeff Ondich, and several student researchers past and present. From the Sisseton Wahpeton Oyate of the Lake Traverse Reservation, Professor Flynn is collaborating with Sherry Johnson, Education Director for Sisseton Wahpeton Oyate, Jeremy RedEagle, Director of the Sisseton-Wahpeton Oyate Dakotah Language Institute, and Erin Griffin, director of Dakota Studies at the Sisseton Wahpeton College.
The Dakota language is severely endangered and the Dakotah Language Institute estimates that there are only approximately fifty treasured elders (native speakers) left at the Lake Traverse Reservation, with the youngest being sixty years of age. With fears of the extinction of the Dakota language, some community members have undertaken revitalization efforts. One such effort is the Dakotah Language Institute, which is dedicated to the preservation of Dakota and creates educational materials for Dakota language learning. In an effort to enhance language instruction, Professor Flynn and his colleagues are creating a pedagogical grammar, which will include clear descriptions of grammatical aspects of the language.
Professor Flynn and his collaborators have undertaken a variety of tasks. They have spent countless hours turning decades of paper notes into a database of Dakota vocabulary. In addition, they have recorded treasured elders speaking Dakota and analyzed the linguistic features of the language. Critically, Professor Flynn and the Carleton team have spent time with their community partners on the reservation, working carefully to understand and work towards shared goals, and create lasting and solid partnerships.
So far during the project, the Public Works Initiative has supported travel to and from the reservation, faculty development stipends, funding for student research, travel support for Dakota partners, and equipment for recording and filming the treasured elders speaking Dakota. During Fall 2019, Treasured Elder Clifford Canku visited campus, generously sharing his time and expertise in Dakota with Professor Flynn and his students. From the information he provided, Emma Ismail '21, Risa Stiegler '21, and Luna Yee '21 prepared descriptions of three different grammatical aspects of Dakota. In summer 2020, Professor Flynn and student researchers will travel to the Lake Traverse Reservation to continue collecting audio and video of Dakota from treasured elders. While the project to document the Sissteon dialect of Dakota will continue for several more years, Professor Flynn hopes that ultimately this collaborative work will create a clearer picture of Dakota "that reveals its complexity, systematicity, and beauty."