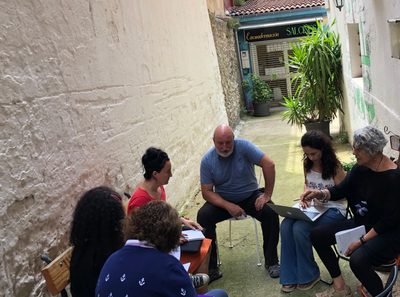 "The 'Constellation of the Commons' symbolizes what I understand as public scholarship. It embodies a rich array of alternatives to the current state of affairs in contemporary Spanish society. It offers testimonies of a variety of creative answers in the form of practical tools that allow people to approach problems from a range of perspectives."

Professor Palmar Alvarez-Blanco
With the outset of the economic crisis, Spain has witnessed a boom in the area of grassroots movements throughout the country. As a result, Associate Professor of Spanish Palmar Alvarez-Blanco has connected with the Public Works Initiative to expand her research on this topic. As part of her scholarly and teaching career, Professor Alvarez-Blanco now includes the study of how civic-minded people respond to economic, ecological, and social crises. Some of these responses perform what she has called a "collaborative non-formal educational movement."
As Professor Alvarez-Blanco writes, "their critical skills and practices are not necessarily part of institutionalized agendas or of the formal educational curriculum; they include, but are not limited to: gender, class and race inequality issues; housing, education, health and workers' rights; media literacy; mutual care and collaborative practices; interacting with heterogeneity and differences; restoring democratic values; developing complex constellational and critical thinking; restoring the value of creativity; defining limitations related to freedom of speech and the communicating of emotions and thoughts in public spheres; the development of an ecological sensitivity, etc."
Professor Alvarez-Blanco's Public Works project intends to bring this undocumented reality to light. As part of her research, she has spent several years mapping the progression of grassroots movements in Spain, and is now onto the next phase: interviewing the leaders of this movement. So far, she has conducted 40 separate interviews with the people most involved in this movement, collecting approximately 40-60 hours of raw material for archiving. The end result will be a cartography of this nationwide movement that will be open-access and shared with the global public in 2019. The cartography will have audio-visual material embedded within it, allowing the sounds and images of the movement to shine through.
When asked about the main collaborators of this project, Professor Alvarez-Blanco responded, "to me the main collaborators are all the people in Spain who generously accepted this invitation and shared their points of views, their expertise or their experiences." She has worked with a variety of community teachers, activists, producers, and artists to reflectively produce the beginnings of this Anarchive.
This project has touched multiple people across Carleton's campus as well, including student researchers Christina Tarazzi '18 and Kha Huynh '19, Academic Technologist for Instructional Technology Celeste Sharpe, Media and Design Specialist Dann Hurlbert, and Reference and Instruction Librarian for Humanities and Digital Scholarship Sarah Calhoun. When working in the Spanish community, Professor Alvarez-Blanco has also had the opportunity to work directly with members of the Spanish community, including collaboration with Emmanuel Gimeno Lodosa, a web designer and an activist based in Spain, Nayra Sanz and Oscar Clemente, both film directors who have been enthusiastic advisers during the video-editing process, Derrin Pinto, a professor of Spanish linguistics at the University of St. Thomas, has been helping with the proofreading of the translations, and Susana Alvarez Rodilana, who was hired as a camera person and also as video co-editor.
The interviews coming out of this project will also be used as educational material for Professor Alvarez-Blanco's newly developing class tentatively titled "Collective Responses to the ecological, economic existential and social Crises in Contemporary Spain." Students in this class will expand on these interviews by Skyping with the people that are now part of this Constellation of the Commons, and we will also look for similar projects here in the United States. Professor Alvarez-Blanco states that "the content of this tool could be useful to students and professors in departments such as Political Science, Sociology, Anthropology, Economics, Film and Media Studies, Women and Gender Studies and Environmental Studies. It could also serve as a model for discussions on collaborative research, digital scholarship and digital ethics."
This project connects to Professor Alvarez-Blanco's personal scholarship as much as with the community and her students. Moreover, she is the co-founder and president of ALCES XXI, an international platform that was born out of the desire to reclaim and further develop the practice of reflexive, open, plural, and interdisciplinary criticism in the educational and cultural fields. ALCES XXI is collective of educators, social activists and cultural agents committed to the creation and promotion of spaces for collaboration and dialogue. One of their main goals is to create spaces and new venues that promote debate and discussion, as well as opportunities for professional development and training, among members. In line with this goal, Professor Alvarez-Blanco's work will ultimately create a new tool for professional organizations, community organizers, educators, and activists on an international scale.
"I felt that my contribution could entail making the research tools and resources that I have access to as a professor available to the collectives that are working to promote and defend the common good," she explains. "I suppose that with this project I've tried to support the process of social, political and economic transformation." When asked about her own definition of Public Works and public scholarship, she responded: "the 'Constellation of the Commons' symbolizes what I understand as public scholarship. It embodies a rich array of alternatives to the current state of affairs in contemporary Spanish society. It offers testimonies of a variety of creative answers in the form of practical tools that allow people to approach problems from a range of perspectives." Not only will people participating in grassroots movements in Spain have access to this material, but so will anyone interested in the experiences, references, and models that embody grassroots education. In that regard, Professor Alvarez-Blanco's project is intrinsically tied to communities abroad and at home.