Last fall, Associate Director for Academic Civic Engagement and Scholarship Emily Oliver and community organizer Cynthia Gonzalez taught a course on civic engagement. Below, Oliver reflects on the experience. This is the second in a two-part series. Read Part One for Gonzalez's reflections.
---
By Emily Oliver, Associate Director for Academic Civic Engagement and Scholarship and Lecturer in Ethical Inquiry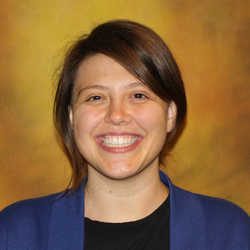 Community-based Learning & Scholarship: Ethics, Practice was the first course I ever taught at Carleton. When I got word that the class was confirmed, I was coming off a long stint of being the Interim Director of CCCE, in addition my portfolio of academic civic engagement courses and my role as the Co-PI of Faribault Carleton PAR Collaboration, alongside Anita Chikkatur.
While I typically am enthralled and energized by my work, I had begun to feel a burn out, bone deep. With exhaustion, some doubt about my teaching was creeping in. Then, the pandemic hit. We entered full lockdown and ran clorox wipes over every box from the grocery store. Then, George Floyd was viciously murdered by the police. When work ended, we attended demonstrations. My partner and our neighbors stood outside our apartment building on Nicollet Ave by 46th all night because of reports of armed white supremacists. The national guard occupied our city. We ran loaves of bread over to people organizing meals at the encampments…
This was the context of Cynthia's and my summer of collaborative course planning.
Cynthia and I co-created course units that integrated contemporary scholarship around critical academic civic engagement with Cynthia's deep expertise as a grassroots organizer in the Latinx community in Faribault. This deliberate framing and being very explicit about civic learning objectives translated into students being able to narrate their civic learning.
In our first class session teaching together, Cynthia and I explained to our 18 students how our co-teaching relationship grew out of a long collaboration on a participatory action research project around educational equity in Faribault. Cynthia presented her own lived expertise. She shared the systemic injustices she experienced and saw others experience. She spoke about how this informed her social change practice as a community organizer. More than anything else, her presentation set the tone of the term, highlighting for students ways to reflect on how knowledge from their lived experiences connected to scholarly work we read and to their ACE collaboration.
After Cynthia's presentation, students wrote or recorded videos of their own "Story of Self," which, as framed by union organizer Marshall Ganz, "tells of the key formative experiences which shaped you, communicating the values that are calling you to act." They began their "Story of Self" with an epigraph that epitomizes the work they hoped to accomplish this term, modeled off of the quotation Cynthia and I had chosen. Re-introducing themselves, students shared their epigraphs in addition to their names and pronouns, again helping to build a participatory classroom community where the knowledge students brought into the class was valued.
The work we did to build community in the classroom paid enormous dividends, in terms of building a classroom community, framing key concepts of civic engagement, and in their final collaborative ACE projects, where we saw quality both in terms of process and project. From the remarkable effort they contributed both to the projects themselves and to the reflections on those projects, it seems to me that students saw their civic engagement project as a central intellectual aspect of the class. It was really affirming to me to see these more conceptual ideas come to life for students.
Co-teaching with Cynthia was a profound and vulnerable experience for which I am so grateful. Because she has gotten to know me so well in the PAR project where I am largely fielding logistical aspects of our work and because I so sincerely admire her, I found myself early on nervous to share my "teacher persona." But, even in our initial planning meeting, Cynthia really prompted me to bring my full self, always asking questions about what happened in the week between our meetings and raising concerns about how trouble in the news would impact each of us and the communities where we lived.
In these freewheeling conversations over the summer, she and I had space to talked through my initial pedagogical ideas, alongside our talking about our daily lives and our political reality, as we reckoned with the murder of George Floyd and the following uprising, the many levels of government abdicating responsibility around the pandemic, and the looming presidential election. These talks really re-solidified the public purpose of our course. They certainly prompted me to re-write the frontmatter of my syllabus and the readings that were on it, which drove this public purpose home to students. But even more so, they help me clarify what I want to do with the space of any class I am teaching. Working in this deep collaboration with Cynthia made me a much better teacher.