By Jennifer Tonko, Program Officer, Minnesota Humanities Center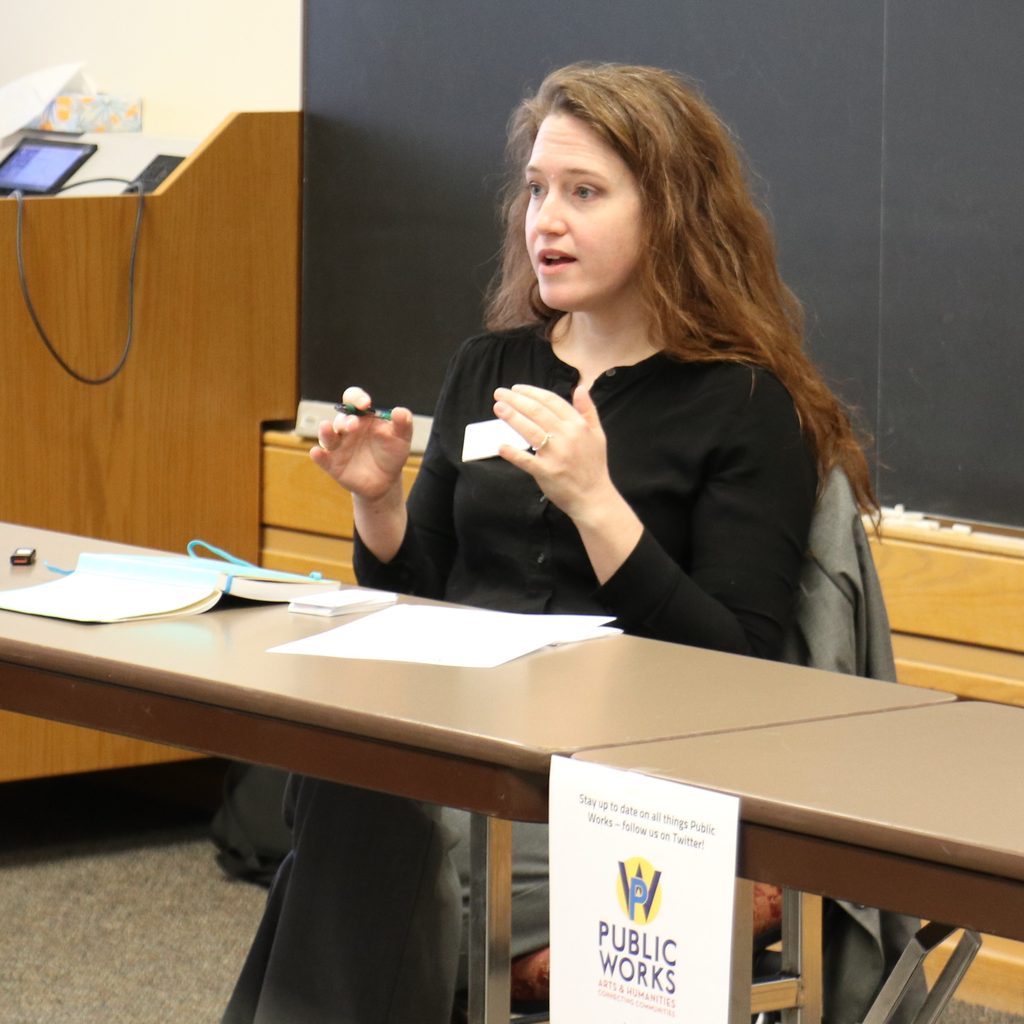 In January I was invited by Susannah Ottaway and Kelly Connole to speak with a group of Carleton faculty and staff about "Publicly Engaged Projects" because of my work with the Minnesota Humanities Center (MHC). The people present were thinking about two things: 1) making their work relevant to a broad audience, both inside and outside of the academy; and 2) developing meaningful partnerships and relationships so that they can learn from and amplify those community knowledges. It was a great privilege for me to be in a space with people who are each thinking intentionally about how their work benefits from community knowledges; how to share power, decision-making, benefits, and ownership of projects and work; and how to work with their partners to decide together on the timeline of shared work—thinking about the "conscious uncoupling" of their paths before, during, and after working and learning together.
After that session, I was invited to share an overview of the Minnesota Humanities Center's "Absent Narratives Approach," which is the way that MHC practices these same big ideas and helps build capacity in other organizations to do so. The core principles of the Absent Narratives Approach are 1) build and strengthen relationships, 2) recognize the power of story and the danger of absence, 3) learn from and with multiple voices, and 4) amplify community solutions for change. These principles are meant to help traditionally white-led institutions navigate partnerships with communities of color and Indigenous peoples. This means that they are also great ways to navigate differences of any sort—not just racial or cultural differences.
How do these somewhat formally expressed principles translate into everyday practices? Some less formally-expressed thoughts follow below….
Meet people where they're at. This means literally. If you're trying to build relationships in a community, sure, it's okay to invite the executive director of non-profit X to your super-cool event next Thursday, but that's the bonus step, not the first step. First, you need to find out what they're doing, attend the event, go to the gallery opening, attend the community meeting, read the newsletter, and find the thing that they do that you're excited about too.
Listen to build connections. When you sit down with someone, ask what their goals are, what they're passionate about, what they're doing and why they're doing it. Don't just tell people about your project and ask them to play a supporting role that you've already designed. That's a contractor, not a partner. Find out what you can do together—what benefits both partners.
Build in a budget for hospitality and gratitude. If you're lucky enough to be doing this professionally and you get to design your own budget, make sure to set aside money to buy people coffee or lunch. Giving this small gift shows people that you value them and their time. Having a meeting isn't free, and people of color and Indigenous people get asked all the time to share their thoughts and time in ways both large and small. And while this often comes from an intention of "inclusion," it means that people are getting pulled in to conversations that aren't directly relevant to their work, costing a lot of time and energy.
Know some history and do your own research. If you are hoping to work with a person or organization because of their expertise, that's great. If you both agree to a partnership, you will certainly learn a lot from them—and they should learn a lot from you, too. But don't expect them to teach you everything about their field, their communities, or their life experiences. It's true that you don't know what you don't know, but it's just basic courtesy to learn about histories, issues, and conversations that your partner cares about.
Share about yourself too. Especially if you are hoping to work with a community partner where they might be sharing their personal life experiences as part of the partnership, you need to share some of yours as well. You need to know who you are too. If you are a part of a dominant culture, one of the real impacts is that that dominant culture becomes so "neutral," so "normal," that people within it no longer even see it. I am a white person. In this society, it's sometimes difficult to see what "whiteness" even is—if you're within it. Spend some time learning about yourself, and, if you have parts of your identity that are dominant, interrogate those, and think about what that means.
Be reciprocal. Are you both giving and getting? Are all parties benefitting equally, or at least similarly and in line with expectations?
Every coffee doesn't have to turn into a partnership. This is sort of like dating…not every first date is going to turn into something long term. You can have a good, respectful, engaging conversation with someone. This doesn't necessarily mean that your goals align right now. Or that you both have the capacity to work together right now. Or that your respective timelines line up. There might be a lot of good reasons to work together and a lot of good reasons not to. And that's okay.
There are many organizations who are thinking about community engagement in a really interesting way and sharing their knowledge. Besides MHC, there's Nexus Community Partners, Wilder Foundation, and the University of Minnesota Extension, and all are good places to explore to deepen your learning in this area.