Over the course of my first year as President of Carleton, I have made strengthening communication a central goal for my leadership team. We began with a focus on internal communications, and the creation of Carleton Today, among other steps, reflects our efforts to ensure that the Carleton campus community feels well informed and engaged.
Turning to external audiences, we have also given thought to the College's public presentation, including the elements of visual design and graphic identity that are often a prospective student or job applicant's first impression of Carleton. Earlier this year, we engaged a communications consultant, B. Wyatt Associates, to undertake a review of our print and digital materials. A major element of their report was a recommendation that the College consider updating the Carleton logo, a simplified version of the seal that is used on a wide range of College publications and products.
I am excited to announce that after careful review and discussion of B. Wyatt Associates' proposal, we are adopting a bold new design to represent Carleton. This new design reflects a core identity of the College, the whimsical, free-wheeling spirit that informs every aspect of life at Carleton. The new logo retains the familiar "radiant C" design but incorporates it into an iconic Carleton image: the frisbee.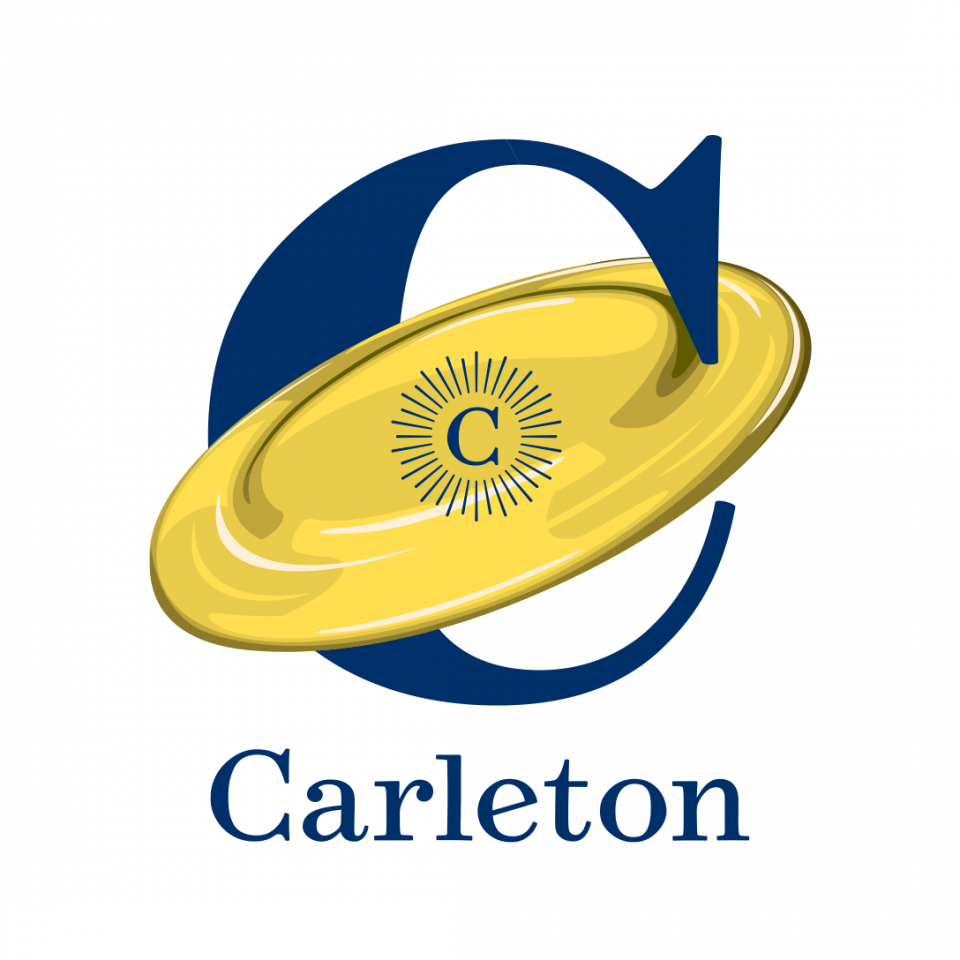 Carleton is of course widely recognized for many academic strengths: our top-ten standing among national liberal arts colleges; our #1 ranking in undergraduate teaching by U.S. News for over a decade; our history as a liberal arts college that sends record numbers of students to graduate school.
But we are equally well known to many for our dominance in Ultimate Frisbee. Uniquely among colleges our size, Carleton boasts six Ultimate teams that compete at the Division I level, the Division III level, and as a club sport. This past December, Carleton was the only college or university in the country to have four teams qualify for nationals in California. The iconic status of frisbee at Carleton is represented in the traditional first-year frisbee toss that welcomes new students to Carleton.
Ultimate frisbee is an unusual sport in its emphasis on self-governance and collaborative competition. The "Spirit of the Game" that defines Ultimate competition demands that every player take responsibility for upholding the rules of play, and calls upon all players to work together towards the shared goal of creating an experience that is intense and focused, yet also improvisational and fun. This seems very much in the spirit of Carleton.
We hope that this new logo, while unconventional, will resonate with the Carleton community and serve as a fitting emblem of Carleton's unique qualities to the outside world. I am grateful to the Communications colleagues, College committees, and senior leadership groups that have supported this exciting new direction.
This change is effective tomorrow, April 1.
—Alison Byerly