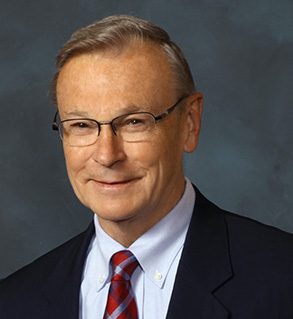 Stephen R. Lewis Jr. is President Emeritus and Professor of Economics Emeritus at Carleton College, where he served as president from 1987 to 2002. He began his senior administrative experience at Williams College, where he twice served as Provost of the College (1968–71 and 1973–77). From January 2007 to December 2014 he was Chairman of the Board of Columbia Funds, a $130 billion family of mutual funds, where he was a director from 2002–2014.
An economist with a specialty in developing countries, Lewis received his BA, Phi Beta Kappa, from Williams in 1960, and his PhD in Economics from Stanford in 1963. He taught Economics at Stanford (1962-63), Harvard (1965–66), the University of Nairobi (1971–72) and Williams (1966–87), where he held the Herbert H. Lehman Professorship.
His work as Research Advisor to the Pakistan Institute of Development Economics in Karachi (1963–65), resulted in two books, including Pakistan: Industrialization and Trade Policy (1970). He also lived in Nairobi (1971–73) where he served as an Economic Advisor to the Ministry of Finance of the Government of Kenya.
In 1975, Lewis began a long association with Botswana, serving as Economic Consultant to the Ministry of Finance and Development Planning on a resident basis in 1977–78 and 1980–82, on short term assignments between 1975 and 1988, and occasionally until 1998. With Charles Harvey he coauthored Policy Choice and Development Performance in Botswana (1990). Lewis edited Q.K.J. Masire's Very Brave or Very Foolish? Memoirs of an African Democrat (2006). Masire was Botswana's second President (1980–98) and was Vice President and Minister of Finance from Independence in 1966 until 1980.
Because of his work in Southern Africa, Lewis was asked by the Council on Foreign Relations to analyze the South African economy, which resulted in his 1990 book, The Economics of Apartheid. His practical experience with and studies of fiscal policy in several countries led to his 1984 book, Taxation for Development.
Lewis is a member of the Council on Foreign Relations, the Dean's Advisory Council of the Hubert H. Humphrey School of Public Affairs, and the Visiting Committee of the Center for Development Economics at Williams. He is a trustee of the Robina Foundation and Chair of the Trustees of Wallin Education Partners. He also serves as a consultant to college presidents and boards.
Previously Lewis was trustee of the Carnegie Endowment for International Peace (1988–2014, Vice Chairman 2009-14) and of Mitchell Hamline School of Law (2007–16), and director of Valmont Industries, Inc. (2002–13). Among his recognitions are the Presidential Order of Meritorious Service (1983) from the Botswana Government, Distinguished Eagle Scout (1993) from the Boy Scouts of America, the Bicentennial Medal (2006) from Williams, Lifetime Achievement at the 2015 Mutual Fund Industry Awards, Exceptional Service (2016) from the Carleton Alumni Association, and honorary degrees from Williams, Carleton, Macalester, Doshisha University in Kyoto, Japan, and Lingnan University in Hong Kong.
In 1996 Lewis married Judith Frost Flinn. They each have three grown children and several grandchildren.