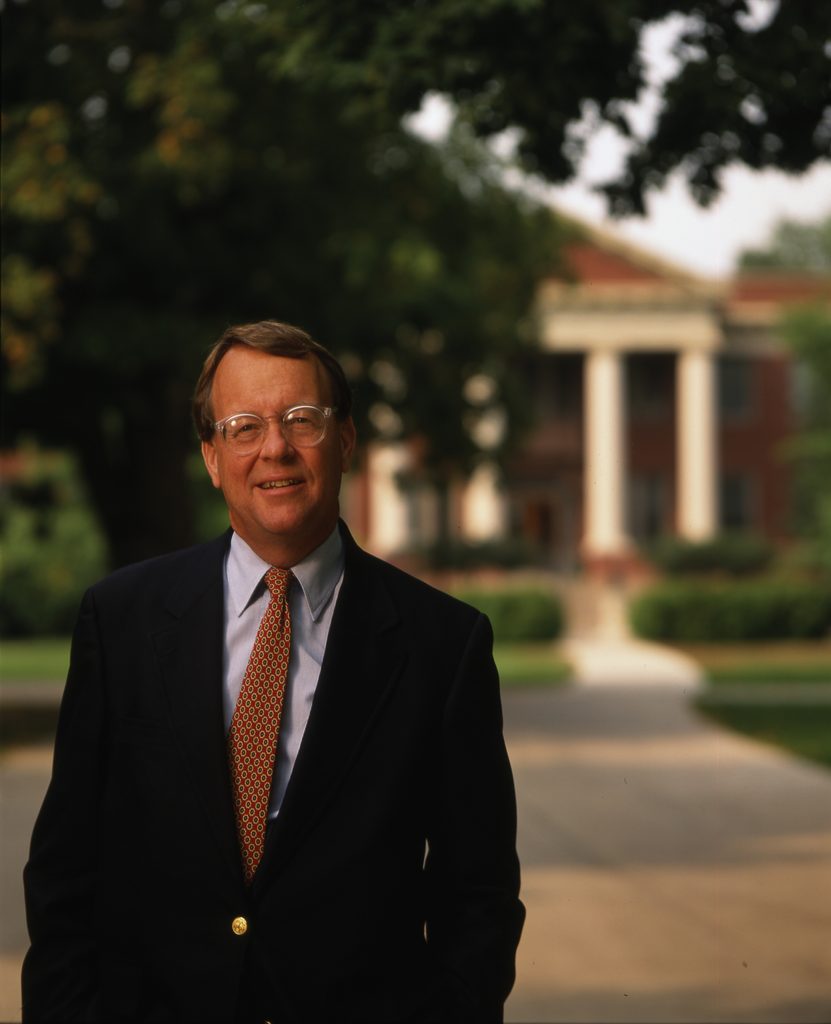 Robert A. Oden Jr. was president of Carleton College from 2002 until his retirement in summer 2010. His leadership and vision for the College was realized through many initiatives, including a bold capital campaign, Breaking Barriers, Creating Connections: The Campaign for Carleton.
"Sharpening our creative focus to better prepare our students for leadership roles in the 21st century requires breaking down traditional barriers and creating connections in what and how we teach," Oden says. "It requires investment in people, in programs, in infrastructure, in shaping new learning spaces and contexts. It requires bringing in the best and most diverse students, adapting our curriculum to reflect new pedagogies and emerging fields, shaping integrative opportunities for study, and upgrading the quality of our facilities. It requires a new vision for how a liberal arts leader of today must evolve to produce the leadership for tomorrow's world."
Oden's leadership transformed Carleton on many fronts, including leading the faculty in the College's first systematic curriculum review in nearly 50 years to develop a liberal arts curriculum accenting creativity and inventiveness. Tied to that initiative was the Arts Union project, which through both its physical structure and its programming will shape Carleton as a leader in interdisciplinary teaching and learning in the arts and beyond. Carleton expanded its faculty during Oden's tenure, while keeping undergraduate enrollment steady, with the addition of 15 tenure-track faculty members in the disciplines of Arabic, biology, cinema and media studies, economics, environmental and technology studies, political science, psychology, and social demography. Oden established Carleton's Headley House program, an extended-stay residential program to promote sustained dialogue between visiting scholars, students, and faculty members.
An emphasis on intercultural understanding and global issues also emerged during Oden's tenure at Carleton. The College increased its international student population from 18 students enrolled in fall 2000 to 117 enrolled in fall 2007. Arabic language instruction was introduced in fall 2007, and off-campus studies programs expanded to include the Middle East and new programs in Africa and China. Oden, a scholar of ancient Near Eastern languages and religions, is a trustee of the American University in Cairo and taught 32 Carleton students during the Egyptian portion of the inaugural Middle East off-campus studies seminar in winter 2008.
Oden was a member of the American College and University Presidents Climate Commitment and led Carleton in several sustainability initiatives, including the construction of Carleton's wind turbine, the first college-owned and operated utility-scale wind turbine in the United States. It produces the equivalent of 40 percent of Carleton's electricity. Carleton is seeking LEED gold certification for the Arts Union project, as well as for its new residence halls completed in fall 2009. Oden was a keen advocate of the conservation of Carleton's 880-acre Cowling Arboretum, a connecting landscape between the core campus and the greater prairie of the Midwest. He ran regularly in the Arb, often inviting students to join him, and annually taught a non-credit course on fly-fishing, a pursuit of which he remains an avid practitioner.
Oden often spoke of Carleton's focus on people, insisting that the College was centrally and always about people—students, faculty, staff, and alumni. He also worked to increase Carleton's endowment, in recognition of the need to continue the College's tradition of providing need-based financial aid. He created the College's first professional endowment management team and the endowment grew from less than $450 million to nearly $700 million during his tenure. In 2008 Carleton launched its Access Scholarship program aimed at reducing or eliminating loans for students whose families annually earn $75,000 or less.
Oden has been a leader in higher education for more than 30 years. He was president of Kenyon College from 1995 to 2002 and headmaster of the Hotchkiss School from 1989 to 1995. He holds a BA degree in history and literature from Harvard College. He attended Cambridge University as a Marshall Scholar, earning a second bachelor's degree and a master's degree in religious studies before returning to Harvard to complete a master's of theology degree and a PhD in Near Eastern languages and literatures. He holds two honorary degrees, a doctor of humane letters from Kenyon College and an honorary master's degree from Dartmouth, the latter presented when Oden became a full professor at the college.
From 1975 to 1989, Oden was a religion professor at Dartmouth, where he received Dartmouth's first Distinguished Teaching Award. He is the author of five books, including The Bible Without Theology, and scores of scholarly articles, as well as a number of articles on fly-fishing. His chief research interests are in ancient Near East languages, history, and religion. In 1989 Oden was selected to be among the first of the Teaching Company's "Superstar Teachers," for which he has taped three lecture series on comparative religion and the Old Testament.
In addition to being a trustee of the American University in Cairo, Oden currently is on the board of directors of the JP Morgan Mutual Funds.
---
See news & communications from the Oden presidency (2002–2010)