Jan
19
Multicultural Panel of Alumni in Medicine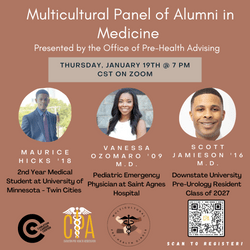 Please join us for a panel of Carleton alumni in medicine who will share their stories and insights as pre-meds and physicians, as well as provide advice to current pre-med students. The panelists include Dr. Vanessa Ozomaro, '09, Dr. Scott Jamieson, '16 and Maurice Hicks, '18.
Dr. Ozomaro is Pediatric Emergency Physician at Saint Agnes Hospital in Baltimore, MD, Dr. Jamieson is a first year resident in Urology at SUNY Downstate Health Sciences in Brooklyn, NY and Maurice "Mo" Hicks is a second year medical student at the University of Minnesota Medical School.
There will be plenty of time for Q and A.
Co-sponsored by the Office of Pre-health Advising, the Career Center, and the CPA Multicultural Pre-health Circle