Apr
7
Information session with Rush Medical School Admissions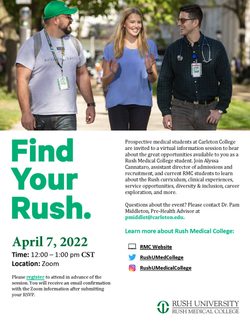 Please join us for a virtual information session to hear  about the great opportunities available to you as a  Rush Medical College student. Join Alyssa  Cannataro, assistant director of admissions and  recruitment, and current RMC students to learn  about the Rush curriculum, clinical experiences,  service opportunities, diversity & inclusion, career  exploration, and more.
Questions about the event? Please contact Pam  Middleton, Pre-Health Advisor at  pmiddlet@carleton.edu. 
This event is co-sponsored by The Office of Pre-health Advising and the Carleton Pre-Health Association.