Spending
There are two ways to use your funds. You can either:
stop by the Student Activities Office (SAO) and ask a pro-staff member to use the SAO credit card, OR
spend your personal funds, and then apply to be reimbursed (see below).
Both options eventually charge your student organization's account, on in the case of an Alt Bev or Common Meal reimbursement request, will charge a designated CSA department. Please note that you must have received funds (i.e. approval) from CSA Senate or the CSA Treasurer prior to spending your own personal funds, otherwise the reimbursement may not be processed.
Reimbursement
Overview
Fill out a "green form" from the SAO (Sayles 051; open M-F 8am-5pm)
submit the form in the SAO for processing
These forms are reviewed by the CSA Treasurer, SAO pro-staff members, and Business Office accountants; because both CSA and IRS guidelines must be followed, the latter being much more stringent, it usually takes several weeks for the reimbursement to process. Upon full processing, funds will be deposited to the bank account that you have linked on the Hub.
The Green Form
a.k.a. the "Carleton College Student Organization Payment Request Form"
Fill out parts A through L that are labeled in the image below (fill out H and I only if applicable). Remember that in G, each line corresponds to one receipt; if you have more receipts than lines, continue on another Green Form. For parts that are unclear, please see the guide below the image.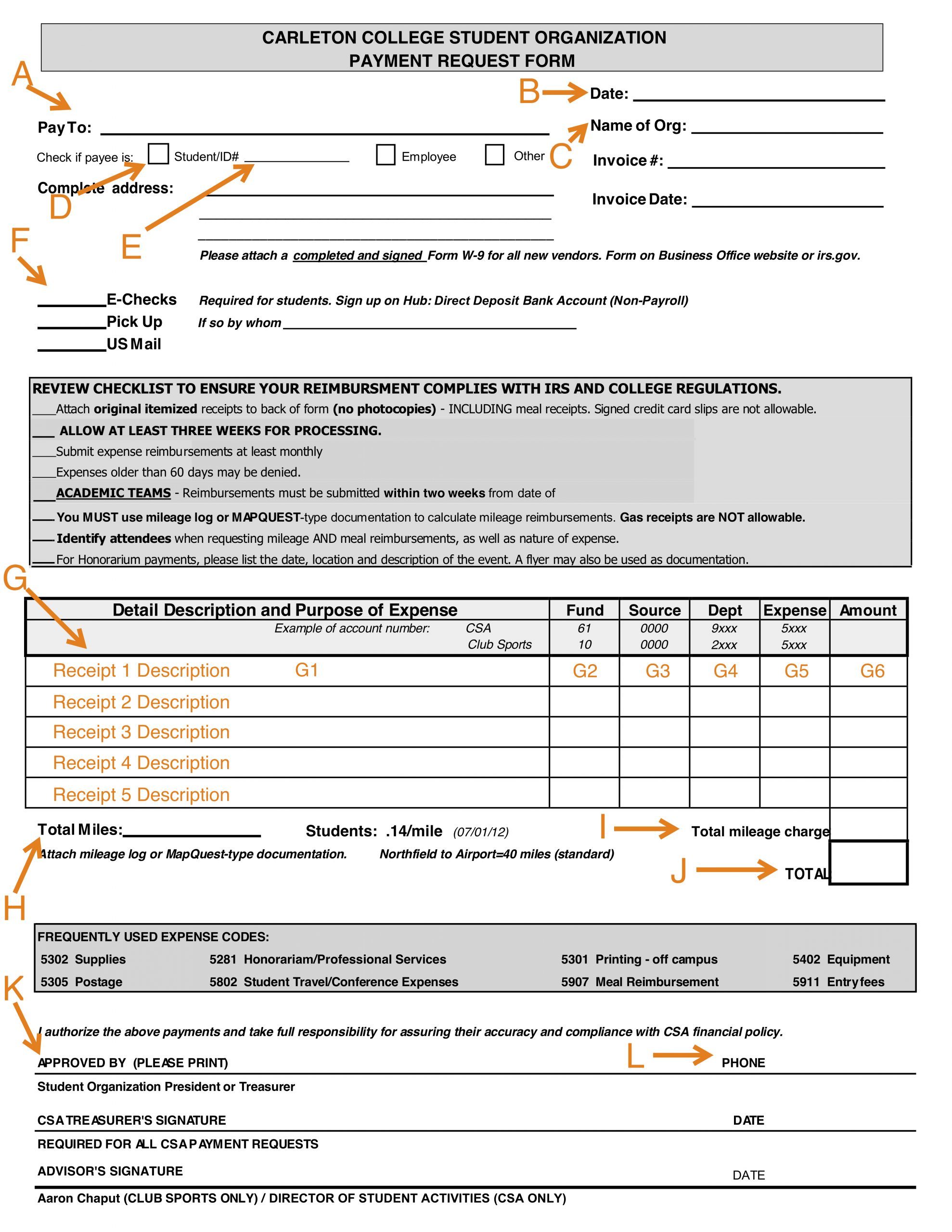 A: write your name
B: write today's date
C: write the name of student org (if Alt Bev or Common Meal, and not related to a student org, write "Alt Bev" or "Common Meal," respectively)
D: check this box
E: write your student ID (on the back of your one-card)
F: check the "E-Checks" line (Pick Up and US Mail options are not available)
G: for each receipt, fill out G1 through G6 (if you have more than 5 receipts, please continue with another Green Form)

G1: write a description of the receipt and what the purchase is for (e.x. the name of an event the purchased items are for)
G2: write 61, unless requesting reimbursement for an official club sport
G3: write 0000
G4:

If your student organization has a department listed on this page, write the corresponding number
If your student organization does not have a department listed on that page, write 9211
If you are filling out an Alt Bev or Common Meal reimbursement request, write 9211

G5:

If you are filling out a reimbursement request for your student organization, write the appropriate expense code (see this page for common codes, or refer to the "frequently used expense codes" box on the sheet
If you are filling out an Alt Bev reimbursement request, write 5752
If you are filling out a Common Meal reimbursement request, write 5753

G6: write the dollar amount of the receipt for that line

H: if you are seeking reimbursement for fuel that you purchased for a personal vehicle, write the total number of miles you traveled
I: if you wrote something in H, multiply that by $0.14 and write that number here
J: write the sum of all entries in the "amount" column
K: print the name of your student organization's President or Treasurer
L: if you feel that issues may arise in the processing of the form, please provide your phone number