The Office of Intercultural Life at Carleton strives to enhance the student experience by providing programming and support that advocates for a just and inclusive community. OIL is open to all students regardless of race, gender, color, age, religion, disability, sexual orientation, national or ethnic origin and socio-economic status. However, OIL has a unique role of providing direct support through programming that affirms, supports, and engages students of color.
OIL's program components include (1) leadership and skill development, (2) DEI facilitation and dialogue, (3) community building and allyship, and (4) cross/intercultural awareness and knowledge.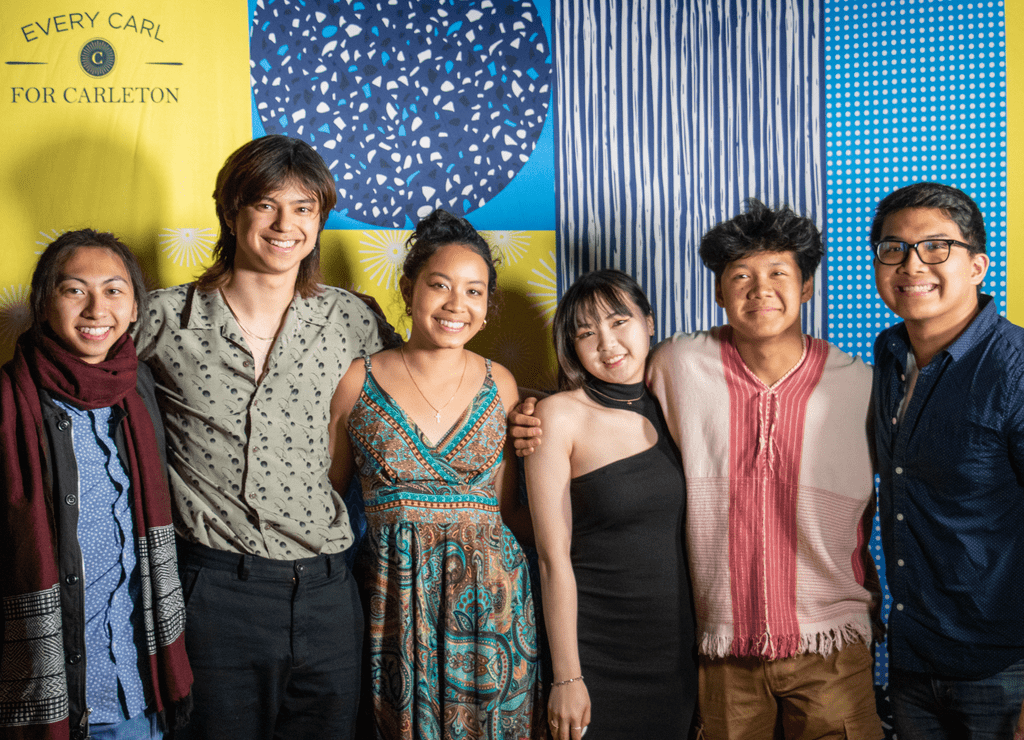 ---
Mission
The Office of Intercultural Life strives to create a diverse and welcoming campus community that embraces individual difference, advocates for social justice, and cultivates inclusion. OIL centers the experiences of students of color while working collaboratively to create a campus wide culture of understanding and authentic living.
Program Goals
Foster belonging by creating a safe space and supportive environment where students of color feel accepted, included, and valued as their authentic selves.
Build community by maximizing engagement and strengthening bonds among individuals and communities of color.
Support academic success and retention through collaboration with faculty, deans, and college resources.
Raise awareness of and explore issues affecting communities of color locally, nationally, or globally.
Key Initiatives
Peer Mentorship Program
OIL's Peer Mentorship Program offers guidance and support for first year students as they transition to Carleton. Participants get connected to resources that help them navigate the college experience and ensure that they persist and graduate.
Cultural Houses
Cultural House Communities provide a variety of educational, cultural, and social programs that highlight the cultural diversity at Carleton, while providing a cultural comfort-zone to BIPOC and international students. The three Cultural House Communities supported by OIL are:
Cultural House for Asian Identities (CHAI)
Freedom House (African-American/African diaspora)
La Casa del Sol (Hispanic/Latine)
Dialogue Series
OIL Talks are a series of educational, discussion-focused events created by and delivered by OIL student staff. Past topics have included exploring Critical Race Theory, intersectional sexual health, Indigenous story-telling, the impact of tourism on Hawaiian land and culture, and so much more!
OIL sponsors several of Carleton's convocation speakers each year to "enhance the academic experience of students — educate, enlighten, inspire, promote understanding of diversity, and develop global thinkers."
Cultural Heritage Months and MLK Day
Cultural Heritage Months are recognized throughout the year to celebrate and uplift our student populations who hold these identities. While not exhaustive, OIL does programming for Hispanic and Latine Heritage Month (Sept 15 – Oct 15), Indigenous People's Heritage Month (November), MLK Day (January 15), Black History Month (February), and Asian American and Pacific Islander Heritage Month (May).
Cultural Programming Board
The Cultural Programming Board (CPB) is a collaborative of chartered student organizations that hosts high-impact cultural programming on campus; elevates the relevance of underrepresented cultural perspectives; and stimulates critical dialogue about culture, inclusion, and community.
---