Becca Riess '23, a Political Science/International Relations major and a Philosophy minor, spent Fall 2020 and Winter 2021 studying abroad in Copenhagen with DIS Study Abroad in Scandinavia.
Follow along on Becca's study abroad experience in Denmark!
Studying abroad in Fall 2020 and Winter 2021 was an interesting and unique experience but I am so glad that I did! Covid brought a lot of challenges and uncertainties but I am so grateful I had the opportunity to have in-person classes and adventures with some amazing people and find a community during such a tumultuous period. Copenhagen is great city to live in and I enjoyed learning a new language and experiencing a new culture.
If you ever find yourself in Copenhagen or the rest of Denmark here are some must see and do activities!
Copenhagen
Harbor Tour/Nyhavn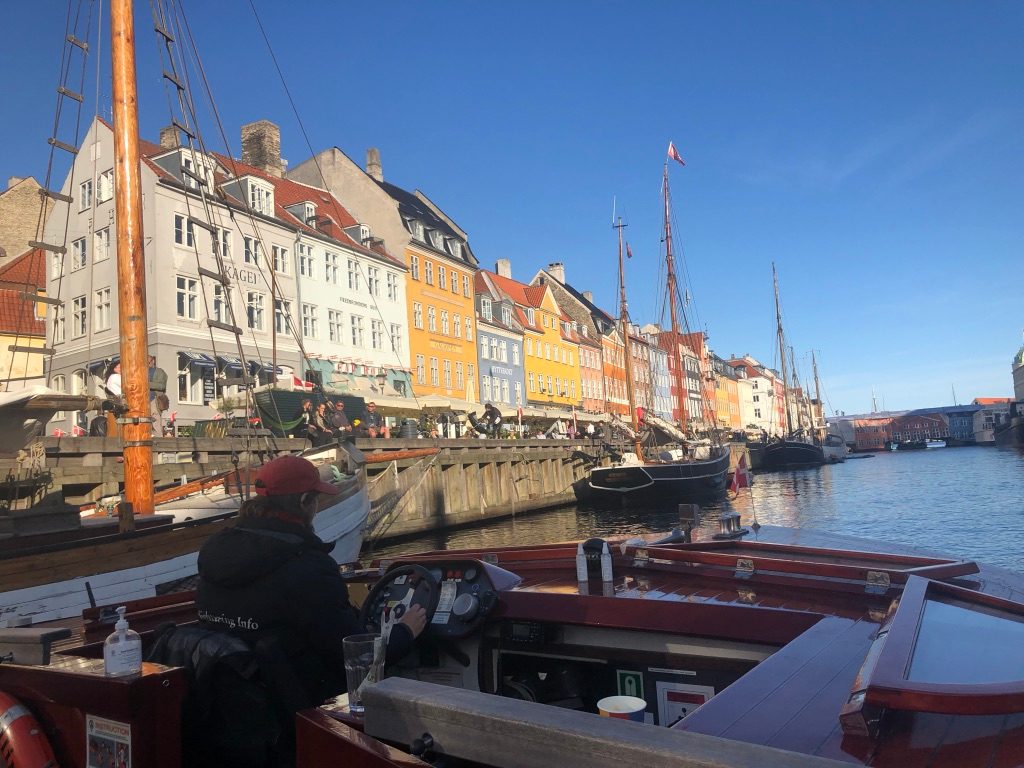 One of the first things to do in Copenhagen is definitely to go on a harbor tour! This is one of the best ways to get to know the city and various landmarks and gives a fun perspective. There are a few options. The one I did when I first arrived was a guided boat tour where a tour guide explains the various sights which is a great option when you are new to the city. Otherwise you can also rent your own little motorized boat for an hour, bring snacks, and explore the harbor yourself. A third option (which I did not try myself) is a guided kayak tour of the harbor.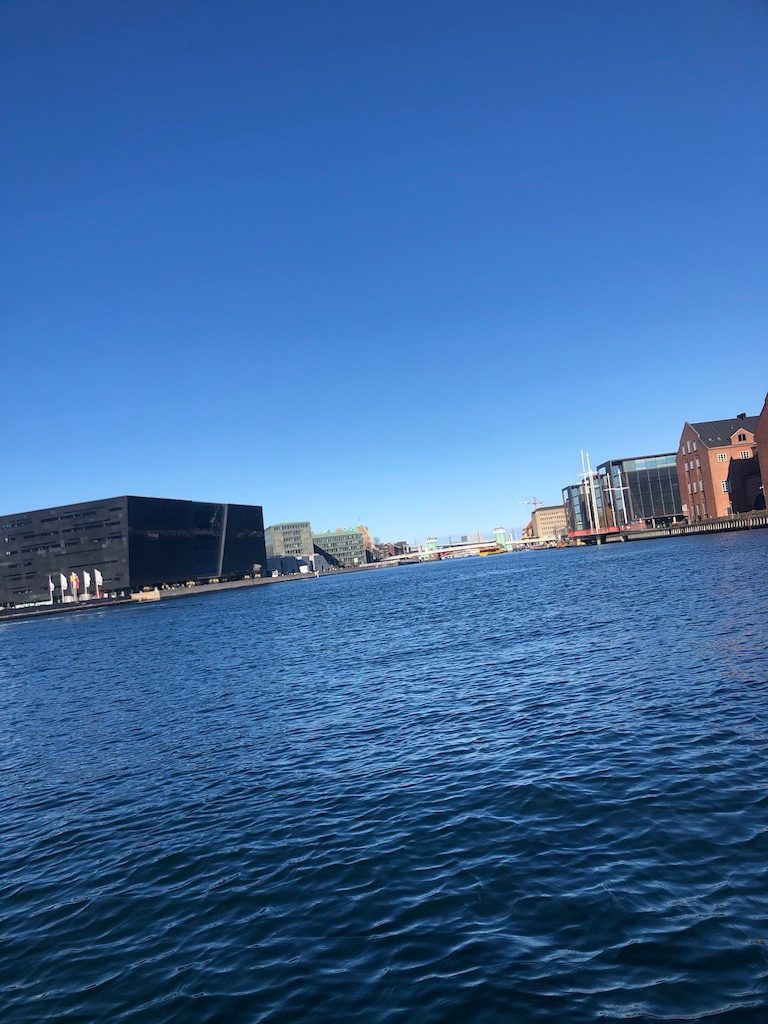 Tivoli
Tivoli Gardens is one of the oldest amusement parks in the world (3rd I believe) and is located right in the center of Copenhagen. I biked past it every day on the way to class! Tickets to get in to the park are not that expensive at 145 DKK which is around $20 and has all kinds of rides and little shops and cafes. The seasonal decorations were one of my favorite part especially during winter when they had set up a Christmas market all throughout the park. (Since there were Covid restrictions there were no normal Christmas markets throughout the city but I do recommend visiting those if you are in Copenhagen during December!)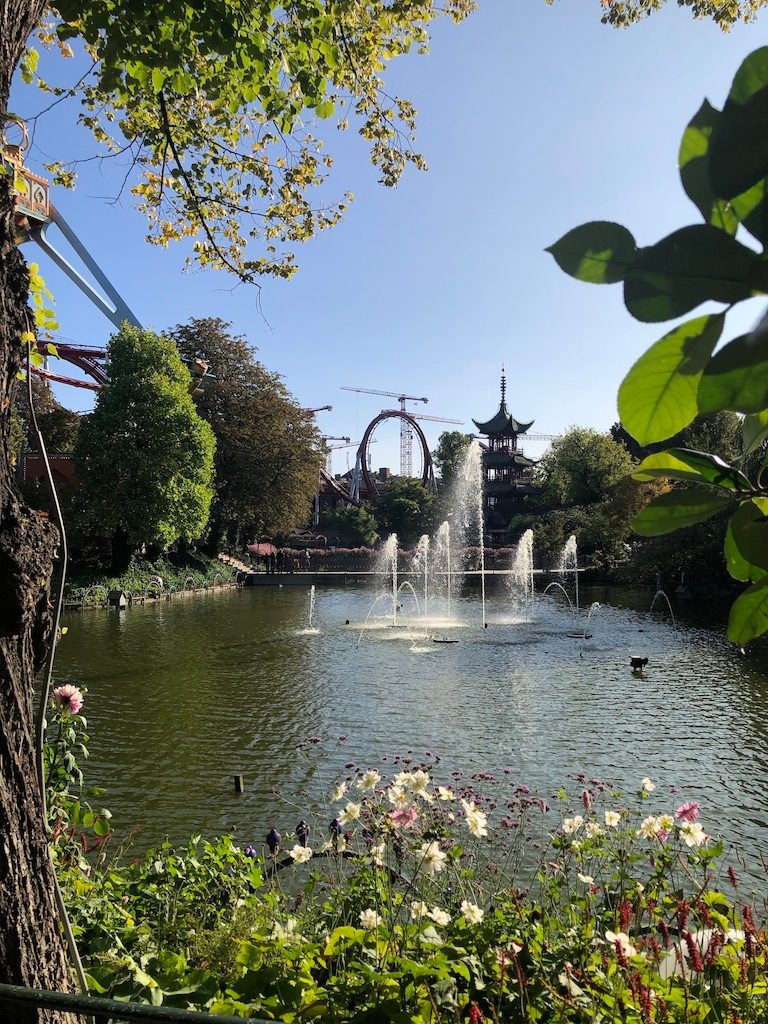 Reffen – Copenhagen Street Food
Reffen is a seasonal outdoor street food market that sells food from all around the world from various stalls in addition to live entertainment. I absolutely loved the variety in food available and it was so good! Since we went a little later in fall and it was already getting chillier out there were little fires with seating spread throughout and felt really cozy.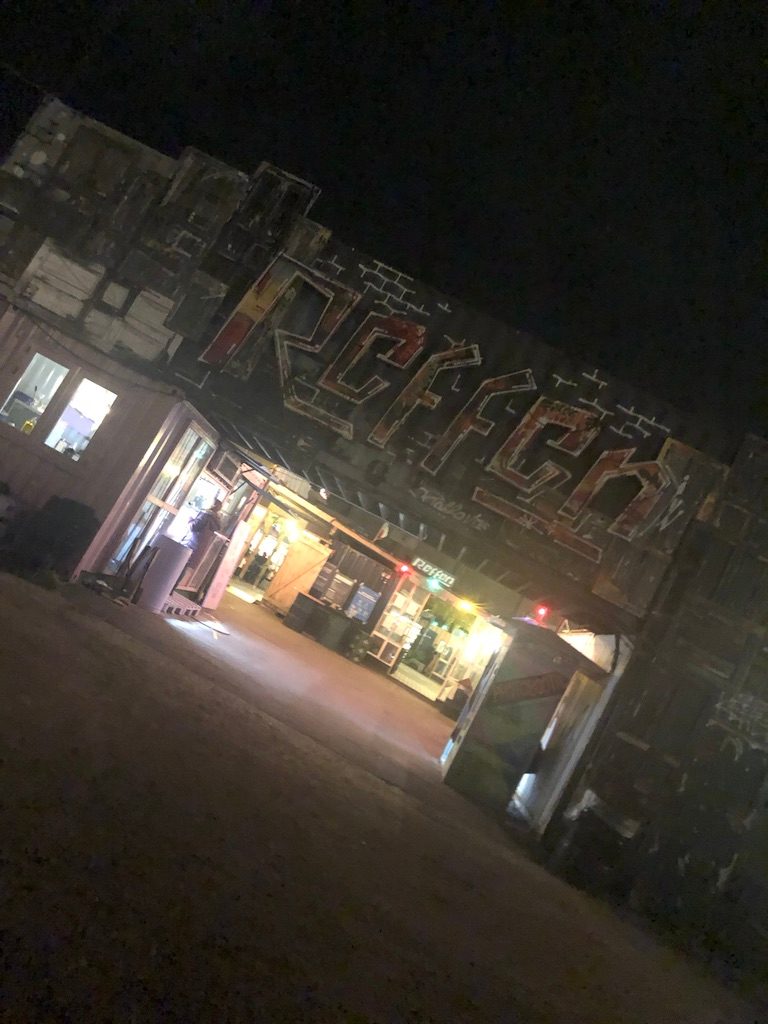 The Little Mermaid
Of course one of the must see attractions is the little mermaid from the world famous danish author Hans Christian Andersen's fairy tale. In the background across the harbor you can actually see where Reffen is (on the left hand side) and CopenHill which is waste-to-energy power plant that also features a ski/sledding hill on top of the building in addition to a climbing wall along one side.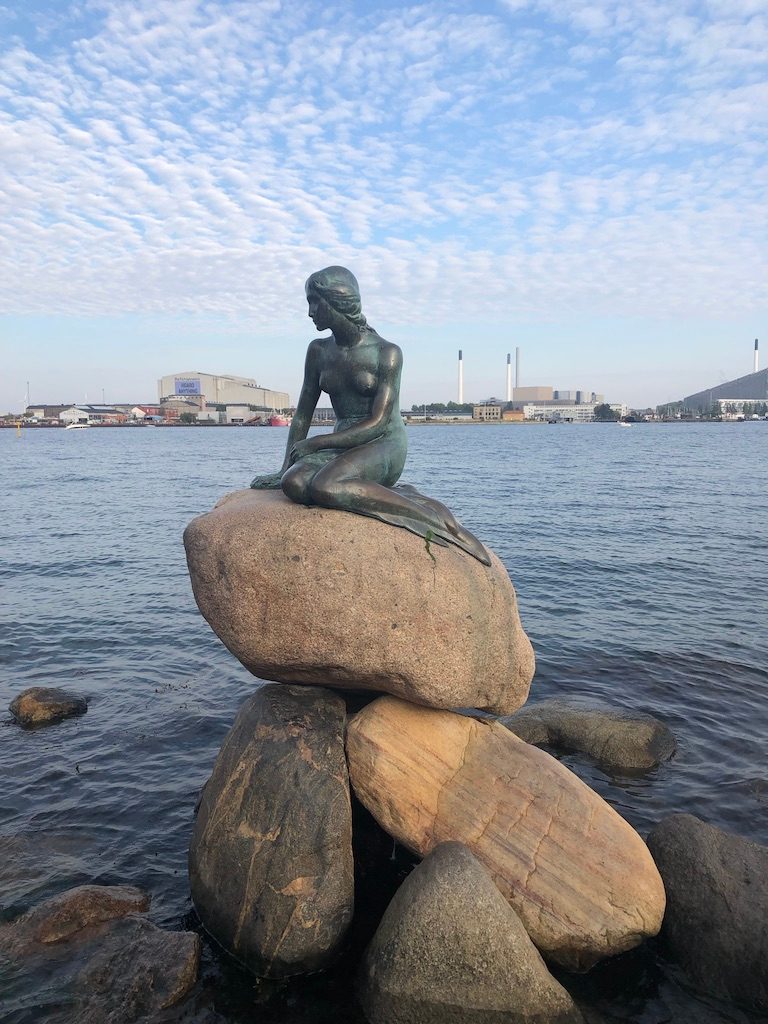 Christiansborg Palace
Christiansborg currently houses the Danish government including the Parliament (Folketinget), Prime Minister's Office, and Supreme Court. It has been the site of many castles starting with Absalon's Castle in 1167, then Copenhagen Castle in 1369 after the first castle was destroyed by pirates. Copenhagen Castle itself was rebuilt several times until it became too heavy for its foundation and collapsed. In 1738 the First Christiansborg was built but it burned down several times so now the version that is standing today is the third Christiansborg. Although the Danish royal family used to live in Christiansborg, after the first Christiansborg fire they moved to Amalienborg where they still live today. Chrsitiansborg also houses the royal stables and horses. I highly recommend taking a tour of the castle and stables. There is also a museum underneath the palace where you can see the ruins of the previous castles that Christiansborg was built on top of that I thought was super interesting!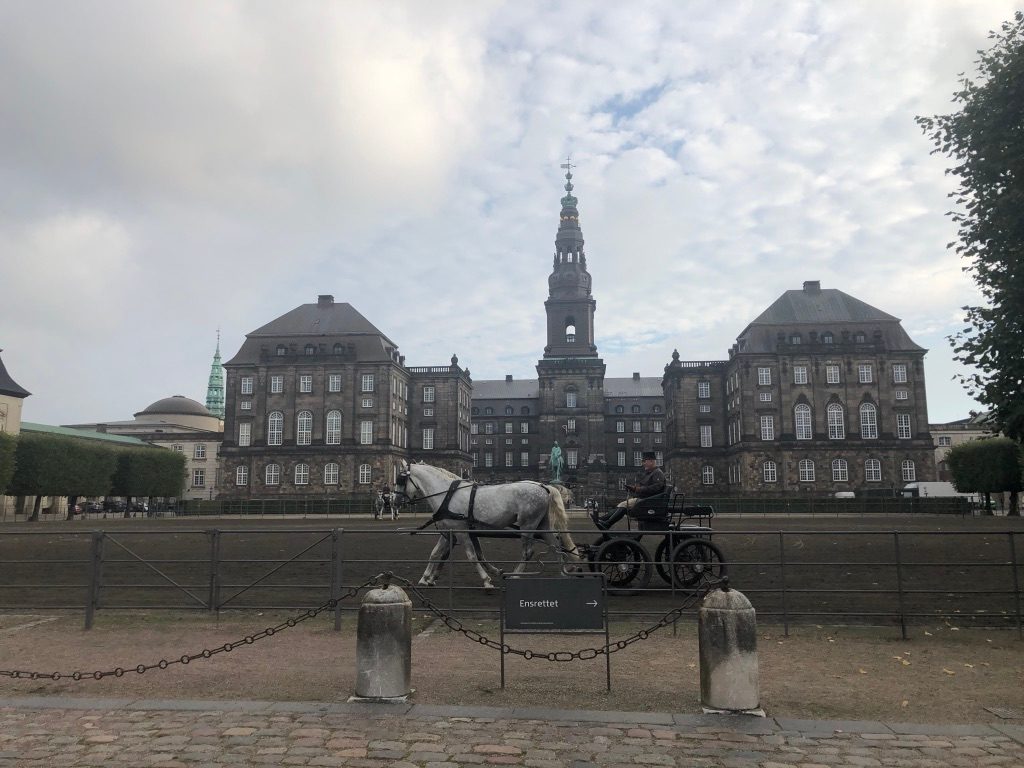 Frederiksberg Have
Frederiksberg Have (Frederiksberg Gardens) is located in the Frederiksberg neighborhood in Copenhagen and was originally established by King Frederik IV as a Baroque garden together with Frederiksberg Palace. Many people come here to jog, take a walk and enjoy the sunshine on nice days. I often saw school classes come out here to play. It also features an excellent sledding hill when it snows which I had to take advantage of when we got snow. It also is located right next to the Copenhagen zoo and if you are lucky you will be able to see their Elephants if they are out in their exhibit!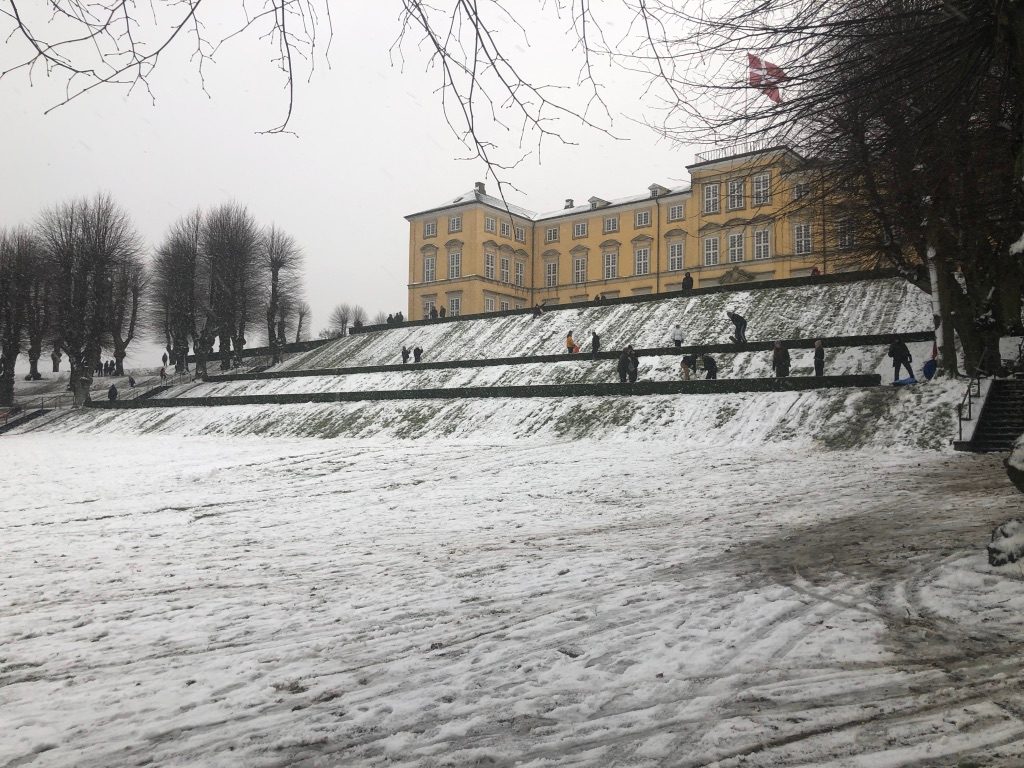 Copenhagen Zoo
Copenhagen also has one of the oldest zoos in the world. It is also located in the Frederiksberg neighborhood right next to Frederiksberg Have. The elephant exhibit borders the park and people going for a walk in Frederiksberg Gardens can see the Elephants when they are out and about. When I went to the Zoo, Copenhagen had just welcomed a new baby elephant to their herd and we got to watch them play around which was super cute. The zoo has many other fun animals but some of my other favorites were the Tasmanian devils from Australia.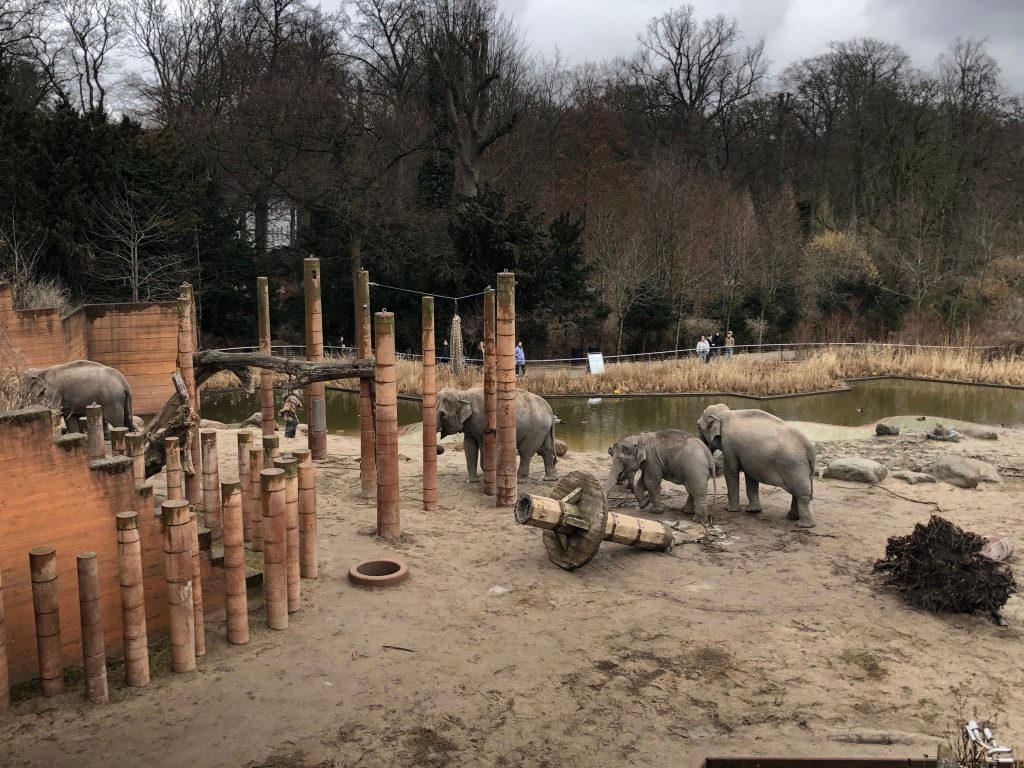 Rosenborg Castle
Rosenborg castle was originally built as the summerhouse of Christian IV in 1606. Now the castle is open to the public for tours and houses a museum of royal artifacts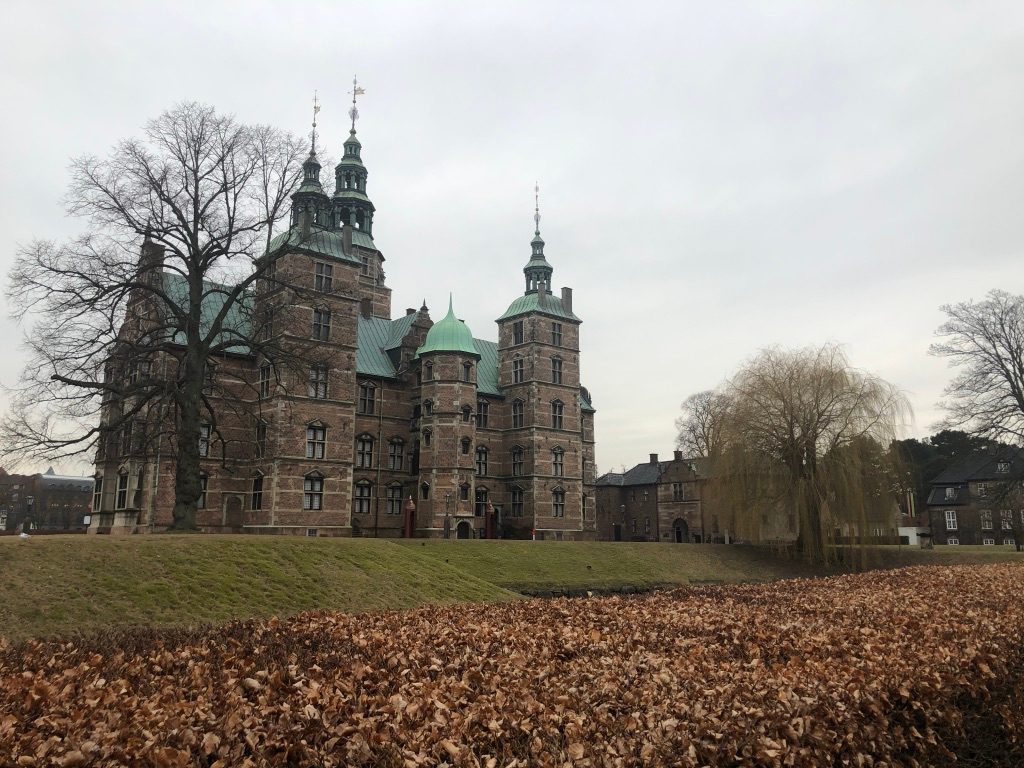 Assistens Kirkegård
You wouldn't usually think of a cemetery as a place to go for a stroll with your family or have a picnic, but Assistens Kirkegård in the Nørrebro district of Copenhagen is a place where many Danes do just that. With some beautiful landscaping and has some beautiful monuments as well as graves of many notable people. I visited the cemetery with my Danish class where we looked for the graves of people such as Hans Christian Andersen or Niels Bohr.
Kastellet
Located near where the little mermaid is, Kastellet (the citadel) is one of the best preserved fortresses in Northern Europe. It is shaped like a star/pentagon with a moat all the way round. While there is still are some active military buildings there, it mostly serves as a public park and historic site today. It also contains various monuments in memory of Danish soldiers, and old prison complex, a church, and a windmill from 1847.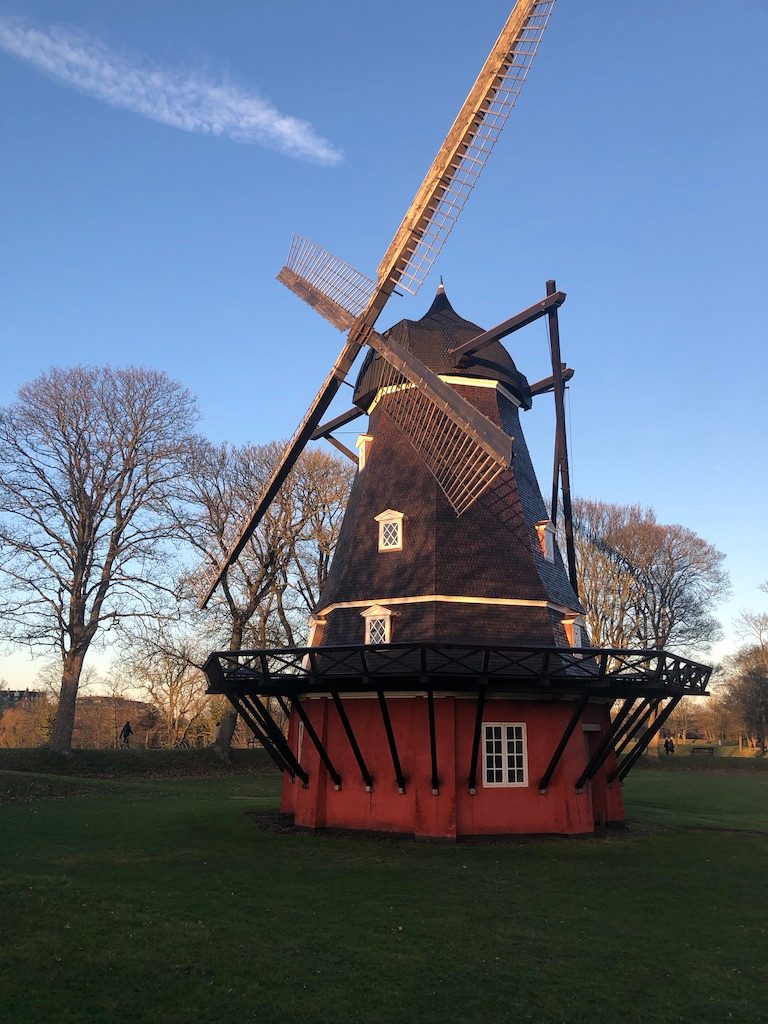 Go for a ride in Kongelunden Amager (or just go for a walk)
I am an equestrian, so I had to find a way to get my horse fix in while studying abroad. I found this place called Amagervoksenridetur that offered trail rides into the forest on Amager (the island that I lived on in Fall term). Me and my friend Antonia ended up riding twice a week and it was so much fun. The forest is gorgeous with well maintained trails for biking, hiking, and riding. As it got later in the year and the days got shorter we ended up riding in the dark more and more with headlights. Galloping through the woods in the dark just with the light o the moon and a few headlamps mad us feel like we were in some fantasy adventure. They also offer tours for beginners in case you don't have any riding experience and i highly recommend it! But if this feels a little too adventurous it is still a lovely park to go for a walk in and go to the coast. People like to fly their kites and walk their dogs here and there is also plenty of wildlife to see. Fun fact about this forest is that it was planted by a Danish King (i forgot which one) because they needed more wood to build boats. Well since it takes so long for trees to grow large enough to make boats out of and the technology moved on from wooden boats, the forest still stands today!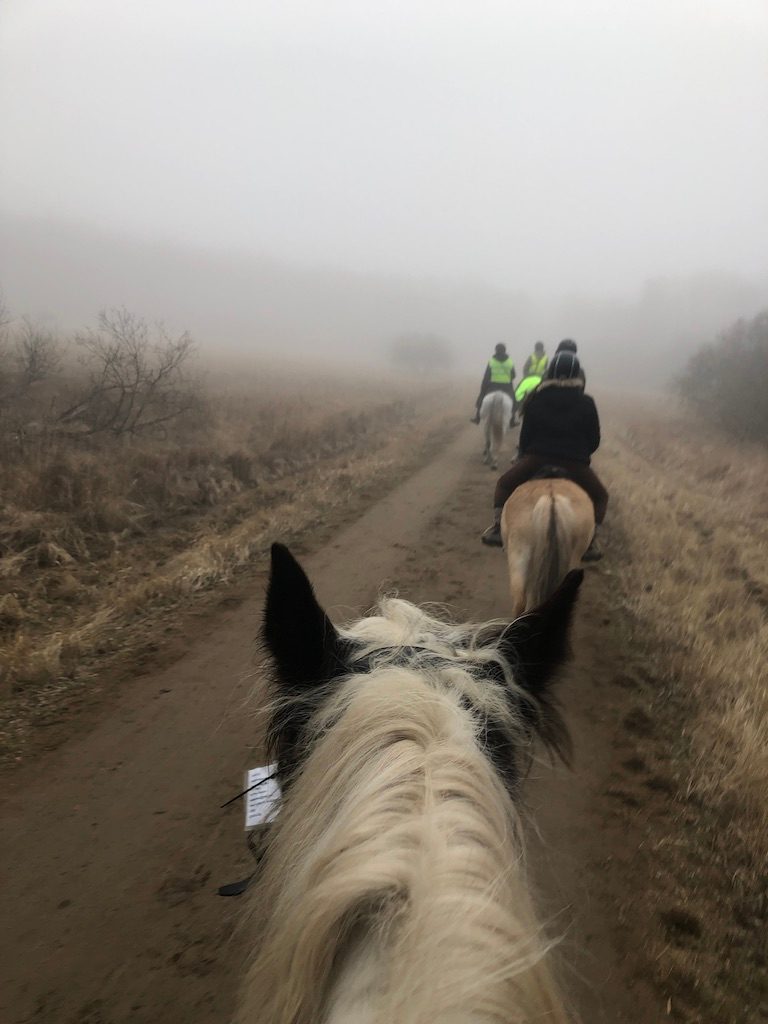 Bastard Cafe
Bastard Cafe is a board game cafe in Copenhagen with a great atmosphere and so many fun game options. I loved going here with my friends and eating snacks, having some drinks, and playing new bard games (most games had English instructions!)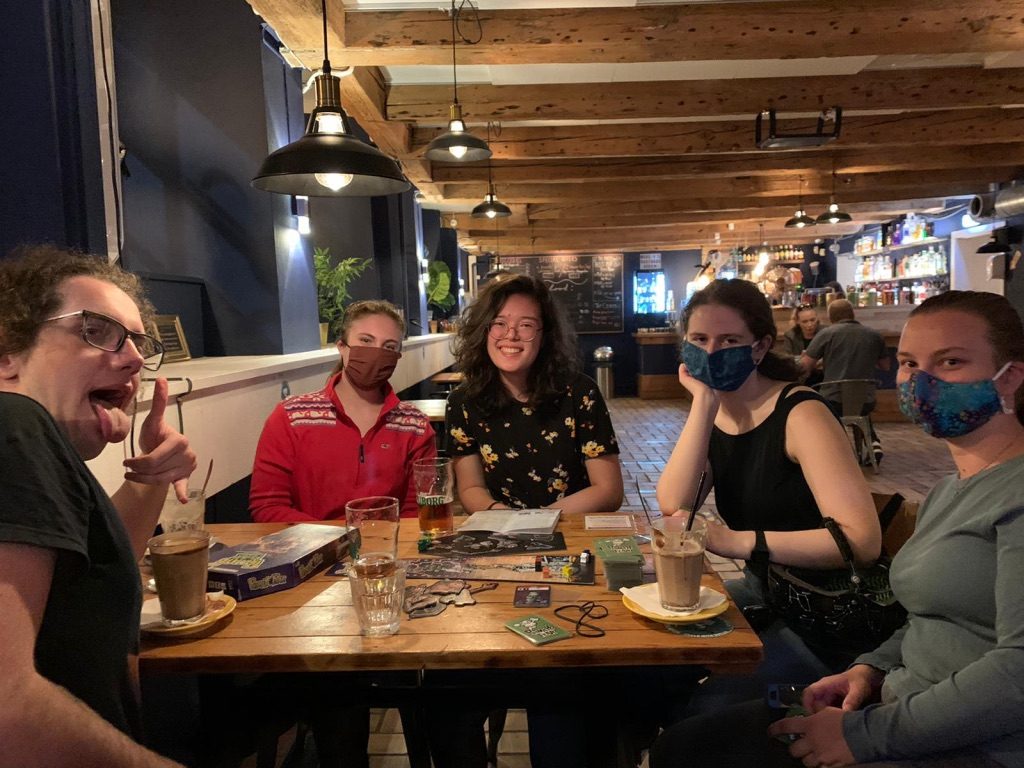 Eat Smørrebrød (and other danish food)
Smørrebrød (open faced sandwich) is one of the most quintessential Danish foods with so many variations there is something for everyone. Another delicious Danish treat is flødeboller which are chocolate covered cream puffs. Most people would not think of hotdogs as very Danish, but the Danes take their hotdogs seriously with stands sprinkle throughout all of Copenhagen. Of course you also need to go to a bakery and have some delicious pastries such as wienerbrød or kanelsnegle.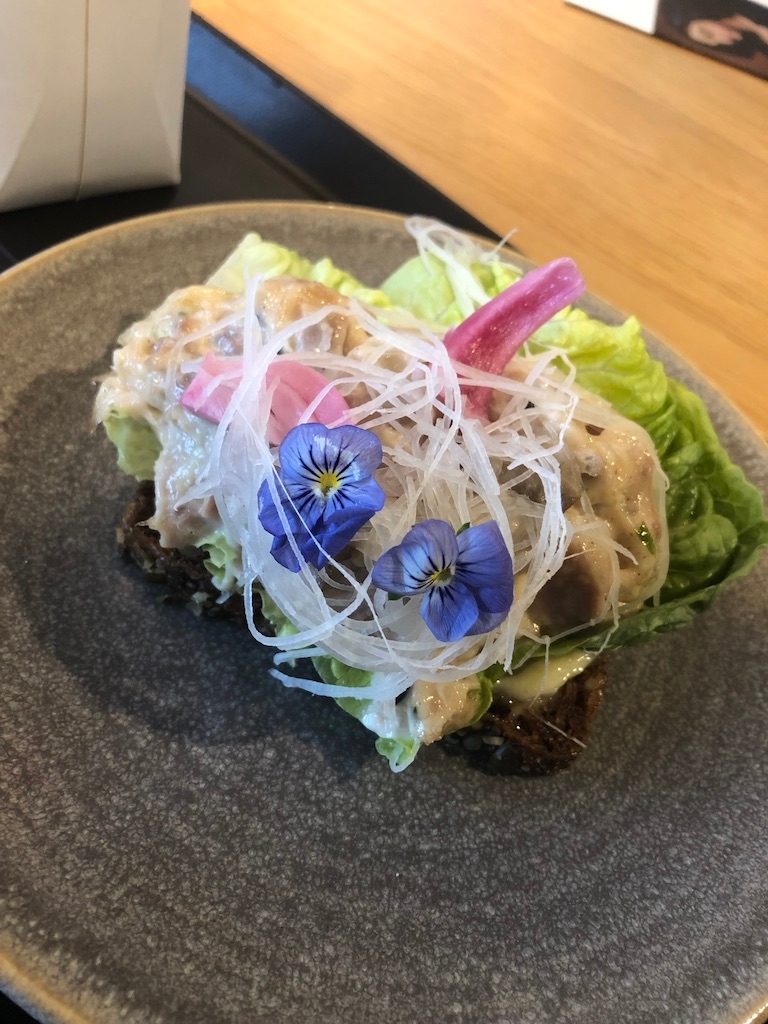 Go swimming in the harbor or winter bathing
While I do not have any good photos of this experience, it is one I highly recommend! The harbor in Copenhagen is remarkably clean and locals will go swimming in it regularly at any time of year. If you are visiting in the warmer months it is an excellent way to cool off after a long day walking around the city or if you are visiting in winter, it is a quintessentially danish activity that will definitely wake you up and is also an excellent way to meet locals and socialize. There are also locations where you can switch off between sitting in a warm sauna and jumping into the freezing water (which is the version I personally prefer rather than having to bike back to your apartment before being able to warm up again).
Jægersborg Dyrehave
Also known as "The Deer Park," Dyrehave is a forest park north of Copenhagen and as of 2015 has been included as a UNESCO World Heritage Site. Originally it was created as a hunting ground for the Danish royalty. Today it is a public park where people can go for a walk and see old growth forest as well as herds of about 2100 deer total including red deer, fallow deer, and silka deer.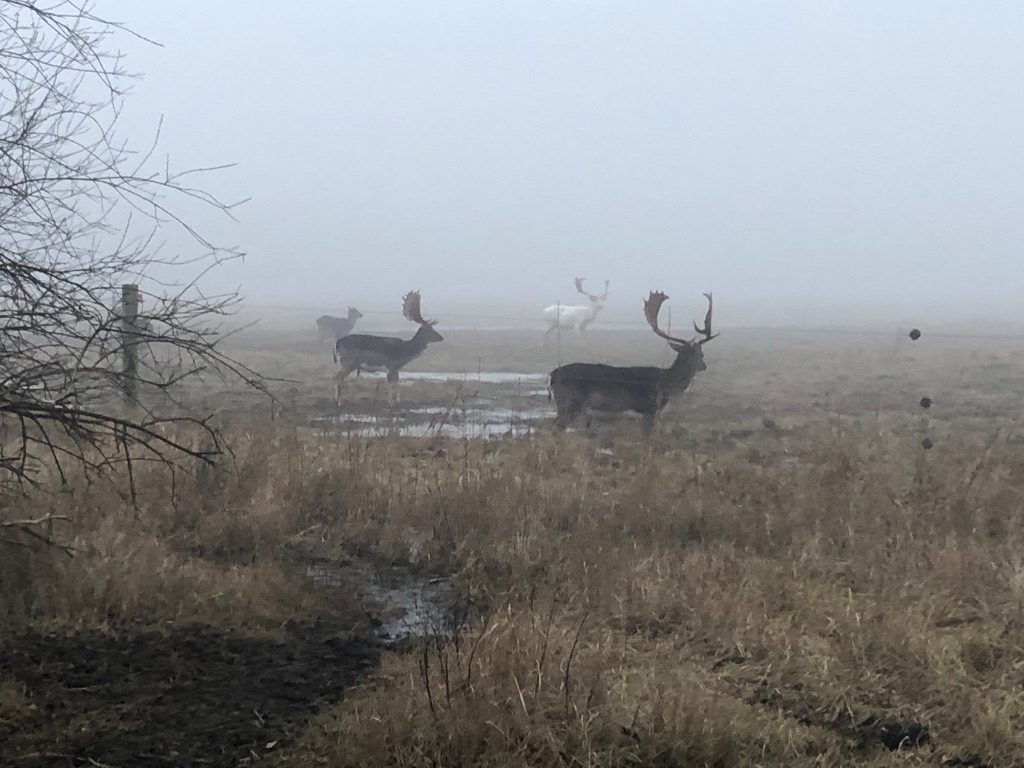 Tisvildeleje
Tisvildeleje is a town on the northern coast of Zealand (the island that Copenhagen is also mostly located on). Along with white sandy beaches, it also borders Tisvilde Hegn which is Denmark's fifth largest forest.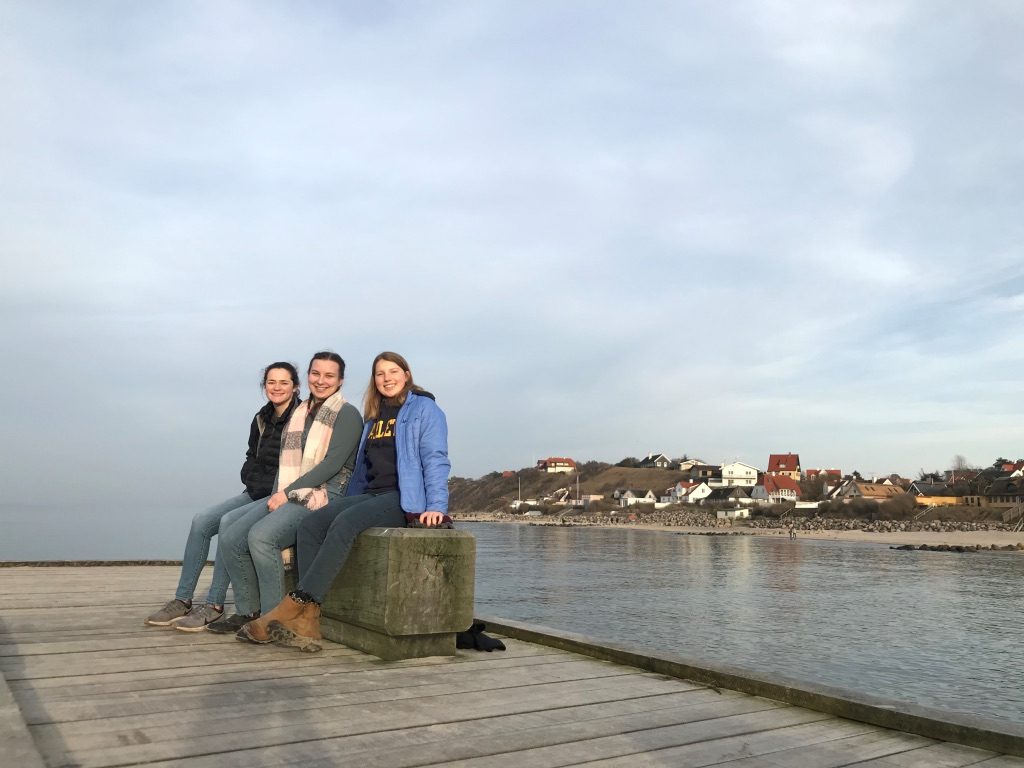 Møns Klint
Møns Klint is a stretch of coast along the eastern edge of the island Møn and is characterized by its limestone and chalk cliffs with some reaching 143m above the sea, also making it some of the highest points in Denmark. This also means though to reach the rocky beaches below, and more importantly to get back up, you need to climb about 500 steps.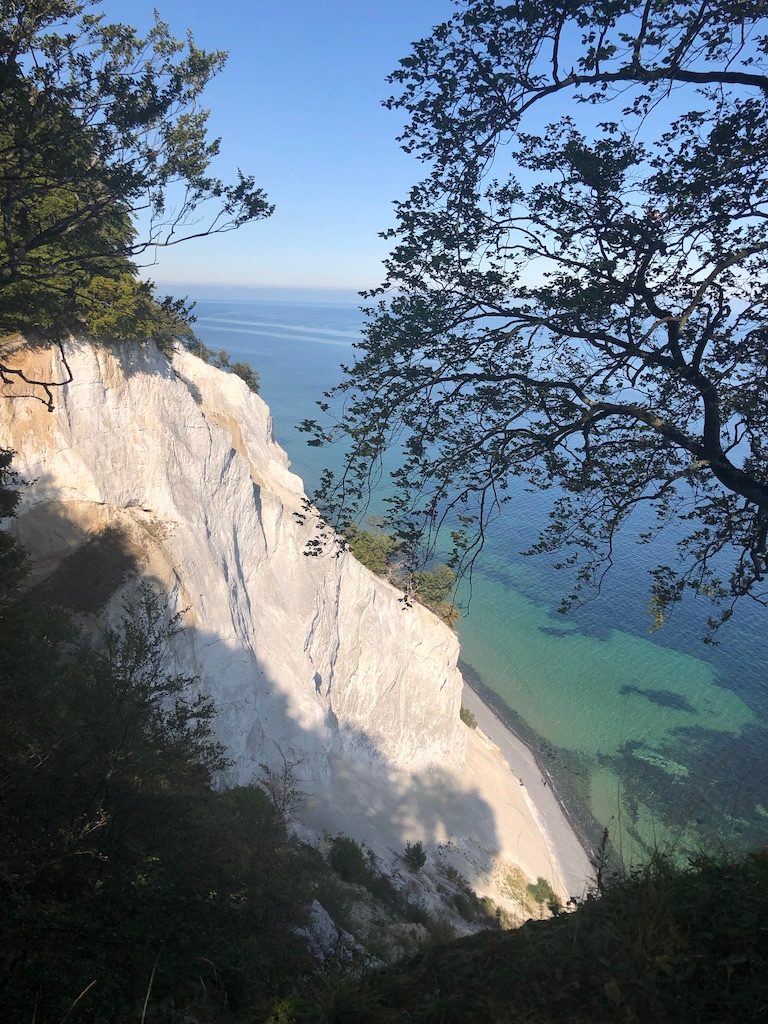 Egeskov Slot
Egeskov Castle was built in 1554 and is considered to be Europe's best preserved renaissance water castle. It is still a privately owned residence and a Danish count lives there, but most of the castle has been turned into a museum and is open to the public. The castle is surrounded by a park with various gardens including a large hedge maze.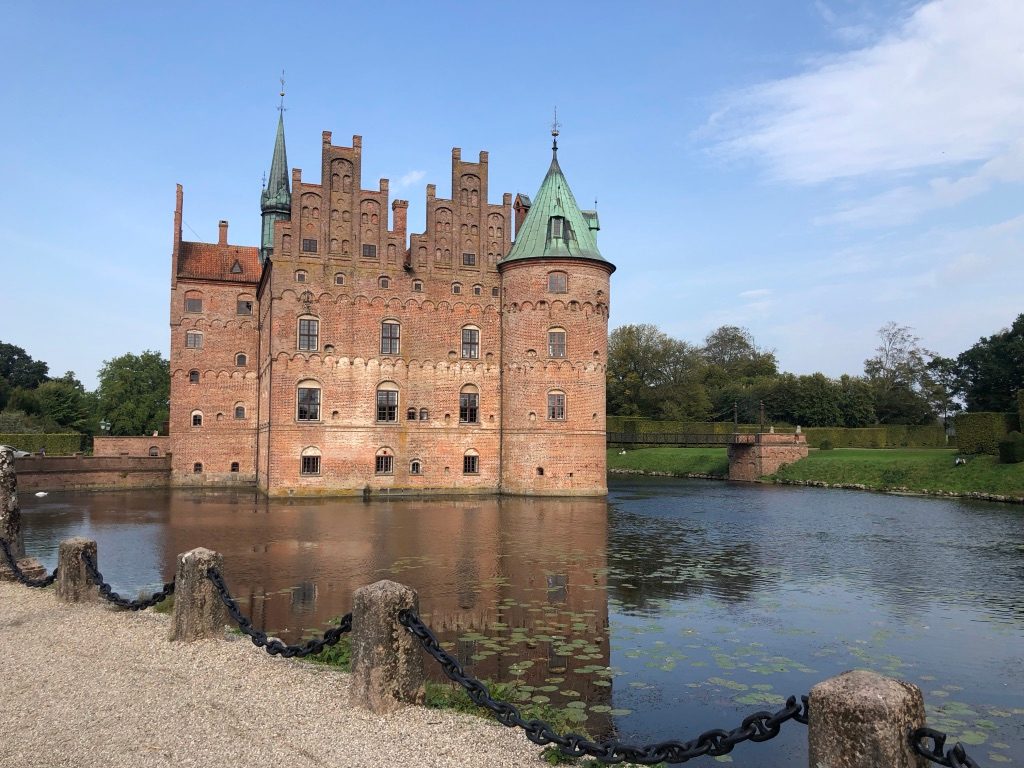 Aarhus
Aarhus is the second largest city in Denmark and I highly recommend visiting if you are able to. I only visited for one day so was not able to explore all of its attractions but some highlights are Den Gamle By which is an old town open air museum, the greenhouse botanical gardens, and its underground Viking Museum.
ARoS Aarhus Kunstmuseum
If you are able to visit Aarhus, one of the main attractions is its art museum. They have some permanent exhibitions including famous art pieces such as Boy, a giant sculpture of a crouching boy, and paintings from the Danish Golden age, but also thematic and changing exhibitions. The most famous installation in the museum has to be Your rainbow panorama by Ólafur Elíasson located on the roof of the 10 story building.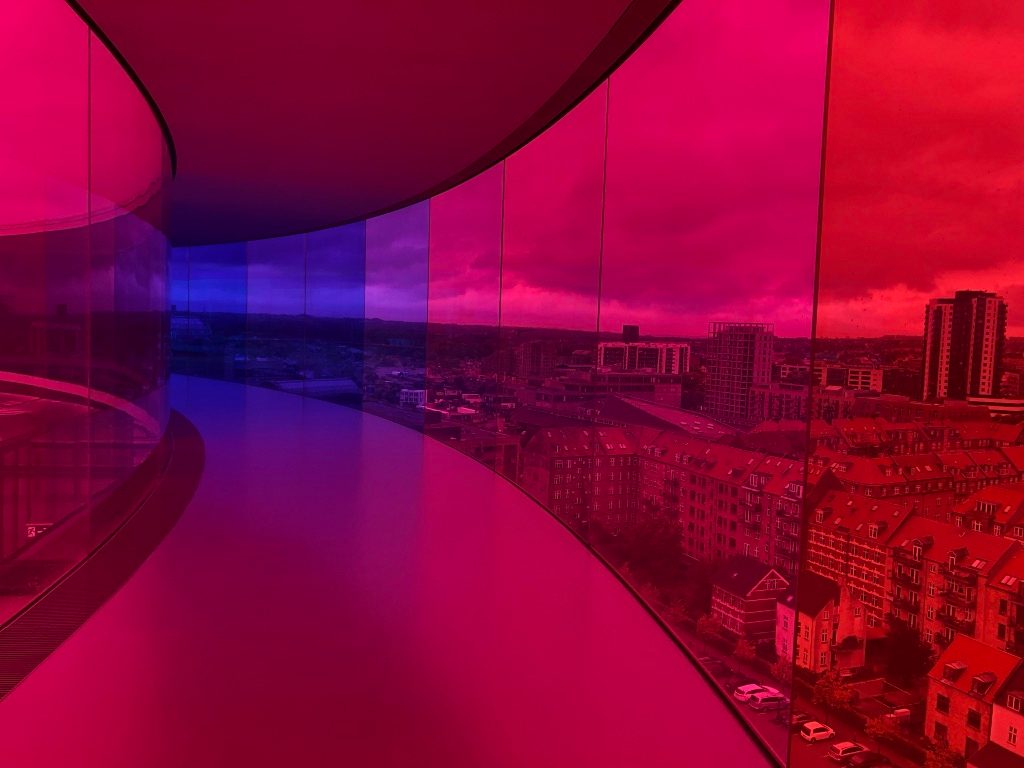 Skagen
My favorite trip outside of Copenhagen by far was going to Skagen. Skagen is the most northern point of Denmark and is a really cute town. Skagen is known for its herring industry and also is home to various famous art museums. There was actually a group of artists known as the Skagen Painters that visited Skagen every summer during the 1870s to enjoy the scenery and community.
Grenen/Skagen Odde
Grenen is a long sandbar spit at the very tip of Jutland (the main peninsula of Denmark). Walking along it to get to the furthest tip is really fun. We saw a lot of wildlife including an adorable baby seal! It was a bit of a windy day but we were not the only ones making the trek to the tip because the view once you get there is unique. At this tip is where the Skagerrak (part of the north sea) and the Kattegat sea meet in a spectacular collision of waves. These two seas meeting also causes there to be a criss-cross pattern of waves. It is not recommended to swim in that area because of the strong and unpredictable currents, but if you go a littler further down the beach away from the crashing meeting of seas, you will find Danes who go swimming on an almost daily basis even on a gloomy day in November. So of course me and a friend had to see what all this fuss was about and had a quick dip in the freezing water. Even as we ran back out of the water to change back into warm clothes as fast as possible, friendly passing locals would ask and encouraging "so was it cold?" While I probably would not have the discipline to go swimming every day, there is something to be said about the running into the freezing oncoming waves as the wind blows around you.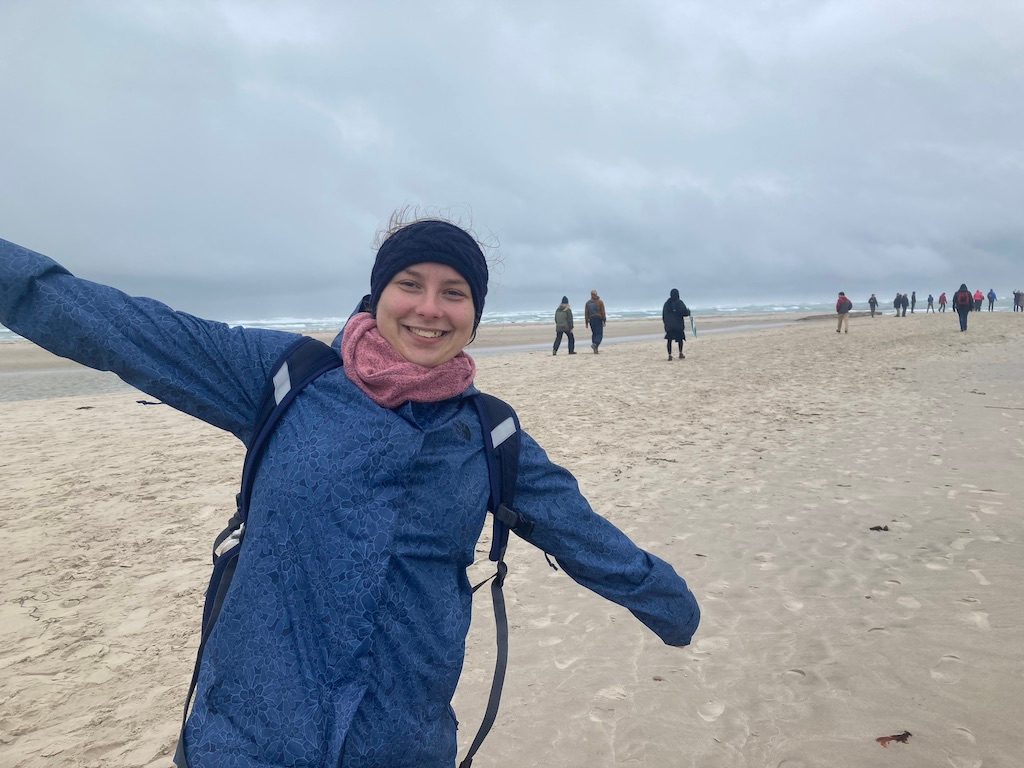 Råbjerg Mile
Råbjerg Mile is a migrating coastal dune located between Skagen and Frederikshavn in Denmark. It is actually the largest migrating dune in Northern Europe and covers in area of roughly two square kilometers. It moves about 18 meters a year! It has been slowly wandering across the northern part of Denmark for hundreds of years. Another main attraction on the way to the dune is the Den Tilsandede Kirke or Sand-Covered Church in English, that was built in the late 14th century but was almost entirely covered by sand in the 1700's with only the tower visible above the sands. The dune has mostly moved on now but parts of the church are still buried today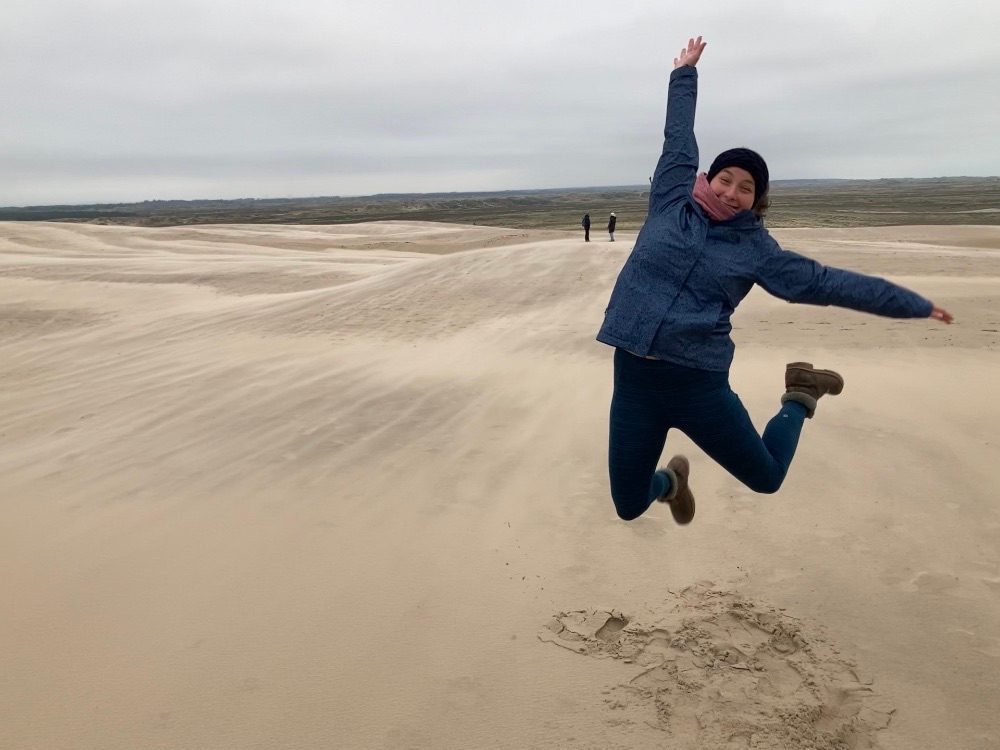 Bornholm
Bornholm is a Danish island in the Baltic Sea and is about a 5 hour ferry ride from Copenhagen. While doing class remotely over zoom during the winter term was not ideal, it did allow us some flexibility to travel to other parts of Denmark without missing class if we had wifi. A friend and I traveled to Bornholm taking an overnight ferry from Copenhagen and stayed for a few days. Bornholm is not a very large island and is about 200 square miles, but we still rented a car so we could see as much of the island as possible during the time we were there. We stayed at a cute airbnb where we share the property with a host of cute farm animals.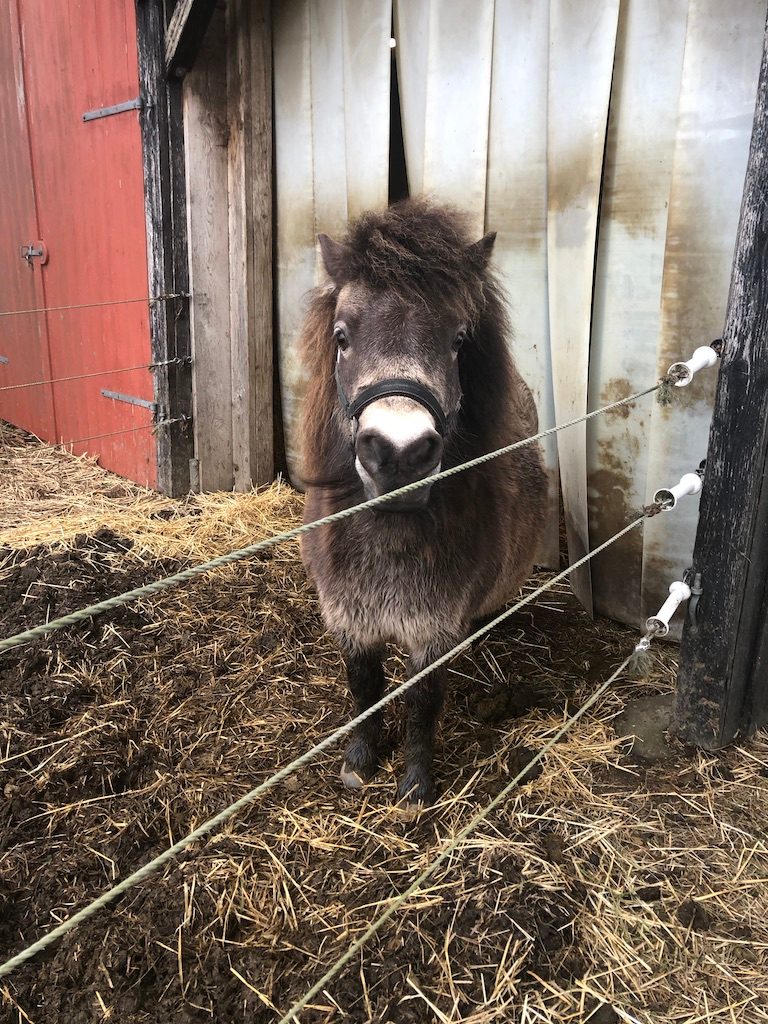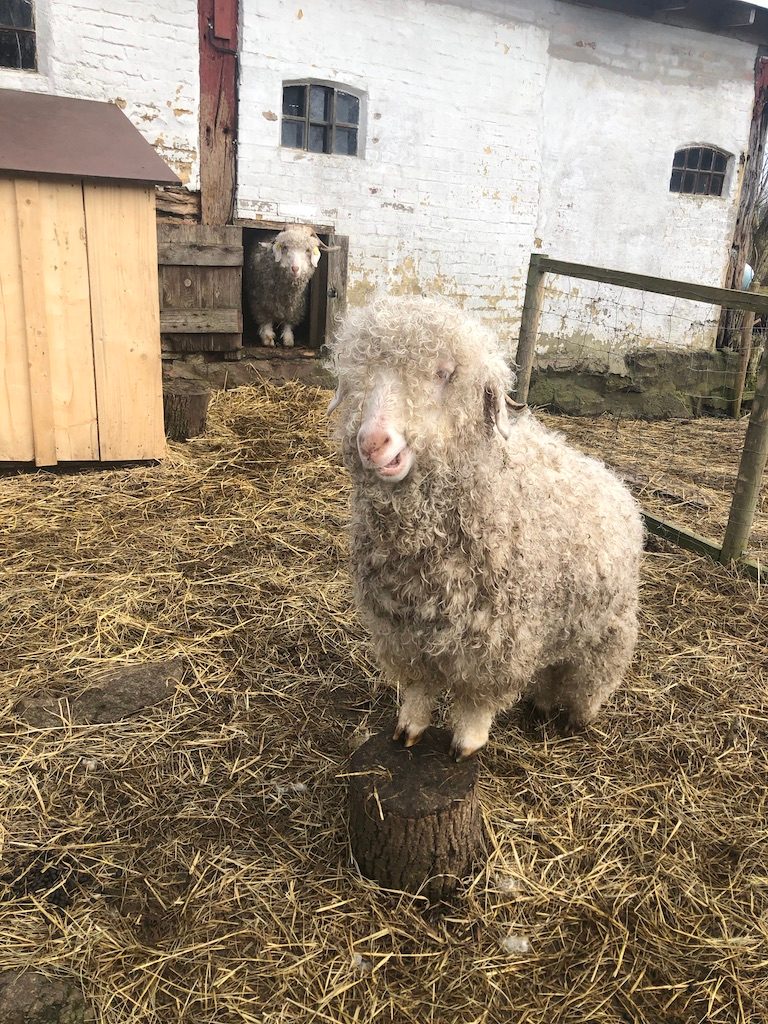 Døndalen
Døndalen is a rift valley and its name translates to "The Thunder Valley." In it you can find Denmark's highest waterfall. Although as you can see from the pictures….that apparently is not a very high bar. In total the water fall is about 20 meters. While the waterfall itself is not that impressive, the walk to it is quite nice through an old growth forest with moss covered ground.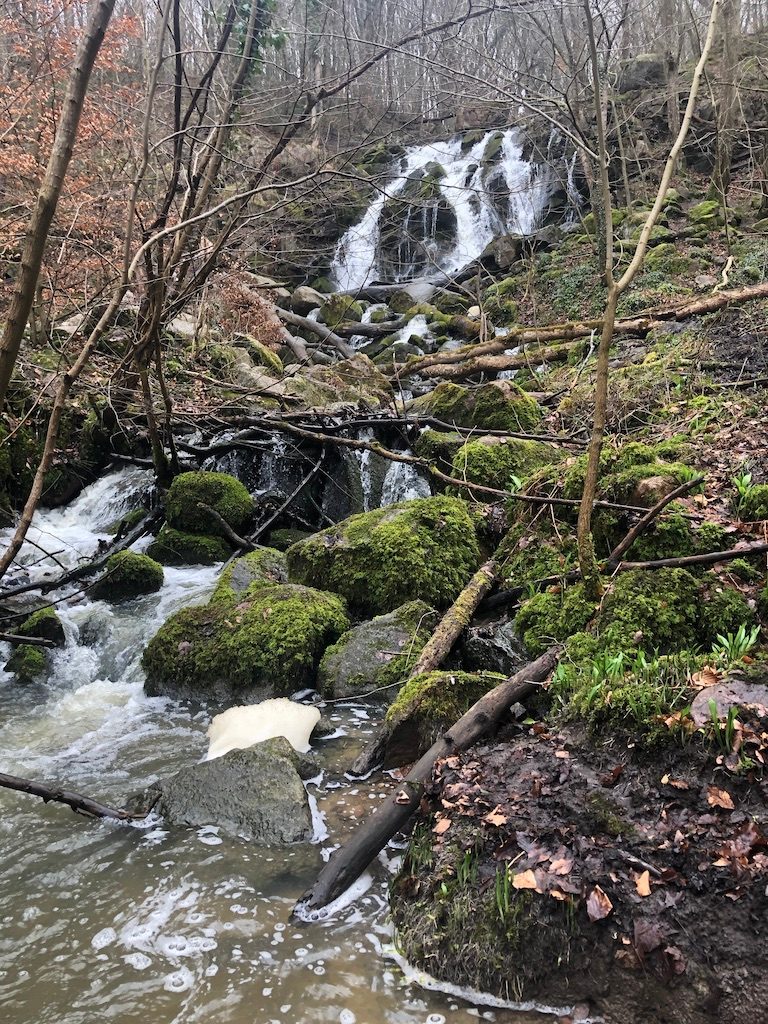 Gamleborg
Gamleborg was a massive old viking fortress from around 750. Now it there are only grass covered walls remaining.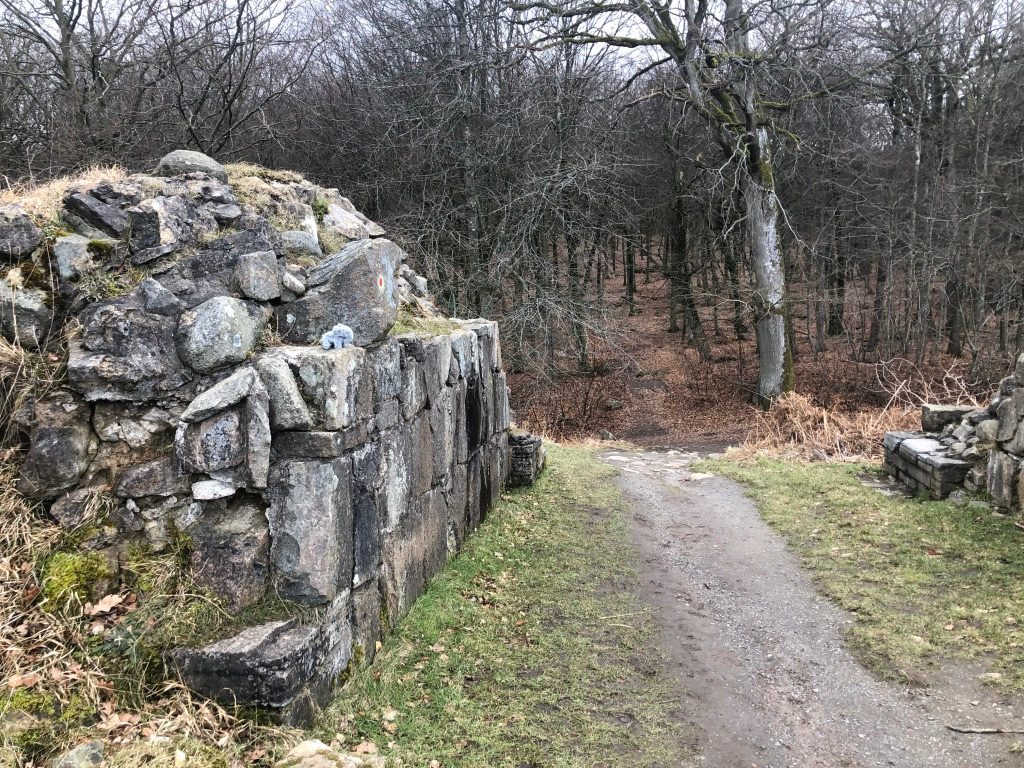 Hammershus
Hammershus is a medieval fort at the northern tip of Bornholm. It was built in the 13th century and housed several Archbishops who sought refuge from their struggle with the Danish kings throughout the years. The fort passed hands between a few archbishops, Danish kings, and even Sweden, before being abandoned in 1743.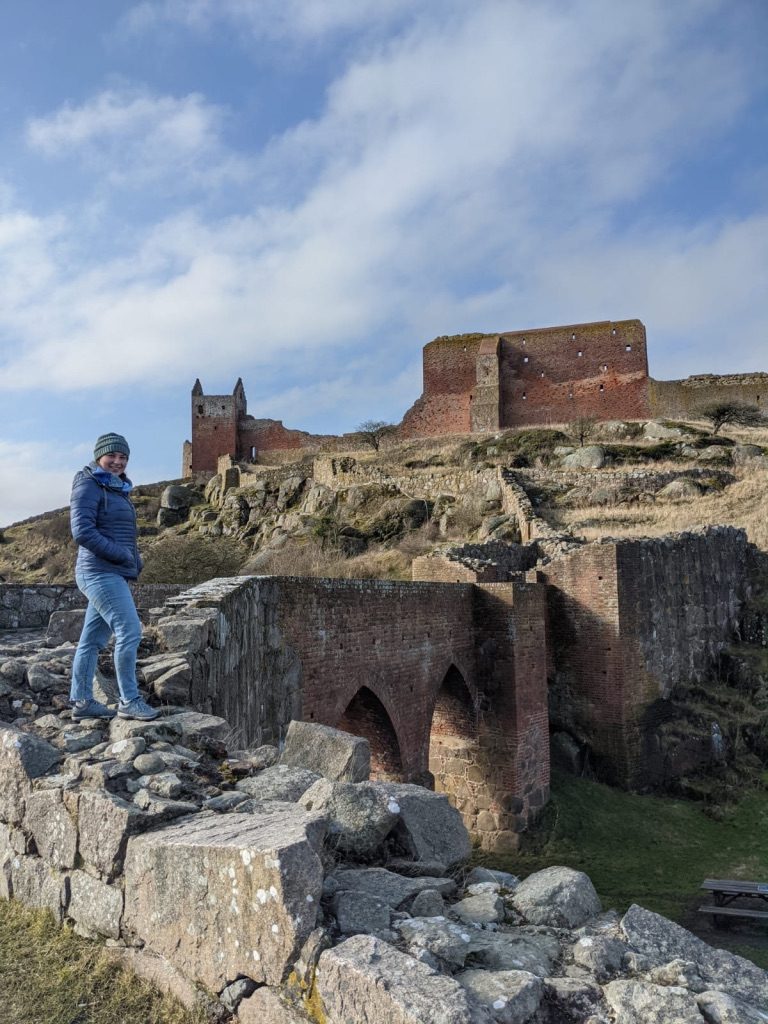 Jons Kapel
This rock bluff offered a beautiful view on the crashing sea bellow. It is about 135 feet high and was formed by the waves when sea levels were higher than today. When the tide is low you can see caves from the beach below the rocks. This bluff's name "Jon's Chapel" comes from a legend that claims that Jon was sent to Bornholm to bring Christianity to the islanders and decided to settle in one of the caves below the bluff. The people living on Bornholm were curious about him and went to him to hear stories about the bible. When there were too many people to fit in the cave, he climbed on the bluff so he could preach to everyone.