A Discussion with Faculty Directors Tsegaye Nega and Deborah Gross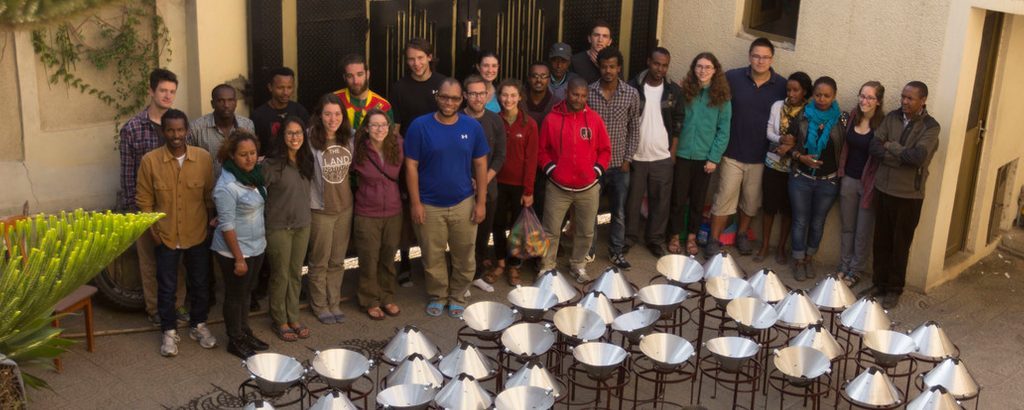 What inspired you to propose and plan Climate Change and Human Health in Ethiopia? What did you hope to accomplish?
Tsegaye: I am originally from Ethiopia. I grew up watching families use wood and charcoal as fuel, and when I returned to Ethiopia in 2010 to try and help people living in urban areas, I noticed that these were still the primary sources of fuel being used to prepare food. Neither wood nor charcoal are considered "clean" fuel sources, and both contribute to the high rates of respiratory illness observed in Ethiopia (particularly in women and children).
I wanted to do something about this problem, so I began constructing cookstoves that would run on a different, more sustainable fuel source. The cookstove project has expanded a lot since 2010, and both Deborah and I thought it would be a powerful focus for a Carleton off-campus experience. We both wanted to educate our students on the impacts of climate change on human health, and we figured that the cookstove project could be the perfect way to get students addressing real-world problems in a hands-on manner.
Deborah: The Climate Change and Human Health in Ethiopia program is an opportunity to connect teaching and research with real life. This isn't merely a conceptual program; both Tsegaye and I wanted students to engage in real-world, experiential learning. Students will have the chance to immerse themselves in ongoing, relevant research while also learning about how cooking and household energy use affects human health and the climate.
What makes this program different from other study abroad programs?
Deborah: Climate Change and Human Health in Ethiopia is different from other study abroad programs in that students are the engines that fuel the project. Each year, Carleton students contribute a myriad of ideas, passions, and energies to the project, all of which help shape its trajectory and success. Many Climate and Human Health participants continue to be part of the project even after returning to the United States. Some will conduct independent research, whereas others will partake in internships that eventually bring them back to Ethiopia or elsewhere in the world.
Tsegaye: As an academic institution, our job shouldn't be limited to educating students about conceptual topics. We should teach civic engagement and real-world problem solving. This program is a nexus of teaching strategies; both Deborah and I strive to be academicians (by engaging students in research), teachers (by educating students on concepts/issues in a meaningful way), and individuals (by asking students to interact and problem-solve in difficult, real-world situations).
What does a typical day look like on your program?
Both: Roughly three-quarters of each day is spent out talking with people and gathering data. Some questions that we will address include: How are local people using cooking technology? What is the air quality like? What types of fuel sources are being used? What factors influence the choices that people are making, and how do they think about the challenges they face? Students will be grouped into small "teams" composed of a few Carleton students and a few students & translators from the local university. At the end of the day, everyone will reconvene and discuss what they learned.
In addition to surveying the local community and interacting with people, Climate Change and Human Health participants will hear from Ethiopian policymakers about the ongoing efforts to address the challenges being faced on the local and national levels.
But we also make sure that there is time for students to explore, relax, and engage with Ethiopian culture. We will share meals; visit historical sites in Addis Ababa; and go to museums, markets, universities, and different neighborhoods.
What does the housing situation look like, and what are the benefits of this living arrangement to students?
Both: Students will be staying in hotels for the duration of the program. We feel that it is important for students to have a "home base" to come back to at the end of the day. They will each have a roommate and will be encouraged to learn and complete activities with the other program participants.
What are you most looking forward to?
Both: We are both looking forward to getting to work directly with students again. This is truly an immersive experience, and the program's short duration forces both the students and the faculty directors to be efficient/focused every day. There is so much to see, so much to try, and so much to learn!
What advice would you give to students to encourage them to study abroad during their Carleton career? What benefits do you see to the experience in general?
Deborah: No matter which study abroad program students choose to participate in, they will learn how to handle uncertainty. Uncertainty is a motivating force for change, and students will undoubtedly learn a lot (about themselves and about the world) from their experiences abroad. They will experience new and unfamiliar things, and they will be empowered with the knowledge that their decisions and actions can–and will–make a difference. It can be overwhelming at times to think about all of the problems that this world currently faces, but there is always something that we can do.
Tsegaye: If you look at the problems that the world faces today (climate, social, environmental, etc.), the need for a strengthened connection between our daily lives and our role in the world becomes abundantly clear. We are a part of this world, including its many problems. Shouldn't we also, then, be part of its solutions? What can we do to help make the world a better place?
---
Tsegaye Nega is an Associate Professor of Environmental Studies. He has been teaching at Carleton since 2002.
Deborah Gross is a Professor of Chemistry. She has been teaching at Carleton since 1998.