Jan
12
History of Computing in England Information Session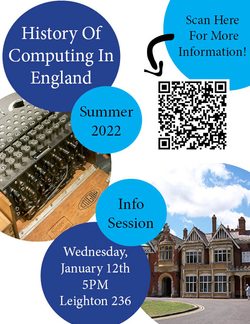 Many watershed moments in computing history were the result of British innovations — and Britain owes a great deal to computation, too, particularly the code-breaking work during WWII led by Alan Turing. This program will explore the history of computing, WWII, and cryptography (including the broader context of Turing's life).
Please join us for an information session about the Summer 2022 History of Computing in England program! Wednesday, January 12th @ 5:00pm in Leighton 236. The meeting will also be available via Zoom. Meeting ID: 958 5356 4215 Passcode: 153530.
Please visit the program page for additional information.
Event Contact: jmcmurray