Feb
22
Studio Art In the South Pacific Information Session
Tue, February 22, 2022 • 5:00pm - 6:00pm (1h) • Boliou 161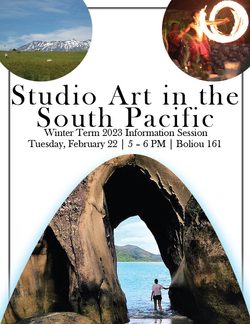 This program provides a rare focus to studio work. Students will improve their skills in drawing and printmaking, and see this practice as a way to better appreciate their surroundings. They will also examine social and environmental issues, study indigenous cultures, and learn to be thoughtful travelers.
Please join us for an information session about the Winter 2023 Studio Art in the South Pacific program! Tuesday, February 22nd @ 5:00pm in Boliou 161.
Please visit the program page for additional information.