May
19
OCS Photo Contest Reception
Thu, May 19, 2022 • 11:00am - 3:00pm (4h) • Sayles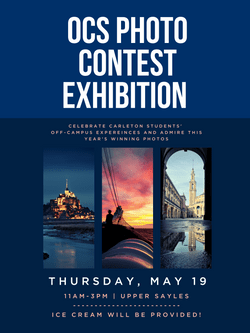 Please join us to celebrate this years OCS Photo Contest Winners!
The Off-Campus Studies Photo Contest is an annual event celebrating student experiences on off-campus study programs. It is open to all current students who have participated in off-campus study programs, fellowships, and international internships.
Many thanks to this year's Photo Contest sponsors (Bon Appétit, Gould Library, College Communications) and judges (President Alison Byerly, Art History Professor Ross Elfline, and Director of International Life Liz Cody).