Jan
20
Economics in Cambridge Information Session
Thu, January 20, 2022 • 5:00pm - 6:00pm (1h) • Willis 204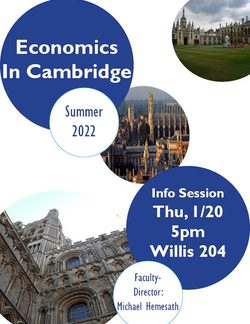 Founded in 1983, the Carleton Economics and European Studies Program has been located at the University of Cambridge for over 35 years. The seminar explores Britain's economic history, especially the Industrial Revolution, and its evolving economic and political relationship with Europe from World War I through Brexit.
Please join us for an information session about the Summer 2022 Economics in Cambridge program! Wednesday, January 20th @ 5pm in Willis 204
Please visit the program page for additional information.