Legend has it that Ernest Hemingway once wrote a story in just six words. Challenged by friends in a restaurant, the legendary writer allegedly grabbed a napkin and scribbled down: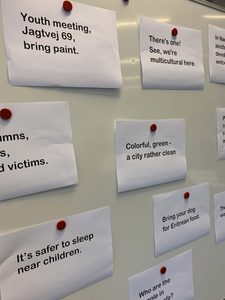 FOR SALE: BABY SHOES, NEVER WORN
The story turns out to be an urban myth, but this did not hold the Carleton Travel Writing class back from taking up the Hemingway challenge as Professor Tommy Heisz took his class on a field study to Nørrebro on a late September day. Tommy Heisz shares:
"Our mission was to capture the spirit of this colorful and diverse district of Copenhagen. Limiting ourselves to six words we tried to describe the surroundings and the atmosphere of the neighborhood. All the students took up this challenge in original ways. Later, back in the classroom, the six word stories lived on.
"As a teacher and tour leader, walking around with this group of Carleton students at Nørrebro was such an uplifting experience. In a group of only seven students, no one can really hide — and the great thing about it is that no one seems like they would dream of trying to hide. Everyone chips in, everyone takes up the challenge with a completely open mind. I must say that this is my general image of this great bunch of students. They hunger to just get out there and try stuff."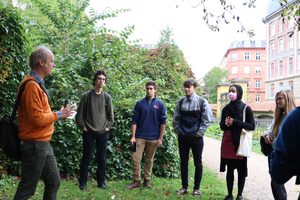 This fall, we are frequently using the city as an extended classroom. We also use various urban spaces as a jungle for experiential learning. I know that this demands a lot from the students. They are constantly being pushed to shape the content of the sessions themselves, and they really seem to be embracing these teaching methods.
Apart from hanging out with Hemingway, at Nørrebro, we delved into the many stories of the Assistens Cemetery, and we explored the diverse and lively streets around the new Metro Station. We learned why disobedience is a keyword when describing this special part of Copenhagen.
And finally, we wrapped the session up at LiteraturHaus — a former church now turned into a literature hub. Karen Siercke, head of the House of Poetry and founder of storytelling project Ordskælv, invited us in and treated us with tea and coffee. Karen emphasized the power of storytelling in all aspects of life.