Spring 2025
Carleton's Russian program has been based in Almaty, Kazakhstan since 2023. Almaty is the largest city in Kazakhstan, its dynamic and cosmopolitan cultural capital, situated in sight of the Trans-Ili Alatau range of the Tian-Shan mountains. Built at the crossroads of ancient and modern trade and cultural routes, Almaty exemplifies the spirit of openness, creativity, hybridity, and acceptance that has always characterized the cultures that inhabited the great steppe.
Russian is the language of intercultural communication in Kazakhstan; it remains the language most commonly spoken in Almaty, but its changing role in the region is increasingly challenged and problematized. Immersing ourselves in the Russian language and contemporary Kazakhstani culture, we will discuss the role of language in the debates about cultural and political identities, in postcolonial nation-building projects, in contemporary literature and culture, and in efforts to bring together the ethnically and linguistically diverse people of Central Asia. Intensive Russian classes, offering instruction in reading, oral comprehension, and conversation, will take place at Al-Farabi Kazakh National University (KazNu), one of the country's largest and best-known universities. Elementary Kazakh and an introduction to Kazakh customs and traditions will also be included.
Students will live with families in the center of Almaty, where they will enjoy the city's many historic landmarks, museums and cafes, parks and cultural venues, and immerse themselves in the Russian language and the life of this cosmopolitan city from day one. Students will use their growing knowledge of Russian to converse with people of enormously varied backgrounds. At the same time, through reading, discussions, and travel, students will explore complex issues of national, cultural and linguistic identities of people of Kazakhstan and discuss the country's role in the region, issues that are central to Kazakhstan's participation in global culture today and in the future.
Excursions will comprise an important part of the academic program. On day trips students will explore the neighborhoods, sites and hidden corners of Almaty, as well as the beautiful nature that surrounds it. Weekend trips will take us to Astana, Kazakhstan's futuristic capital, and to Karagandy, the "capital" of the Soviet GULAG. And, towards the program's end, we will travel farther along the ancient Silk Road to Uzbekistan: we will visit monuments of ancient civilizations, the iconic cities of Khiva, Samarkand and Bukhara, the abandoned ships graveyard where the Aral Sea has once been, the Kyzylkum and Arak Kum deserts, and the "Louvre in the desert" (Savitsky Museum) in the Karakalpak Republic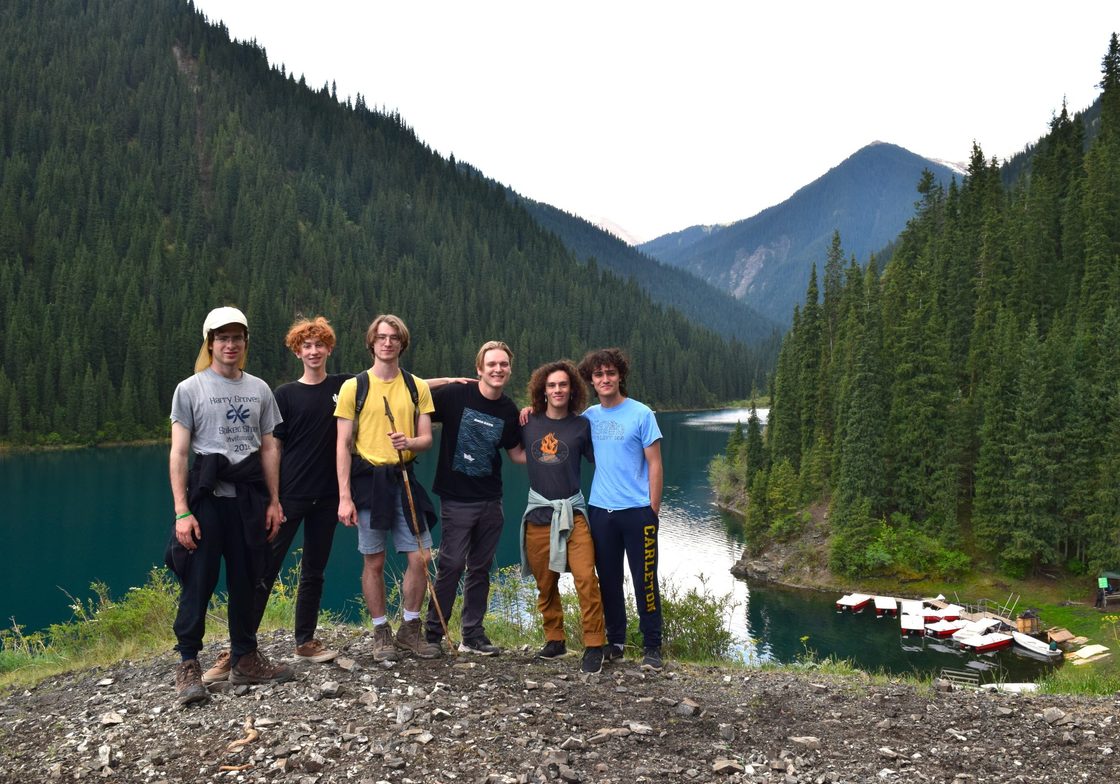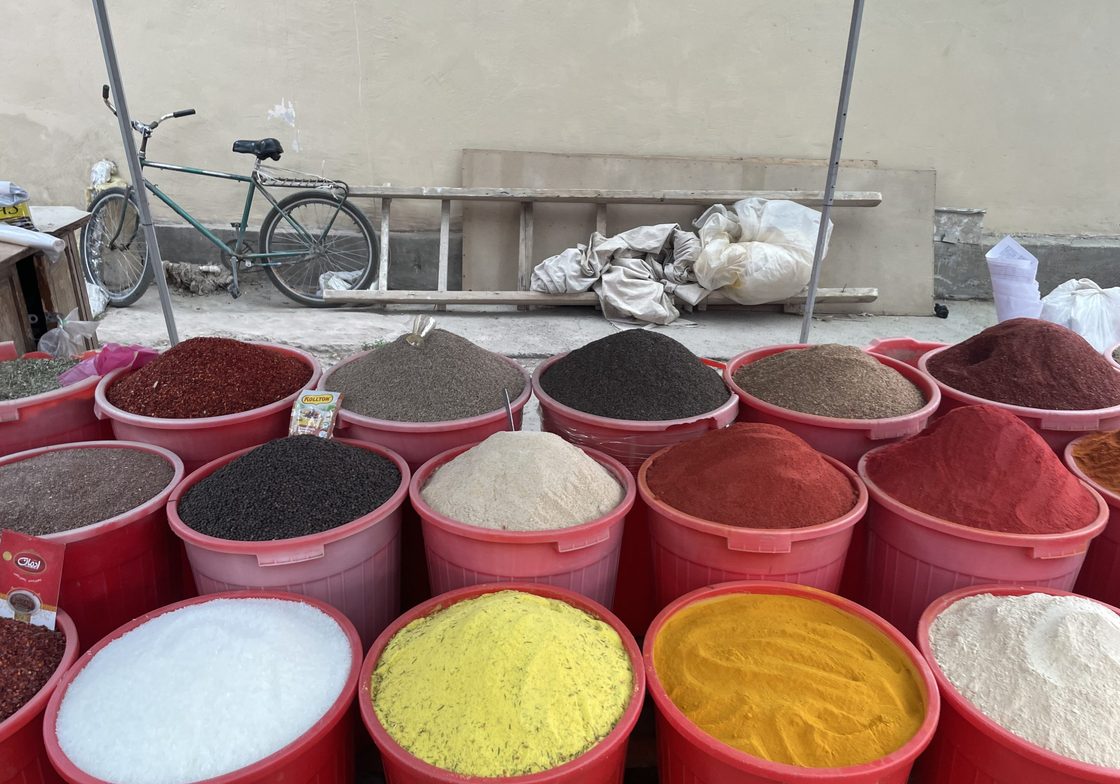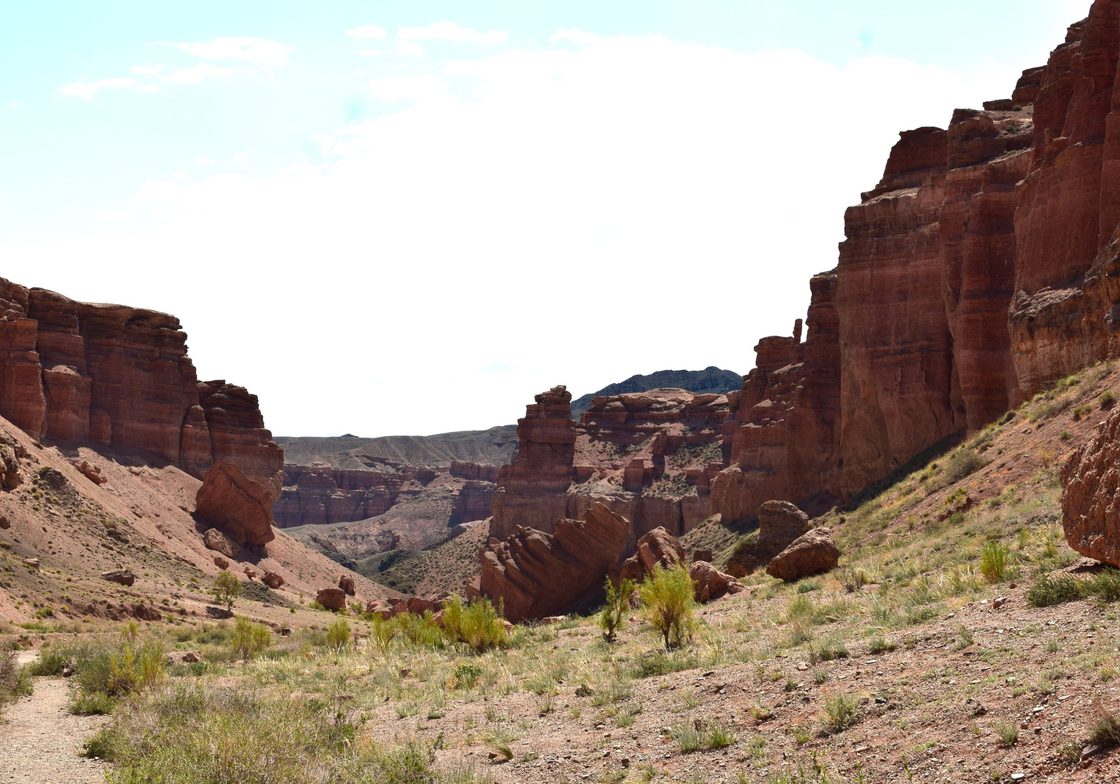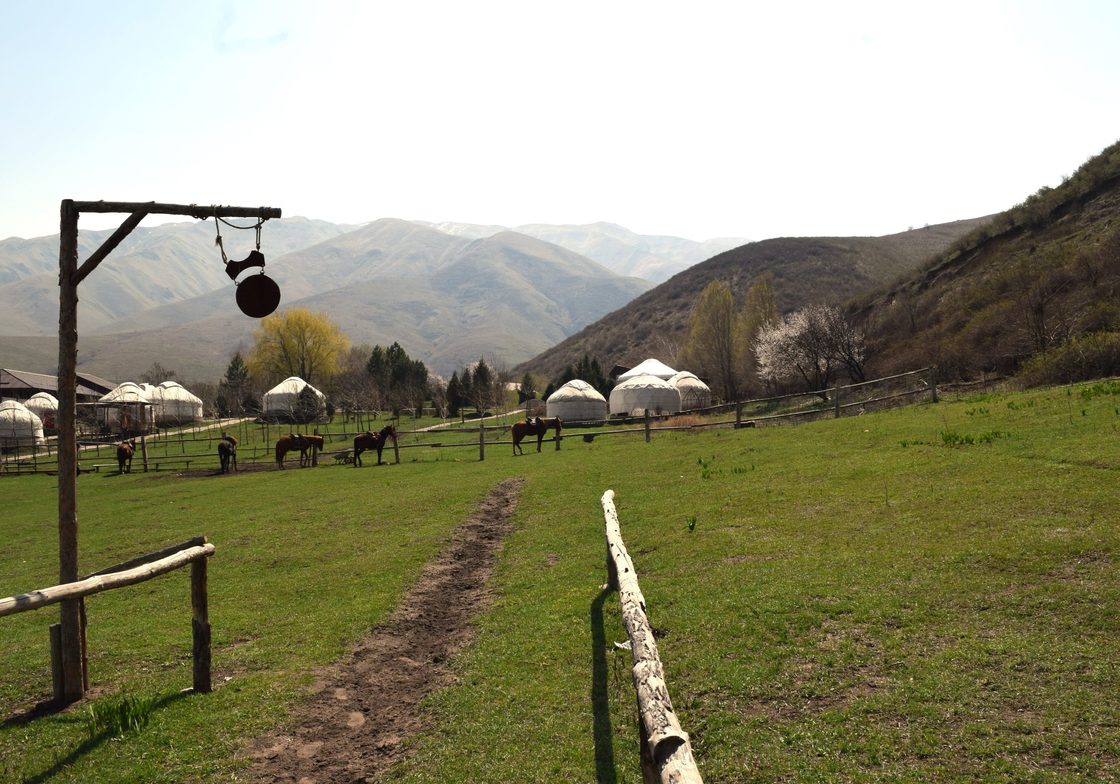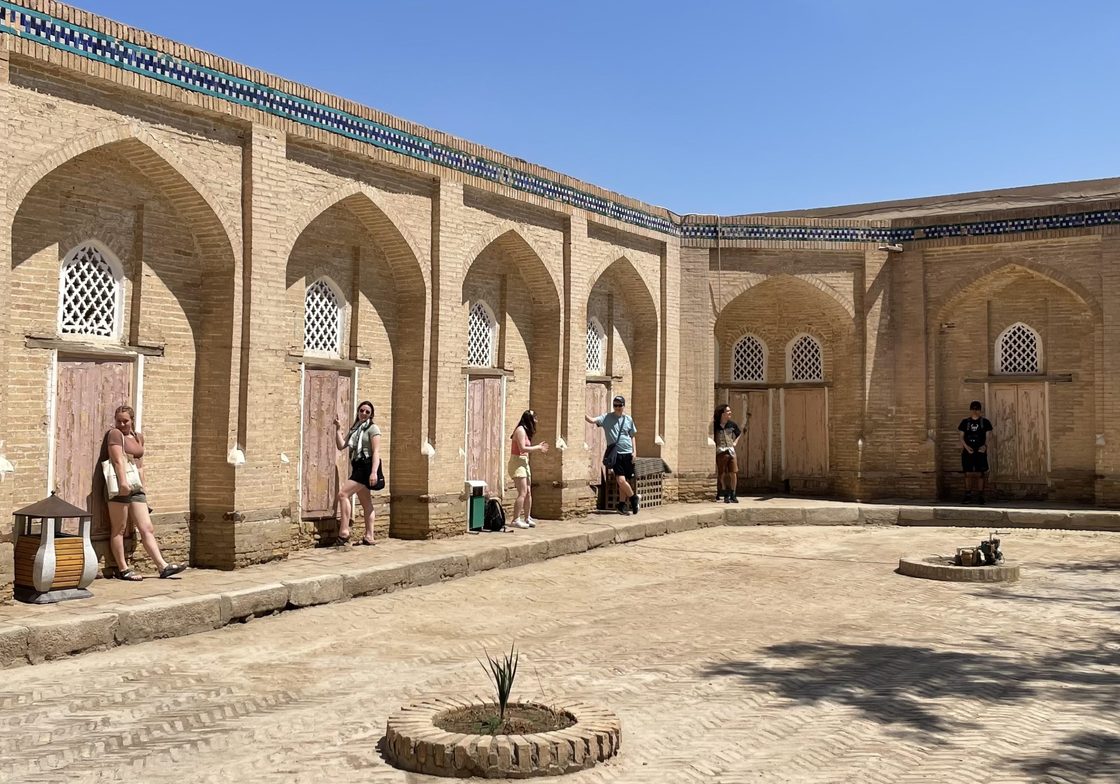 Message from Faculty Director
Всем привет! Cәлем!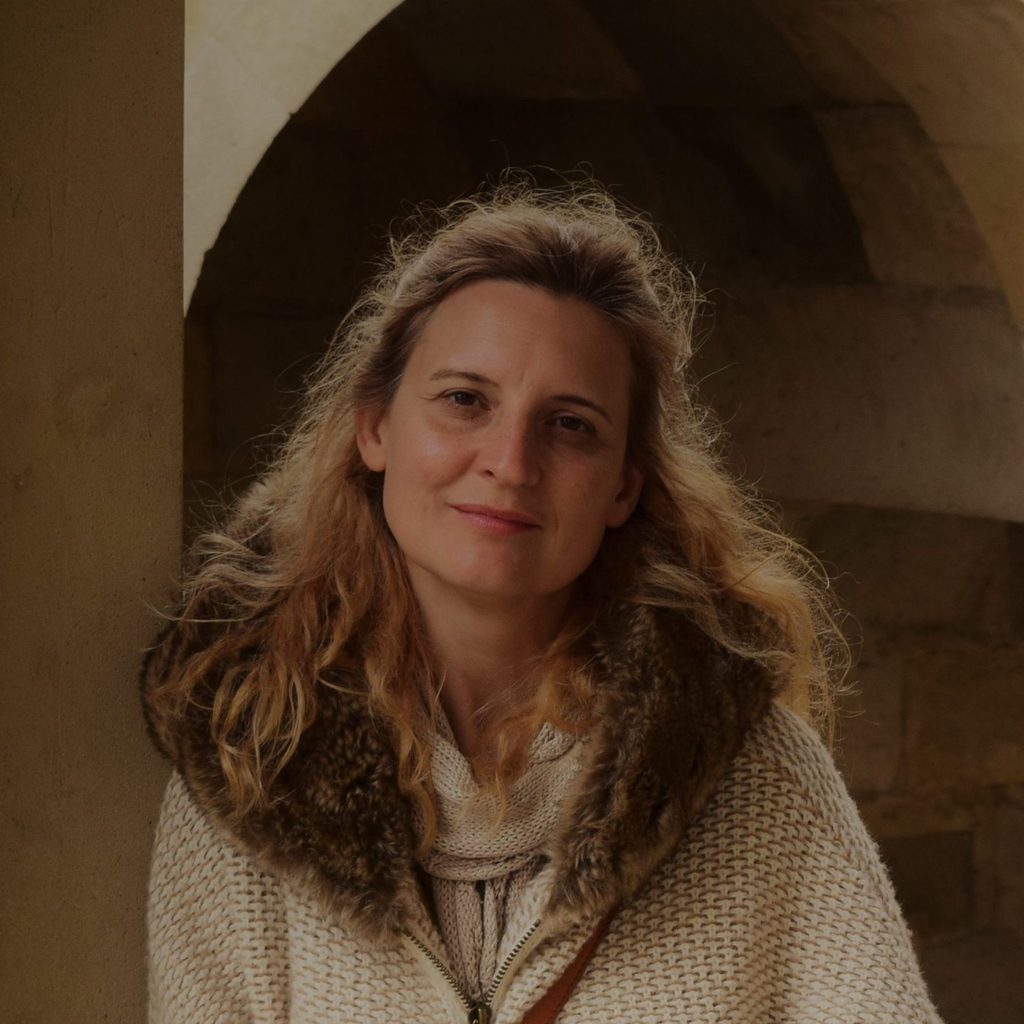 If you are ready for the adventure of a lifetime, join the 2025 cohort of Carleton Nomads and come with us to Central Asia! We are expanding our eligibility criteria this year to include students who do not know any Russian but are eager to learn about the history of the region and learn the language from scratch. Separated only during their Russian classes, beginning, intermediate and advanced Russian students will come together for two classes taught in English: one on the contemporary culture and identity in Kazakhstan, taught through post-colonial perspective, and one on the history of Central Asia. Together, we will also learn some survival Kazakh language and customs and have fun exploring the city of Almaty and the surrounding mountains. The educational travel program in Kazakhstan and Uzbekistan will culminate in a two-week adventure along the Silk Road where students will visit sites of ancient steppe civilization and the legendary cities of Khiva, Bukhara, and Samarkand.
My name is Victoria Thorstensson and I have been at Carleton since 2022, teaching Russian and courses on Russian literature and culture. My PhD in Slavic Languages and Literatures is from the University of Wisconsin-Madison and, before coming to Carleton, I taught at Yale University and the University of Pennsylvania and worked on intensive summer programs at Middlebury College and the SSRES (Summer School of Russian and Eurasian Studies) at Nazarbayev University—the program I founded and directed during its first two years.
When I arrived in Kazakhstan's capital city of Astana and started working as an Assistant Professor at Nazarbayev University, I knew almost nothing about this country in spite of having grown up in Russia, just a few hundred kilometers to the north. But during the eight years that my family and I spent in Kazakhstan, we all fell in love with it, with its natural beauty, its boundless steppe, and with the spirit of creativity, optimism and innovation that is palpable everywhere you look in this young country with an old and traumatic past. And now I am happy to be able to share my love and respect for Kazakhstan and its people with my Carleton students.
The program participants will live in one of my favorite cities in the world. Almaty is an amazing city. Surrounded by breathtaking views of the snow-capped mountains, it is young, optimistic, extremely walkable, full of amazing dining options and cultural opportunities, and is very safe. Public transport and inexpensive taxis will take you anywhere in the city and to all the popular nature spots. Students will live in host families in the city center and attend classes at the Kazakh National University (KazNU). Reading this city as a text through prose and poetry and meeting with young poets, writers, musicians, and activists, students will learn to engage with this city as insiders, not as tourists. In their free time, students will explore the city, hike in the mountains, visit opera, ballet, and drama theaters, museums, sporting events, and music concerts, and spend time with their host families and new friends.
If you have any questions, find me in LDC 312 or email me, and I will be happy to tell you more or to put you in touch with some of our 2023 Carleton Nomads.
Academics
Learning Goals
To introduce students to the history of the region and the diversity of Russophone culture
To develop and improve all aspects of students' Russian language skills
To improve English-language writing skills through the writing of short academic papers, reviews of books, films and cultural events, and creative writing.
Prerequisites
This program is for students with sophomore, junior, or senior status during the 2024-25 academic year. It is open to beginners with a strong interest in the history and languages of the region, as well as to students who have completed Russian 204 and 205 at Carleton and wish to continue their studies of Russian.
Course of Study
18 Credits
RUSS 228: Contemporary Kazakhstani Culture and Post-Colonial Identity (6 credits; Literary/Artistic Analysis, International Studies)
In this course we will study how contemporary Kazakhstani post-colonial identity is expressed and negotiated in the works of Russophone prose and poetry, as well as in film, theater, contemporary art, and urban space. Other topics will include the changing role of the Russian language in Central Asia, linguistic, gender and cultural hybridity, trauma and (post)memory, cultural, ecological and gender activism. Taught in English.
Instructor: Victoria Thorstensson
HIST 265: Central Asia in the Modern Age (6 credits; Humanistic Inquiry, International Studies)
Central Asia–the region encompassing the post-Soviet states of Kazakhstan, Kyrgyzstan, Tajikistan, Turkmenistan, and Uzbekistan, and the Xinjiang region of the People's Republic of China–is often considered one of the most exotic in the world, but it has experienced all the excesses of the modern age. After a basic introduction to the long-term history of the steppe, this course will concentrate on exploring the history of the region since its conquest by the Russian and Chinese empires. We will discuss the interaction of external and local forces as we explore transformations in the realms of politics, society, culture, and religion.
Instructor: Kazakh National University's Philological Faculty
RUSS 110: Intensive Beginning Russian (6 credits)
For students with no previous training in or minimal knowledge of Russian. Simultaneous development of skills in speaking, reading, aural comprehension, writing.
Instructor: Kazakh National University's Philological Faculty
-OR-
RUSS 207: Intermediate Grammar (3 credits)
This course aims at vocabulary expansion and the assimilation and activation of everyday conversational structures and speech etiquette at the same time it develops familiarity with more complex principles of Russian grammar. Prerequisites: Russian 205 or equivalent.
Instructor: Kazakh National University's Philological Faculty
RUSS 209: Intermediate Conversation (3 credits)
This course is taken in combination with Russian 207. Emphasis will be placed on socially relevant reading materials. Prerequisites: Russian 205 or equivalent.
Instructor: Kazakh National University's Philological Faculty
-OR-
RUSS 307: Advanced Grammar (3 credits)
This course combines advanced work in Russian grammar (largely corrective) and fundamentals in composition, with conversational Russian. Prerequisites: Six credits of Russian at the 300 level.
Instructor: Kazakh National University's Philological Faculty
RUSS 309: Advanced Practicum (3 credits)
This course aims at skill development in speaking and oral presentation as well as in limited forms of composition. It is taken in combination with Russian 307. Prerequisites: Six credits of Russian at the 300 level.
Instructor: Kazakh National University's Philological Faculty
RUSS 228F: Contemporary Kazakhstani Culture and Post-Colonial Identity in Russian (2 credits; Literary/Artistic Analysis, International Studies). For intermediate and advanced language levels.
This course will offer readings and discussions of Russian-language materials and short speaking and writing assignments. Students taking RUSS 207, 209, 307, and 309 are required to enroll in this supplement to RUSS 228. Taught in Russian.
Instructor: Victoria Thorstensson
Program Features
Housing
Homestays with families residing in the Almaty city center will be organized for the participants of the program.
Excursions
Excursions comprise an important part of the academic program, and will be linked both to the language courses and to the director's course. Students will enjoy day trips in and around Almaty. There will also be day trips to various natural sights near Almaty, weekend trips to other cities and regions of Kazakhstan, and a longer trip to Uzbekistan at the end of the program.